Championship: Leeds United takeover complete, say Massimo Cellino lawyers
Massimo Cellino's lawyers say the Italian has completed his takeover of Leeds - but he must now wait for ratification.
Last Updated: 08/04/14 9:47pm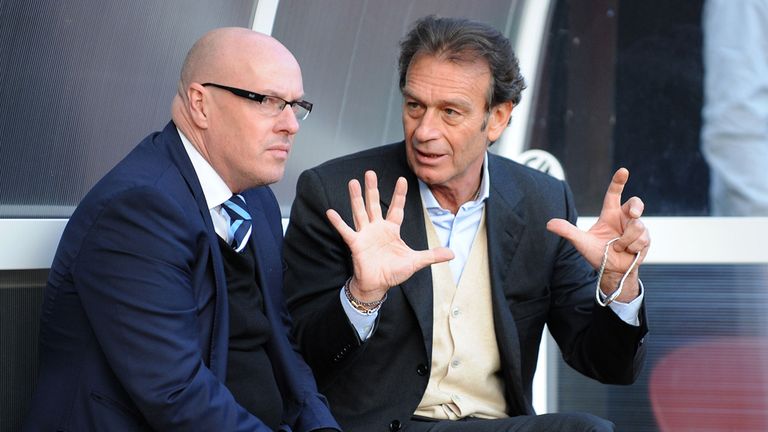 Cellino's company Eleonora Sport Limited has completed its purchase of 75 per cent of the Elland Road club's shares and the 57-year-old has taken his place on the board of directors.
Football League officials must now decide whether to ratify the deal at a board meeting on Thursday.
"Massimo Cellino has now been appointed a director of LUFC Holdings & ESL has completed its purchase of 75 per cent of the shares of LUFC Holdings," Cellino's legal representatives Mishcon de Reya tweeted.
Cellino arrived in England from Sardinia on Monday after an independent lawyer overturned the League's decision to bar him from becoming an owner.
The League had blocked Cellino's takeover on March 24, ruling a conviction of tax evasion in a Sardinia court a week earlier - one Cellino is appealing - disqualified him under its owners and directors test.
But following six-hour deliberations at an appeal hearing last week, Tim Kerr QC announced he had revoked the League's decision.
Kerr's ruling ended a two-month wait for Cellino, whose company had exchanged contracts with previous Leeds owner Gulf Finance House Capital back in February, but the saga may not yet have run its course.
The Italian's disqualification under the League's test related to the non-payment of import duties on his yacht, but because a judge's report on his tax evasion case has not yet been filed, Kerr could not rule that he had acted dishonestly.
Dr Sandra Lepore's written reasons for the conviction are due by mid-June so League officials must decide on whether to give Cellino the go-ahead in the knowledge they could be forced to disqualify him - should he be found guilty of dishonesty - later this summer.
Leeds, who have plummeted in the Championship table and lost 1-0 to Wigan Athletic on Saturday, announced losses of £9.5m for the financial year 2012-13.