Championship: Leeds United boss Brian McDermott remains uncertain on future
Leeds boss Brian McDermott says he is still uncertain whether he features in Massimo Cellino's plans for next season.
Last Updated: 02/05/14 3:20pm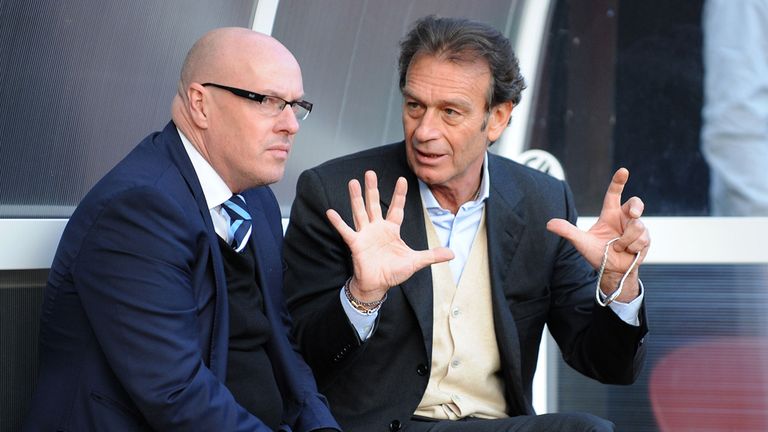 The 53-year-old is yet to receive any assurances from the new owner regarding his future and it remains unclear if the Italian plans to bring in his own manager over the summer, having already attempted to sack McDermott in January.
McDermott says he is already thinking about pre-season after three wins from the Whites' last four games allayed any outside fears of relegation following a miserable run of just one win in 12 Championship outings.
Asked if he would be still in charge next season, McDermott told the Yorkshire Evening Post: "I've no idea. I'm the same as any of you.
"People will have their own views but I don't know is the answer. I just want to win tomorrow and finish the season with a really good result.
"Fundamentally, we've got a summer ahead where we don't know what's going to happen regarding the squad, where we're going to go with players or what's going to happen with the club.
"Massimo has his ideas, he's going to have his philosophies about where he sees things moving forward. It'll be interesting times and he can do it in whatever order he wants."
Former Sheffield Wednesday striker Benito Carbone has been seen at the club's training ground and he was in attendance for the 3-1 win at Birmingham, but Cellino insists that it is only an academy role which he has lined up for his fellow Italian.
McDermott said: "We could possibly have up to eight players from the academy in the squad tomorrow (against Derby).
"That's nearly 50 per cent of the squad coming from academy players. I think (Carbone's) remit is to help with the academy and anyone coming in to help out can only be a good thing."
After believing that he had been sacked by Cellino, McDermott was absent for Leeds' 5-1 win over Huddersfield at the start of February before returning the following week.
The former Reading boss had to work in turbulent conditions following that episode, with the club sliding down the table, but he remains proud to have continued through it all and thinks prospects are starting to look brighter.
"Things started to go wrong but did I handle that situation? Yes, without a doubt in my opinion," he said.
"It would have been very easy to walk away on the first of February but I was never going to do that and I'm glad and proud that I didn't. I didn't even think about it.
"We had a poor run for three months and you accept that. I don't want to talk about what's gone on off the pitch because it sounds like excuses, and people think it's excuses. But since the club's been stable, we've won three out of the last four games.
"People have opinions on everything but I've tried to be absolutely honest in everything I've done. I've tried to tell the truth as I see it and I've not ducked anything."