It'll be all White
As part of Sky Sports' Sky Bet Championship spotlight, Chris Burton catches up with Leeds United defender Jason Pearce.
Last Updated: 02/05/14 8:50pm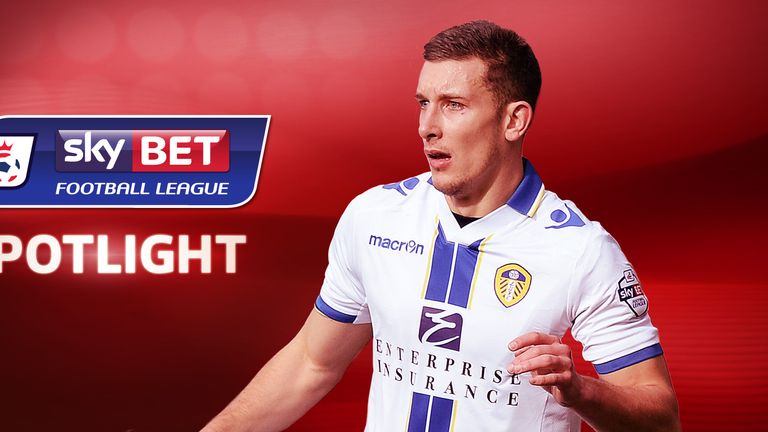 The 2013/14 campaign is now entering the final straight, with divisions beginning to take shape.
Here at Sky Sports, we will look to take you to the very heart of the Sky Bet Football League over the coming months, with our Spotlight features intended to give you a greater insight into the clubs and players that keep us on the edge of our seats.
We hope to bring you the views and thoughts of a representative from each of the 72 teams over the course of the season, with those involved asked to give their take on the division they compete in, the club that pays their wages and those we should all be keeping an eye on.
Leeds' Jason Pearce is next into the hot-seat, with the Whites defender taking time out to reflect on a testing season at Elland Road on and off the field with Chris Burton.
When the time comes to look back on this season, how will you sum it up?
It's been a bit disappointing. The expectation at the start of the season was to try and get in the play-offs. Obviously we haven't done that, we've been nearer to the bottom of things in the end. It's been a massive under-achievement, which obviously we are all disappointed with. We've just got to try and finish on a high, which we have done, so we have to take that into the summer, rebuild and go again next year.
It must be frustrating because the last few years have followed a similar sort of pattern haven't they, you start solidly and get yourselves in and around the top six but then you're unable to sustain it?
Exactly right. It happened last year. I've been here last year and this year and the same thing happened last year, so it is disappointing. The lads have got to take it on board as well, we go out there and play every week and we've got to do better as well. I think it will be an interesting summer with (Massimo) Cellino coming in and it could be a change, we'll have to wait and see.
I suppose you can't be too hard on yourselves though can you - there have been a lot of distractions this season?
Yes, I've been through this situation three times in my career and I'm 26 now. You try to put it to the back of your mind and just get on with doing your job, once you get over that white line it does go out of your mind. But I think it is always is in your head a little bit and it can play a part, but we are professionals and we've got to get on with our job. We went on a run when we didn't get paid on time, we were losing quite a few games in a row, but it's all been sorted now, put to bed, and we have got some good results. Hopefully we can take that on into next season.
Like you say, you've been through similar before at Portsmouth so I suppose you know more than most the importance of sticking together and pulling through as a group don't you?
When it's happened in the past, it's really brought the lads together and we've had a right old go at it. This year, I don't really know what happened - I don't know if it was playing on people's minds or what - it was a difficult period. Thankfully we've come through it now. We were sort of looking over our shoulders a little bit, but we got a couple of important victories, we're safe now and we'll try to enjoy the rest of the season. Leeds United are a massive club, so as a club we need to be challenging in this league. A lot of the fans think we should be back in the Premier League, but it's got to be done in the right way and hopefully now we can start doing that.
While these changes are never ideal, you have to make sure you have the best possible people on board don't you to help the club - and that goes from the boardroom down to the playing staff?
To be fair to the gaffer, he has come in at the end of last year and he tried to stabilise the club. What he's trying to do is trying to stabilise and do it properly, like they did at Reading. It's difficult, obviously GFH came in and results just disappeared and it didn't quite happen for whatever reason. But now Cellino has taken over, everything has been put to bed and hopefully the gaffer will be allowed to bring in who he wants in the summer and we can have a good go at it next season. Hopefully we can be part of all that as players.
I take it you feel as though you have the right foundations to build on, it's just about getting a few fresh faces in and piecing it all together?
Yes, I think that's the case. The staff and everyone at the club are lovely people, at Thorp Arch and in all parts of the ground. Hopefully there aren't wholesale changes, I don't think it needs that. Obviously I'm only a player, I don't want to get involved in that, I just want to play football. Hopefully there won't be wholesale changes, there will be a few additions to the squad - good quality additions. We need to keep hold of Ross McCormack, the top scorer in the whole league, because he's important. We'll have to wait and see. A lot of things change in football and it changes very quickly, so we'll see what happens.
You've got a decent mix haven't you, the likes of Ross and a few experienced heads but also some good youngsters like Sam Byram and Alex Mowatt?
I'm not sure what's going to happen on the contract side, there are quite a few players out of contract, but we have got the likes of Sam and Alex coming through and they are quality young players. If you can gel that with that experience, hopefully we can have a good go. We're playing Derby on the last game of the season and they have done superbly this season with a young, hungry squad. We would love to emulate that next year.
For all of the trials and tribulations, you are in your second year with Leeds now and have you enjoyed it?
I have enjoyed it. It's been a big move for me because I was obviously down south, so I've moved my wife and I've just had a baby, so it's been a big move. I've enjoyed it up here and I've enjoyed my football, but I want to win games, I want to do well and be at the higher end of the league. Hopefully we can start pushing next year.
But for now, looking forward to a break and then hitting pre-season hard?
Yes, we want to try and get a positive result tomorrow and then finish the season on a high. We can then have a bit of a rest for a few weeks and then get back on it, start running again and all of the hard work starts again. It's something I look forward to. I have got another two years on my contract, so we'll see what happens and hopefully I will be part of it next year.