Sky Bet Championship: Leeds owner Massimo Cellino criticises manager Brian McDermott
Last Updated: 14/05/14 6:56pm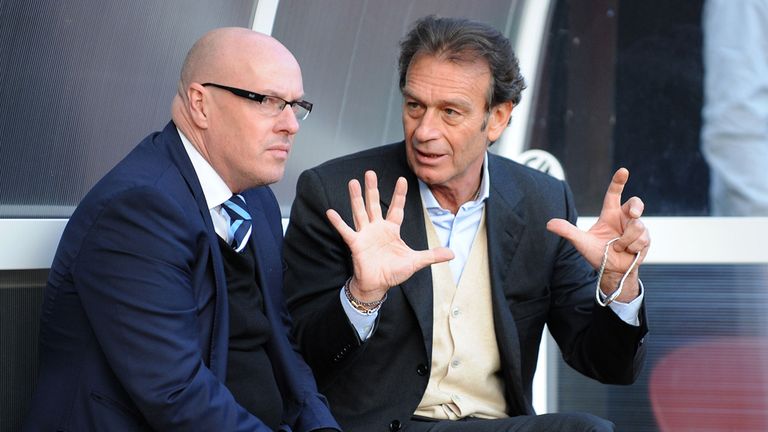 Leeds owner Massimo Cellino has questioned manager Brian McDermott's decision to take a holiday.
McDermott is understood to have taken a break after attending the League Managers Association's awards dinner in London on Monday night.
Cellino, who competed his deal to buy 75 per cent of the club's shares on April 8, temporarily closed the club's Thorp Arch training complex last Friday in a bid to ease running costs.
But in an interview with ITV's Calendar the Italian businessman appeared angry at the absence of McDermott and his coaching staff.
"I think at this moment the club is not managed by anybody," Cellino said. "Who's managing this club? Brian. Where's Brian?
"I send a letter to Brian - help us. He's on holiday to get some rest. He was tired I can understand. But why this kind of reaction?"
When asked what he said in his letter, Cellino added: "Just let me know what he's planning for pre-season.
"What he's thinking for the future. What's his plan? What are his ideas? Where are the people that we pay wages to every month gone?
"Who gave them the permission? Who organised that? He's the manager."
Cellino's interview comes two days after he revealed the full extent of the "alarming" financial situation he has inherited at Elland Road following his takeover from Gulf Finance House Capital at a meeting with fans group Leeds United Supporters Trust.
The club's accounts announced last month for 2012-13 showed a loss of £9.5m for the year and Cellino, who has described his first weeks in charge as "unbelievable, impossible", said daily running costs were "well over £100,000".
It is understood the club is losing more than £1m a month and, following the closure of Thorp Arch until pre-season training, it is understood the formal process of staff redundancies began on Wednesday afternoon.