Leeds United owner Massimo Cellino met the squad at Elland Road on Monday
Leeds United's players have been recalled from their holidays to meet owner Massimo Cellino.
Last Updated: 02/06/14 7:05pm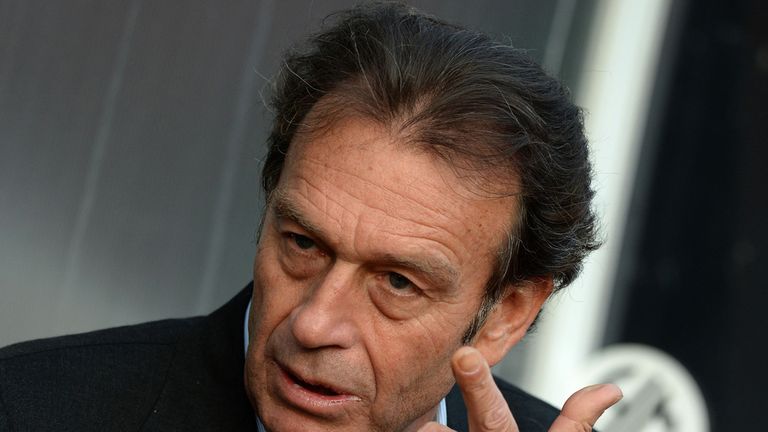 The players have reportedly not been paid for the last month after the Championship club were hit by a winding-up petition after missing the date to repay a £1m loan from Sport Capital.
That is expected to be one of the topics of discussion during Monday's meeting as Leeds continue their search for a new manager after Brian McDermott left the club by mutual consent on Friday.
Defender Scott Wootton admitted some of the players were frustrated at being called back from their time off.
He told Sky Sports News: "I'm sure the lads will have to had change flights, I'm not sure what's going to happen over that. I'm sure the lads are frustrated to be honest, yes."
On the issue of not being paid, he added: "No-one's spoken to anyone. Hopefully we'll find out all about that in this meeting now, it'll be one of things that will crop up."
Sky Sports News reporter Richard Graves said: "It's been a turbulent period for Leeds United. Late on Friday night around 11pm we got the news that Brian McDermott had agreed to leave the club by mutual consent so Leeds United's search for a new manager is already well underway.
"Cellino has been quoted as saying he has up to 10 potential coaches to see at some point this week.
"Among the names being considered we believe is Gianluca Festa, the former Middlesbrough defender, and also a surprise name, that of former Forest Green Rovers manager and ex-Watford coach Dave Hockaday.
"There is also a winding-up petition which Leeds United have got to deal with. As a result of that sources at the club have told us that the players haven't been paid because the club bank account has been frozen.
"Although the general full-time staff have been paid out of a personal bank account, FA rules prohibit players from being paid (this way).
"Sources at the club tell us they expect that petition to be dealt with accordingly and the players' wages should be paid some time in the near future."