The final chapter
Southend defender Ryan Leonard talks play-off pushes, success on the road and a Wembley day out.
Last Updated: 27/05/13 11:50am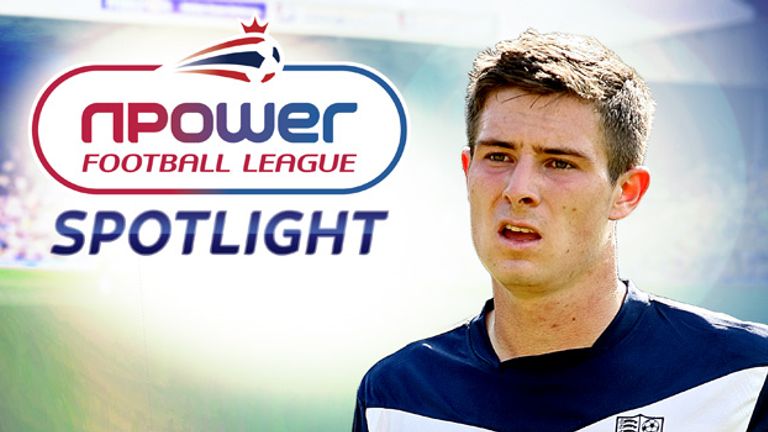 The 2012/13 campaign is about to enter the final straight, with promotion pushes and relegation battles now in full swing.
Here at Sky Sports, we continue to take you to the very heart of the Football League, with our Spotlight features intended to give you a greater insight into the clubs and players that keep us on the edge of our seats.
We are hoping to bring you the views and thoughts of a representative from each of the 72 teams over the course of the season, with those involved asked to give their take on the division they compete in, the club that pays their wages and those we should all be keeping an eye on.
Southend's Ryan Leonard is next in the hot-seat, with the Shrimpers defender taking time out to discuss play-off pushes, success on the road and a day out at Wembley with Chris Burton.
It's been a bit of a frustrating week hasn't it - you get back to winning ways and then come unstuck at Barnet?
It was disappointing. We were on the back of two decent results, with last Wednesday and the weekend, and to throw it all away against Barnet on Tuesday night was very frustrating. We need to bounce back from that now with a big few games coming up.
You've dropped out of the top seven but the division is so tight isn't it that there is still all to play for?
Definitely. We have had one bad result and all of a sudden we have dropped down a few places, that's how tight it is. I think if we can win a few games we will push on and maybe end up fifth or fourth, something like that. It's so tight up there, there are so many teams that are fighting for the same thing - promotion and the play-offs. If you put a few decent results together, anything can happen and you can fly back up the league again.
Are you thinking a top-three finish might be out of the question then?
I don't think it's completely out of the question that we can achieve it. I think it would take a lot from the team and we would maybe need a few results around us to go our way. Play-offs is probably the realistic aim, with an outside chance of automatic.
Is there also a case of having unfinished business with the play-offs, given what happened last season?
Yeah, definitely. Last season was disappointing and it took a lot out of the boys at the end of last season. We were disappointed to miss out by one point and then lost in the semi-finals to Crewe. We have got to make it up to the fans for that as well.
Do you feel that your experience from last season could actually end up helping you if you end up going down that road again?
That's the thing, we have obviously got that disappointing experience of having been there and not done it and not wanting to go through that again. That could drive us on if we make the play-offs. That could be a positive to come from it.
How do you feel things are going at the moment?
In the league we have probably struggled a bit in recent weeks. We went through a spell where I think we went 14 games unbeaten when we were flying, but recently we have dropped a few points and a few teams like Gillingham and Port Vale have pulled away from us. I think those two are looking strong and will go up, it's then a battle for the rest of the places.
You must be delighted with your defensive record, though - only the top two have conceded fewer goals this season?
Definitely. We pride ourselves on our defensive record. We have got boys at the back that have done really well this season. We have just got to put it right at the other end now, we need to score a few goals and keep the clean sheets coming. It's very pleasing to be up there with a good defensive record.
Your away record has also been impressive, with eight wins collected on the road compared to six at home. That's the wrong way of going about things isn't it?
I think it was the same last season as well, we did better away from home. Our home form needs to be sorted out, we need to address that and pick up a few more wins. For some reason we seem to do better away from home, which is strange because it normally works the other way around. Our away form is one of the best in the division, it is just our home form. If we can sort that out we will be halfway there.
As a group, you have got a day out at Wembley to look forward to in the Johnstone's Paint Trophy final. How hard is it to stop that from becoming a distraction when you have to wait so long?
We are obviously very pleased to have made the final at Wembley. We have been told by the skipper this week that that goes out of the window now, there is no more talking about it. We have to put that on the backburner now for a few weeks until we have the game. It's a long way away, it's four or five weeks, so we just have to put it to the back of our minds the best we can and concentrate on the league, because the league is our number one target.
But it's a nice distraction to have isn't it?
There is no better place to play. You want to play at the likes of Wembley and the biggest stadiums in football. It doesn't get much better than that. There will be a lot of competition for places now in the league games, so we have to prove ourselves in them and make the Wembley team.
On a personal note, are you happy with how things have gone this season?
I'm happy enough with what has happened since Christmas, the last few months I think I have done well. Before that I have probably struggled with injury a little bit, which is out of my hands but is frustrating. The last few weeks, the last few months, I have managed to get a run in the team, get a goal and help our push for the play-offs and get to the final of the JPT.
Who has impressed you at Southend this season? Who do you feel deserves a bit more credit than maybe they have been getting?
We have got the big lad at the back, Ryan Cresswell, I think he has been instrumental to us with the games he has played and the clean sheets he has kept. He's been a big plus for us this season. We have got Britt Assombalonga up top. He has struggled recently for goals, but before that he picked up a hell of a lot of goals. So we have got the big man at the back and the lad up top, they have had really good seasons, I think.
Finally, is it about finding the right mix between hard work and enjoyment now, with it important that you make the most of the games you have coming up and ensure that your efforts do not come to nothing?
Definitely. We are in the job to work hard and to do our best but, at the end of the day, you have to enjoy it as well. You have to enjoy the games and enjoy the occasions and the games that you play in. We have to make sure that we don't finish the season empty-handed. We could quite easily win the JPT and make the play-offs and it would be a great season for us, but we don't want to go down the other route and have that disappointment come the end of the season.