Barker has Sodje's backing
Efe Sodje insists Bury boss Richie Barker has the full backing of the club, despite mounting pressure.
By Chris Galea
Last Updated: 14/09/11 6:34pm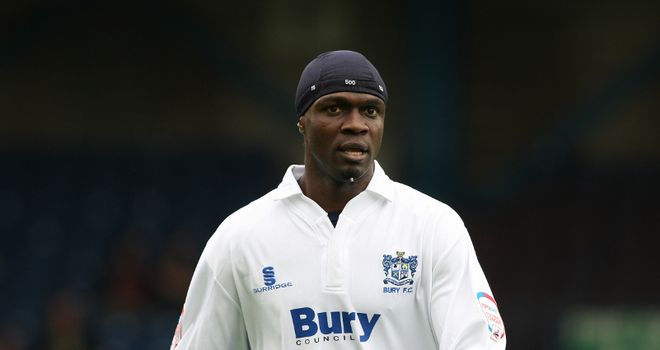 Bury's experienced defender Efe Sodje insists that Richie Barker has the full backing of the club, despite pressure mounting on the young manager's shoulders.
The Shakers clinched promotion to League One just five months ago, with the 36-year-old Barker widely applauded for his role in the feat amid his first role as a manager.
However, their 1-0 defeat at Chesterfield on Tuesday night was their sixth consecutive defeat and the former Rotherham striker admitted that he's running out of time to turn things around at Gigg Lane.
Sodje, who is two years older than Barker, told skysports.com that no one is panicking at this stage of the season by their poor recent form.
"At the end of the day the performance [against Chesterfield] was much better rgan against Rochdale, but we just couldn't get that one goal," he said.
Confidence
"The confidence levels are still quite high amongst the boys and we aren't pushing any panic buttons yet, so I don't think that there is much of a problem.
"It is only a matter of time before one of the chances is converted and once that happens I'm sure we will start firing again.
"There is no pressure building on the gaffer from what I can tell, so for people to be talking about his job being on the line is rather premature in my opinion.
"The chairman and the players are all behind him, so I don't feel that he is in a position where he has a certain amount of games to turn things around or he loses his job.
"The mood in the camp is still really good and a few decent results will make these things quieten down again.
"We are in a bad spell after starting the season well, but I'm sure that we will snap out of it and have a good season ahead of us."