James - Hart is No.1
David James believes Manchester City goalkeeper Joe Hart with be England's No.1 for the foreseeable future.
Last Updated: 30/12/11 10:05am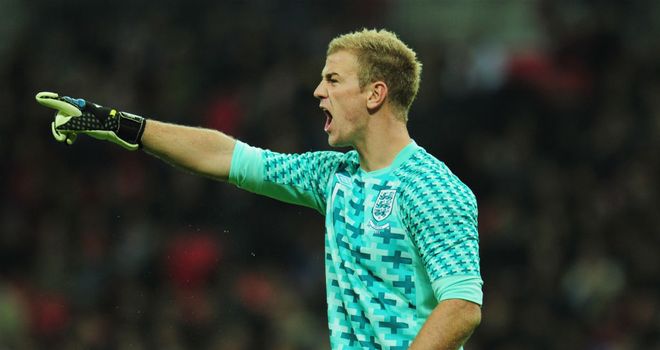 David James believes Manchester City goalkeeper Joe Hart with be England's No.1 for the foreseeable future.
Bristol City shot-stopper James has not played for the Three Lions since they bowed out of the 2010 World Cup finals with a 4-1 defeat to Germany.
Hart has not looked back since displacing Shay Given at City's first-choice and the 24-year-old has now won 16 caps for his country.
James has likened the former Shrewsbury Town man to Spain's Iker Casillas, who has been Spain's mainstay since 2000 having won over 120 caps for his country.
However, the 41-year-old insists that Hart is even better than the Real Madrid star and is of the firm belief that he is the best goalkeeper in the Premier League.
Better keeper
"I can see Joe being England's No.1 for many years, like Iker Casillas in Spain," James told the Sun. "The difference is that Joe is a better keeper than Casillas.
"I was at Manchester City when Joe joined. I think we had about a week together. But with England, I have seen close-up what type of player he is.
"He is a great lad. I love the guy. He was around the squad at the World Cup but obviously Rob Green played the first game against USA and I came in after that. But physically and technically, Joe is far superior to me.
"Beyond Pepe Reina, I don't see anyone better than Joe Hart. He can do all the stuff you expect from a top, top keeper. How old is he? 24? I made my debut for England at 27. But I only played one game before I was 30 and the other 52 after that.
"Joe has time on his side and is on the verge of big things with Manchester City. He is also so competitive. Having worked with so many goalkeepers with England, a lot of them have not been so competitive.
"I know keepers don't like letting a goal in but with Joe, he wants to win at everything. There is a glint in his eye - even if you are playing darts. That's the one thing I'm better than him at, though!
"When we did our goalie stuff, when he wanted to kick the ball a little bit further than me, he would try a little harder.
"Had I not been at the World Cup, and had Joe played, I would not have had any beef. You could see how good he was. It still gave me confidence at the World Cup being ahead of him.
"I sat on bench for a couple of England warm-up games and there were a few moans about one or two things he did but since then, he has ironed them out. I always knew he would be my natural successor."
Perspective
James does not expect to play for England again and he is hoping to attend next summer's European championships as a fan and is looking forward to seeing a tournament from that perspective.
"At the World Cup, I came in and kept two clean sheets - but then conceded four goals against Germany. Not great," he continued. "I watched that game for the first time last week.
"I have not spoken to Fabio since the World Cup. His assistant Franco Baldini rang me to say I was not in the squad for the friendly with Hungary after it.
"You always hope that you will enjoy the perfect career with England and that once you make your debut, you play every game and then retire.
"It doesn't always work like that. I've been dropped many times by England. Now, though, I will go to the Euros if I can. It will be nice to see it from the other side.
"I will not be knocking on team hotel door asking for a cup of free coffee. I will be looking for the real football fan experience. Obviously I would love to still play for England. But I am not going to say how I should still be in the England team."