Clarke departs Coventry role
Coventry deputy chairman John Clarke has resigned from the League One club's board of directors.
Last Updated: 04/03/13 7:37pm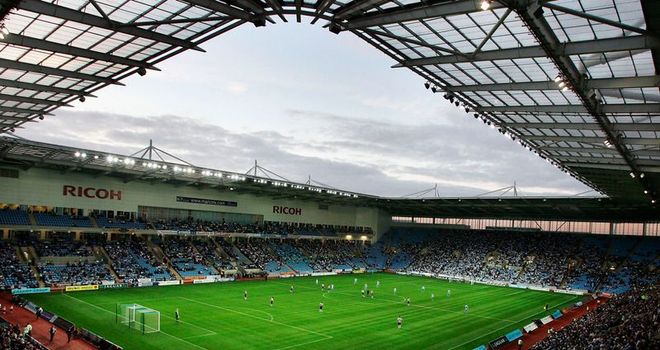 Coventry deputy chairman John Clarke has resigned from the League One club's board of directors.
Clarke, a Sky Blues fan for over 45 years, has enjoyed two spells as a director - first in the early 1990s and again from January 2011, with his latter stint always scheduled to be for two years.
But his departure comes as the financially-stricken club are embroiled in an ongoing rent row over the Ricoh Arena, which has subsequently seen their bank accounts frozen, while last week they were placed under a transfer embargo having again failed to file their annual accounts on time.
Clarke said: "It is with profound sadness that I am leaving the board for a second time.
"It was always my intention to stay on a little longer than the two years I had originally planned in order to hopefully see a resolution to the current situation. At the moment that does not appear to be the case.
"As both an associate director and more recently board director, I have been acutely aware of the fact that SISU (City's owners) have ploughed nearly £45 million into the club, and in more recent times have streamlined the business in an effort to make it more sustainable.
"I have therefore been very unhappy as the local director on the board with the danger of an insolvency event due to the current external legal pressures. I have made it clear that I want the club to find an affordable and sustainable way to stay at the Ricoh.
"The past two years in the club has been the most challenging in my professional career and I leave in the hope that ACL (Arena Coventry Limited, who manage the stadium on behalf of joint owners the Alan Edward Higgs Charity and Coventry City Council) will come up with a resolution that will give the club a platform to build a sustainable financial future and the supporters the success they deserve."
Clarke returns to his role as one of the club's associate directors, a group of local businesses who invested in the club in 2007.