Deepdale determination
Preston's Bailey Wright discusses season frustrations, future plans and international ambitions.
Last Updated: 27/05/13 11:39am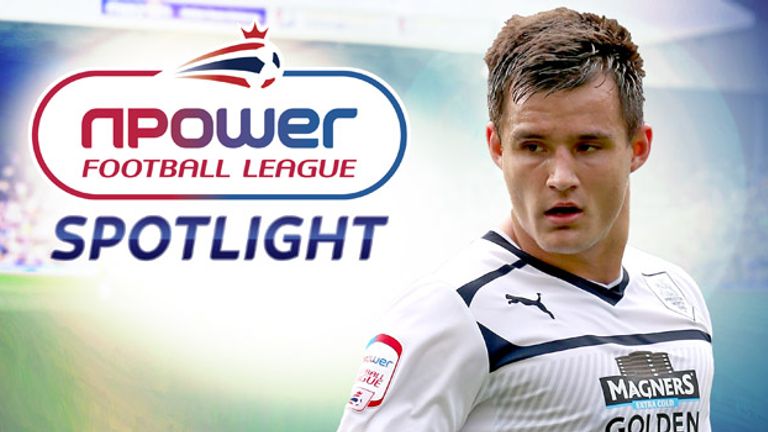 The 2012/13 campaign is about to enter the final straight, with promotion pushes and relegation battles now in full swing.
Here at Sky Sports, we continue to take you to the very heart of the Football League, with our Spotlight features intended to give you a greater insight into the clubs and players that keep us on the edge of our seats.
We are hoping to bring you the views and thoughts of a representative from each of the 72 teams over the course of the season, with those involved asked to give their take on the division they compete in, the club that pays their wages and those we should all be keeping an eye on.
Next in our hot seat is Preston's Bailey Wright, with the promising Australian centre-half taking time out to discuss season frustrations, future plans and international ambitions with Chris Burton.
How would you sum up how things have gone this season - it's been frustrating hasn't it as you just haven't been able to get going?
All the lads would say the same thing, it has been a very frustrating season for us. We had a good pre-season, but obviously didn't kick on into the season like we wanted. We have definitely underachieved, but lately things have been looking much better. Performance-wise we definitely look a much better team, more confident. But inconsistency has been our number one thing, we would win a couple but never get the rhythm.
That inconsistency has shown again over recent weeks - four games without a win - but I imagine there is a determination isn't there to end the season as positively as possible?
It's been frustrating in the last few games because we have dominated teams but not won and come away with the three points on a few occasions now. The performances are looking much better than they had done, but we still are struggling to win games and get on a roll. Now, it's about kicking on, getting ourselves as far up the table as possible and look to build for next season.
You've had the change of manager as well, but Simon Grayson knows what League One is all about and he will want to take things on next year won't he in his first full season in charge?
We'll all be looking for promotion, that's what we want. That's what the club wants. He knows the league very well, he's had three promotions from it, so he has very good experience. We have got a good squad as well. I'm sure there will be some players that come and go, I don't know how many, but it will be interesting to see what happens over the summer and we can all look forward to next year.
There is an expectation around Preston isn't there, given how big a club they are?
I think we will look at how we have done this year and we have definitely underachieved. - especially with the goals we set for ourselves, what the club expects and what the fans expect. It's a massive club and we want to get the club back in the Championship. It's been a massive underachievement for us this year.
The set-up there is geared towards being at least a Championship club isn't it?
The club's got a great fan base, it's got the stadium - Deepdale Stadium is absolutely superb, with a massive capacity. With the size of the club and the amount of fans that it has...our game yesterday against Crewe, we got 2,500 away fans travelled. That just shows the size of the club. It hasn't been a great year for us, we're sitting down the bottom of the table, but we are still getting fans like that. That definitely shows the size of the club and it deserves to be at least in the Championship.
On a personal level, are you happy enough with how the season has gone - you've made over 30 appearances?
I'm happy that I've played. I would be much happier if it had been a more successful season for us. But, for me, I wasn't too sure what was happening for myself over the summer, so to be able to play over 30 games this year is definitely a positive for me and I've learnt a lot from it.
You've been at Preston for four years, are you pleased with the progress you have made during that time?
Yeah, it's been four seasons now. I have been with the youth team and progressed my way through. I've enjoyed it and been happy with how things are going. Hopefully things can continue to improve for myself.
What have you made of League One and football in England at that level?
It's a very tough league, I think it's tougher than some people realise. It's very quick, physical and there are some good players in the league. Perhaps, myself, I didn't realise until the end of last season and I started experiencing it more and seeing a bit more first team action, just how good the players are. I think it's a very good league and a very hard league to get out of.
Do you feel that more players from Australia should be looking to do what you have done - come over at a young age and chase the dream?
For me, growing up as a kid you want to get the chance to play in England and play football professionally. I think a lot of Australians would love the opportunity, but it can be quite hard - with visas etc. Depending how old you are, it can be quite hard at the age of 18 to come over. But I would recommend it to anyone because it's a different world, football over here. It's the best country for football, I think. There are so many teams and so many possibilities that if it doesn't work out for you, there are a load of other teams. In Australia, the league isn't very big and there aren't as many options. I think here is where you want to be because it's where some of the best players in the world are.
Sticking with the Australia theme for a minute, I take it you are hoping to be involved with the senior international side at some stage in your career?
I would love to represent my country. I have done at youth level and stuff like that, but I haven't done since I made the move over to the UK. I would love to be part of the set-up again. It's something I would love to achieve. Time will tell.
Getting back to Preston, who has impressed you there this season?
There are loads of lads that have done really well. Will Hayhurst has been doing really well since he came into the team, he has done consistently well and shown what he is capable of. I think he is still only 19. But there are loads of good players. John Welsh has been one of our standout players this year, I think he has been really, really good. There are loads. All the lads have done well, just results haven't really gone our way this year.
The way you are speaking, it sounds as though you are hoping to be at Preston next season - is that the case, with there a 12-month option on your contract which could be taken?
I'm hoping to stay at the club. There is the option on the contract and time will tell what happens there. I'm enjoying myself at the club.
For you, is it just about giving your all every time you take to the field and then the future will take care of itself?
That's it. The only thing you can worry about is results and performances. The contracts, they will sort themselves out. The best way to put that in your favour is to play well, do well for the team and hope the team does well. That's all you can really look to do and not worry about things too much.