Gillingham appoint Peter Taylor as caretaker boss following Martin Allen's sacking
Gillingham have appointed Peter Taylor as caretaker manager following the dismissal of Martin Allen.
Last Updated: 14/10/13 6:09pm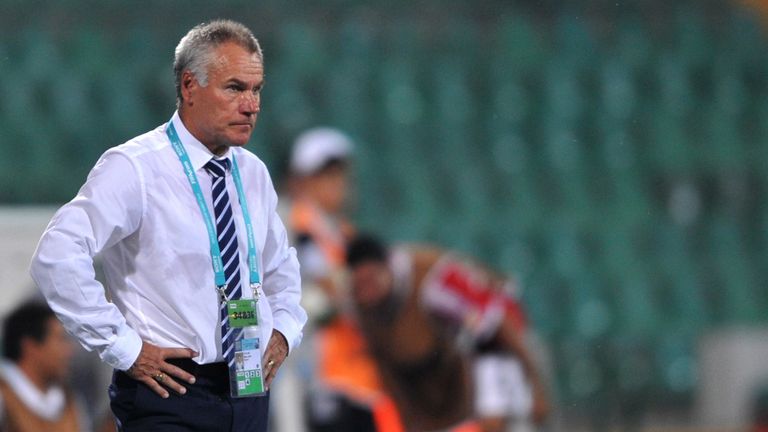 Former England U21 boss Taylor will take over on an interim basis whilst chairman Paul Scally interviews candidates for the full-time position.
Scally told the club's website: "I have received already a huge response from potential new candidates such that the process of considering a replacement manager is clearly going to take some considerable time.
"With that in mind, and based on my view that the playing staff require some immediate assistance to prepare for up and coming games, I contacted Peter Taylor this afternoon to ascertain whether he would consider coming back to the club on an 'interim manager' basis pending a full-time appointment to be made in the weeks ahead.
"I am delighted that Peter has accepted this role and he will take responsibility for the team with immediate effect, meeting the management and players tomorrow (Tuesday) morning, and taking charge of our game against Preston on Saturday and thereafter until a permanent appointment is made.
"I understand, and share the view that the changing of a manager is a major concern to all supporters, but I hope you will all accept either now, or in the fullness of time, that the decision made was made totally in the interests of the club, and whilst an extremely difficult decision to make I am absolutely confident it was the correct decision to take."
Allen led the Gills to the League Two title last season but departed after winning just two of 11 league games this term.
Saturday's 2-0 defeat to Shrewsbury left the club only a point above the League One drop zone but Scally told Sky Sports News that Sunday's move to relieve the 48-year-old of his duties was a considered - and difficult - one.
"The decision was not down to Saturday's result. It was a decision that was pending and it was made for good reason," Scally said.
"It was a unanimous decision between three board members that the time was right and I fully support it.
"I think if you look at the last quarter of last season and the first quarter of this season, our win record has been very poor and I didn't see any signs of that changing.
"I could have waited until Christmas, I could have waited until January or February, and maybe things would have changed, but - and I have watched football for a long time - I didn't see any change in the way we were playing, I didn't see the players playing to their potential.
"Two wins out of 13 - because we were knocked out of two cups - was a concern and the way we've been playing with the quality of the players we've got was a concern. If we'd continued on current form, we'd be relegated, without a shadow of doubt.
"I have to say the decision I made on Sunday was probably the most difficult I've made in football because I like Martin Allen very much and of course he did win us the League Two championship last year.
"But the longer I left it, the more difficult I felt it would be to salvage a place in League One next season and that is key to the future of this football club."