League One: Caretaker boss Peter Taylor hopes to land Gillingham job permanently
Peter Taylor hopes to land the Gillingham job full-time after stepping into the breach following Martin Allen's axe.
Last Updated: 15/10/13 1:19pm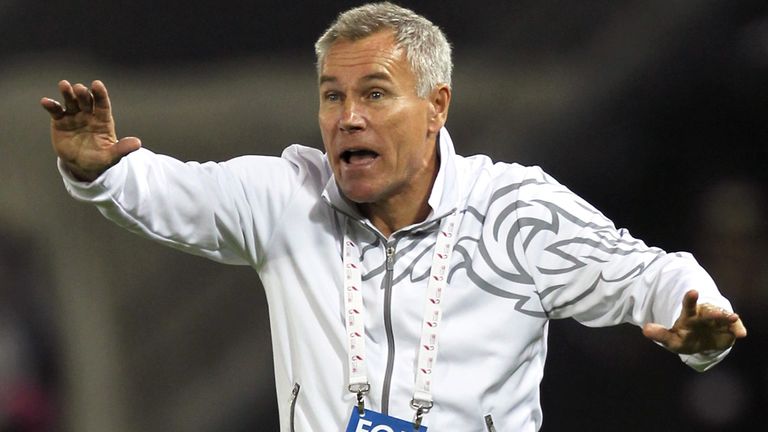 Allen led the Gills to the League Two title last season but was sacked on Sunday after winning just two of 11 league games this term.
Ex-England U21 boss Taylor, who briefly managed the Gills in 1999-2000, has answered chairman Paul Scally's call to fill the void on an interim basis, but admits he is out to impress.
"I got a phone call from the chairman yesterday and was hoping he was going to say there is a job there for two-and-a-half years but he didn't, " Taylor told Sky Sports News.
"I respect the reasons why he did not say that. He has probably had a million CVs weeks ago and especially after announcing Martin had gone.
"He has got a lot to think about and didn't want to make a big decision and go permanent at that time, so he asked me to do it on an interim basis and I am very happy to do so.
"Of course, I am going to put my name in the hat, try to get some results and put myself in a good position."
Scally told the club's website that the search for Allen's permanent successor could take "considerable time".
"I have received already a huge response from potential new candidates such that the process of considering a replacement manager is clearly going to take some considerable time," he said in a statement posted on Monday.
"With that in mind, and based on my view that the playing staff require some immediate assistance to prepare for up and coming games, I contacted Peter Taylor to ascertain whether he would consider coming back to the club on an 'interim manager' basis, pending a full-time appointment to be made in the weeks ahead.
"I am delighted that Peter has accepted this role and he will take responsibility for the team with immediate effect, meeting the management and players tomorrow (Tuesday) morning, and taking charge of our game against Preston on Saturday and thereafter until a permanent appointment is made.
"I understand, and share the view that the changing of a manager is a major concern to all supporters, but I hope you will all accept either now, or in the fullness of time, that the decision made was made totally in the interests of the club, and whilst an extremely difficult decision to make I am absolutely confident it was the correct decision to take."
Allen released a statement on Tuesday via the League Managers' Association, saying: "It goes without saying that I am deeply disappointed to have been relieved of my managerial duties at Gillingham, having enjoyed some fantastic results in my 16 months in charge.
"Any club who achieves promotion will face challenges moving up a level so it is with regret that I have been dismissed after just six league losses this season. With two great wins from our last three matches as well as being four places above the relegation zone at this early stage of the season, I was extremely confident that we would meet our league targets this campaign."