League One: Paul Downing pleased with Walsall's start to the season
Paul Downing feels Walsall can be happy with their opening to the season, but admits they are looking to push on.
By Chris Burton
Last Updated: 15/11/13 5:08pm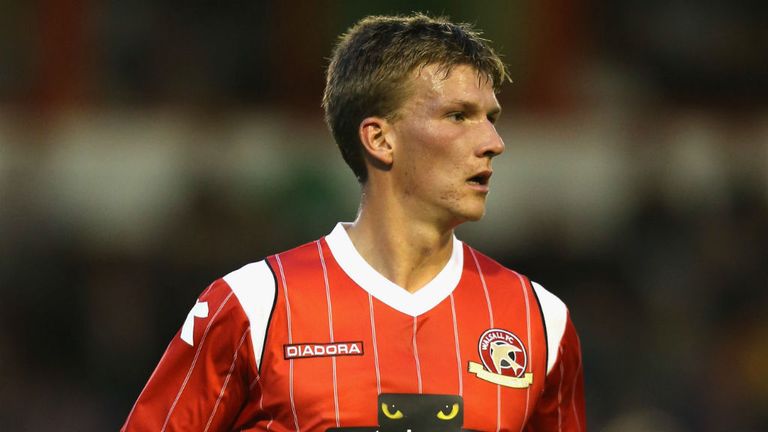 Having narrowly missed out on a play-off spot in 2012/13, the Saddlers are determined to go one better this time around and force their way into the top-six.
That is no easy task in a fiercely competitive League One, with fallen giants, promotion specialists and ambitious clubs on the rise making for an intriguing third tier tussle.
Walsall have positioned themselves just behind the front-runners a third of the way into the campaign, and Downing believes a return of 22 points from 15 games represents a solid start.
He told Sky Sports: "I've think we've had a good start. We've put down the foundations, we're in a nice position in the league. Perhaps there could have been a few more wins picked up, but we're quite happy with where we are and are looking to kick-on now.
"We take each game as it comes, but we'll be looking for a bit more consistency. We have picked up a few wins and then had a few defeats, so it's about trying to be more consistent and try to push up the league."
Consistency will come with goals, with only 17 plundered so far - making them the lowest scorers in the top half.
Downing said on the troubles in the final third and the need to avoid asking too much of leading marksman Craig Westcarr: "It's been frustrating at times. We're creating the chances but not quite scoring them.
"Again, it's the consistency - we've scored two or three in some games and then failed to find the net. But everyone has got to chip in with the goals, we're working on that on the training pitch and hopefully in a few games we can score some more goals.
"We don't want one to run away with it. Everyone can add to the tally. If we can do that we will definitely score some more goals. It needs to come from everyone, and we'll be looking to do that."
Solid
If Walsall can get things right up top then there is every chance they will progress, with only 15 goals conceded in as many games.
"First and foremost, every team wants to be hard to beat," said Downing.
"We've managed to be reasonably solid so far. We're always in games as well, we're never out of them. If we can carry on with that and score some more, then we'll be very hard to beat and will be picking up points pretty much every week."
Working to short-term targets is now the name of the game, with the season broken down into bite-sized chunks.
Downing said on the plans heading forward: "You can't ever look too far ahead. We'll probably look two or three games in front and see if we can pick the points up.
"Every game in this league is tough and you can't take anyone lightly. You're not going to be given three points so you have to be ready every Saturday and give it your best. Hopefully you get the wins and you can climb this league, because it's very tight."
Downing, who is in his second season with the Saddlers and penned a new deal with the club in September, is hoping he will be given the opportunity to help Walsall build on a productive start - with the 22-year-old having been an ever-present in the league.
He added: "I've been a regular so far and I'm looking to carry that on if I can.
"I'm happy with the number of goals we have conceded, as a defender. Although you can always improve and a few more clean sheets would be nice. But I've been pretty consistent this season and we've had a settled back four. I've been happy with how it's gone."