Simon Corney won't sell Oldham to Marwan Koukash if it means moving from Boundary Park
Oldham chairman Simon Corney will not sell to Dr Marwan Koukash if it will lead to the club leaving Boundary Park.
Last Updated: 18/11/13 5:34pm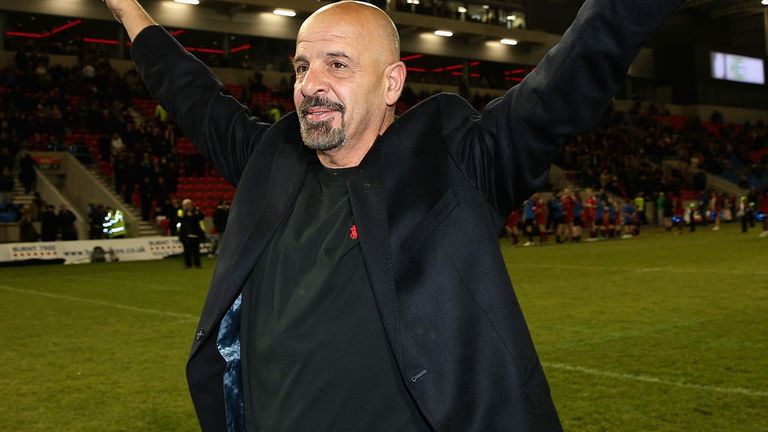 Dr Koukash, who also owns rugby league club Salford Red Devils, has expressed an interest in buying Oldham, but would also want to build a new stadium.
However, with the League One club having struck a £5.7million deal with the local council to redevelop Boundary Park, Corney confirmed Oldham will not be leaving their current home.
"This is the home of Oldham Athletic and has been for a long time, over 100 years," Corney told Sky Sports News. "We waited a long time to get this new stand, which has been six or seven years in the making.
"It's finally coming to fruition and I see no reason at all to want to leave here.
"We spoke about six or seven months ago and had a very nice chat. He's a great guy and is very much into his sport.
"Look at what he's done for Salford, he's revolutionised the place. You hear about and read about his wonderful horse racing empire. He's a top guy, but unfortunately he wants to build a destination stadium for both rugby and football, and that doesn't tie up with our plans here.
"The council here has been fantastic and has helped us to get to the stage we're at now. I've been here 10 years and have always wanted to redevelop Boundary Park.
"This stand will hopefully be the first of two or three stands that we want to build. At this stage, it's (the takeover) not going to happen unless he decides he wants to invest in the club and remain at Boundary Park.
"I don't really need to dig my heels in. It's our club, we own the land and there's nothing really to talk about. It could be Marwan, it could be anybody, but the club is staying here.
"It is very much a town club and belongs to the people, and everyone is happy here. We'd like to go higher and further, but it's a wonderful time for the club.
"We've got a fantastic manager. He might be the youngest manager in the league, but he is the most promising, and we're talking to him about a long-term extension that we're in discussions about at the moment, so why would we want to move?"