Pope of the Potteries
Port Vale's Tom Pope discusses adjusting to League One life as an individual and a collective.
Last Updated: 30/01/14 5:21pm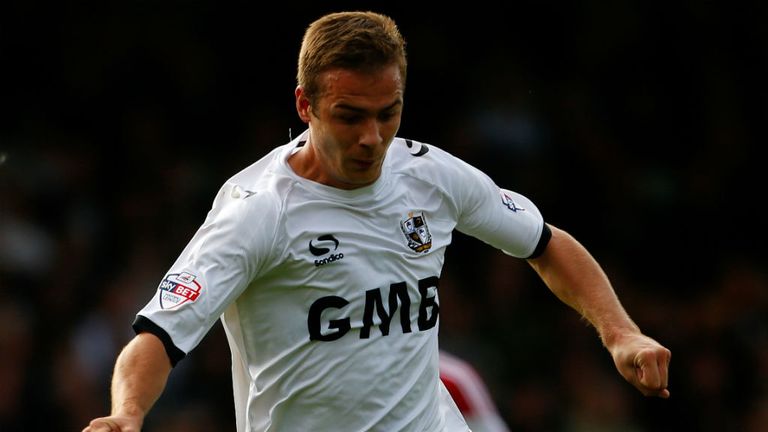 The 2013/14 campaign is now past the halfway stage, with divisions beginning to take shape.
Here at Sky Sports we will look to take you to the very heart of the Sky Bet Football League over the coming months, with our Spotlight features intended to give you a greater insight into the clubs and players that keep us on the edge of our seats.
We hope to bring you the views and thoughts of a representative from each of the 72 teams over the course of the season, with those involved asked to give their take on the division they compete in, the club that pays their wages and those we should all be keeping an eye on.
Port Vale's Tom Pope is next into the hot-seat, with the Valiants striker taking time out to discuss adjusting to life in the third tier as an individual and as a collective with Chris Burton.
As a squad are you happy enough with where you've got yourselves at this stage of the season?
I think we've got to be. I think any club that goes up from the league below, you just have to stay up and stay in the league the following season. So the start we've had has been a great achievement by the lads.
You've got games in hand as well haven't you which could be useful - you always want points on the board, but those games could allow you to close on those above you?
It does. We've got a couple of games in hand with the cup run we've been on. Hopefully we can carry on and push up towards those play-offs.
It means you're going to be busy though - six games in February and seven in March - would you rather have it like that or would you prefer to have a few more breaks?
You always want breaks really but, at the same time, if you're winning games of football then you can't wait for the next one to come along. Hopefully we can go on a decent run and keep playing with the confidence we have been doing and pick up a few points.
If you can build momentum when you rattle through the games, you could be flying heading into the final few weeks couldn't you?
You can, but at the same time, with the weather we've been having and playing on heavy pitches, I'm sure the gaffer will be looking to rotate and bring other players in. Hopefully he can keep it fresh but we can keep picking up points at the same time and go on a run. Hopefully we can sneak into those play-offs.
You admit that staying up was the sole target this season but, looking at those around you, did you always feel that a top-six push was possible?
When you sign players like Chris Lines and the sort in the summer, you have always got to be hopeful. We brought some really good quality in over the summer. To be fair, the squad that we had from last season, we always fancied our chances. We played a few of the sides from this league in the cup last year and acquitted ourselves quite well, so we always felt that if we could bring a couple of faces in then we'd have a chance. We have had quite a few injuries, certainly to the defence, and it's been quite difficult for the gaffer to keep a solid back four, but we've looked quite decent defensively of late and hopefully we can continue to do that.
It's positive isn't it that there is still room for improvement, that you're ninth and there are still possibly a few gears to go through?
Our position in the league and our results show that we can beat anybody on our day, but also that we can also lose to anybody on the day. It's all about consistency now. We've got over halfway through the season and I think whoever can be the most consistent between now and the end of the season will be the top six sides. As I say, we just need to go on a bit of a run and pick up a few more points.
You have started to tighten up at the back and that is an area which needed addressing isn't it as you're still the only side in the top-half with a negative goal difference?
I think that's the style of play we play. Playing with wingers and bombing midfielders you are always going to score goals, but at the same time it can leave you vulnerable at the back. At the start of the season we were certainly doing that, we were putting men forward and we played with some thrills, but at the same time we weren't having many decent results. I think defensively now we have sharpened up a little bit and we're heading the right way.
When stepping up a league it's important isn't it to play your own game, play to your strengths and not worry too much about trying to change a successful formula?
That's it. I think we played to our strengths last year and we started the season doing it this year. We had a lot of defenders out for the Brentford game and when you go to a side that have won 14 out of the last 15, you know you can only do so much. I think we certainly played a lot more negative against Brentford away, and we were in the game with five minutes to go - sometimes that is all you can ask. I know they got the killer second, but sometimes you just have to sit and try to grind a result out. I'm sure we will have to do that a few times this season.
I suppose for a club like Port Vale you only have to look at the struggles of the likes of Sheffield United and Bristol City don't you to put your achievements into perspective?
Exactly. They've had a bad couple of years. I'm sure they were the favourites to go back up again this year. But that's their clubs and we'll leave their managers and players to sort their troubles out, we'll just concentrate on us. When you have got clubs with fan bases like they've got, it's always disappointing for the supporters to see them in League One and in the lower parts of the league. They are two Championship and Premier League clubs, so I'm sure they will be aiming to get back up the league and go on a run themselves.
On a personal level, are you happy with how things have gone - 11 goals in all competitions so far?
It's been quite average, to be honest. I certainly haven't had the chances I was getting last year, but that was to be expected with the standard of players that you're coming up against. At the same time, I haven't had too many chances to miss. I'm just working hard and trying to put myself about. It's been quite average for me, but hopefully I can kick on in the second half of the season and try to get a few more.
Do you just need to keep drawing on what you did last season - how you felt and the positions you were getting into?
That's what you try and do, but when you have got wingers who are terrorising League Two defences, it's difficult when they aren't having as much joy in League One and full-backs and midfielders aren't having as much time on the ball as they had last year. I don't think that just from my personal view, I think it's difficult for the whole squad. You are obviously coming up against better players and they are keeping the ball a lot better than sides in League Two were. You're not having as much of the ball as you were last season, but we still know that we're capable of beating anybody in this league. It's always positive knowing that if you go into the game with the right state of mind, that you can beat anyone.
I take it you are enjoying playing at this level and under Micky Adams, and it's important the manager stays isn't it after all he has done in the last couple of years? There has been a bit of speculation regarding his future...
It's very important for us as the players, but obviously when managers are doing the kind of job that he has done over the last 18 months to two years, it's difficult to keep them. When players are scoring goals and in good form then clubs want them, and it's the same for a manager. Hopefully we can get him tied down here and keep him at Port Vale.