Johnson praise for Clarke-Harris
Oldham Athletic boss Lee Johnson believes other clubs are fearful of striker Jonson Clarke-Harris.
Last Updated: 04/02/14 11:36am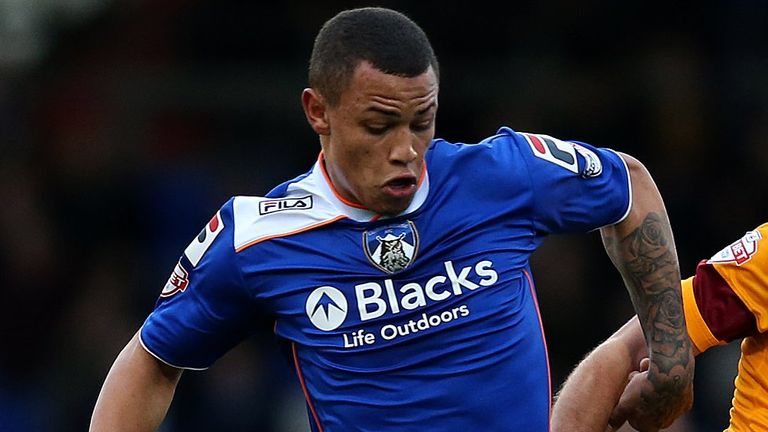 Oldham Athletic boss Lee Johnson believes other clubs are fearful of striker Jonson Clarke-Harris.
The 19-year-old, who became Coventry's youngest ever player when he turned out for them at the age of just 16, has scored six times for Latics in his first season at the club following his departure from Peterborough.
Coventry have shown a frequent willingness to use players from their own academy but opted not to offer Clarke-Harris a new contract when his deal expired, with the Sky Blues hierarchy at the time believed to have concerns over his attitude.
His current manager Johnson has not seen any of those problems from the forward, though, and admits he has responded well to the burden Oldham have placed on him.
Clarke-Harris has appeared in 34 games this season, and Johnson said: "He's such a young player; people forget he's only just turned 19 and had very little coaching in his career.
"He's shown a good attitude when people thought he might have had a poor attitude and he's a real big player for us already.
"It's unfair of us to put the demands on him we do considering his career path to date. But, he is a threat, and speaking to Wolves after the game (last Tuesday) teams are frightened to death of him. But we've got to try and nurture him. If he manages to get the different types of finish then he's cracked it."
No Oldham striker has scored in 2014 and with Adam Rooney having left for Aberdeen, the current crop, which has been bolstered by Jon Stead's arrival on loan, must now pick up the slack.
For Clarke-Harris to do that, Johnson wants him to show a little more composure when in front of goal.
The Latics boss added: "He's improved so much in his movement and the timing of his runs. I don't know whether people see that but we do as coaches and now it's the selection of the finish that he's really got to work on and improve.
"In his mind he knows his left foot is his trademark banker and he gets there and he blazes everything and it drives me insane. I'm thinking 'Just cut across him, be clever and slot it in with your right foot'. He's quick enough and powerful enough to do that.
"In his mindset it's, 'Get my left-foot shot out because it's so powerful'. But, you see the one at home where he's smashed it in the top corner, it hasn't happened enough for that to be his only finish."