Martin Ling ready for return to Football League management
Martin Ling hopes his battle with depression will not cost him the chance to make a return to football management.
Last Updated: 14/02/14 8:14am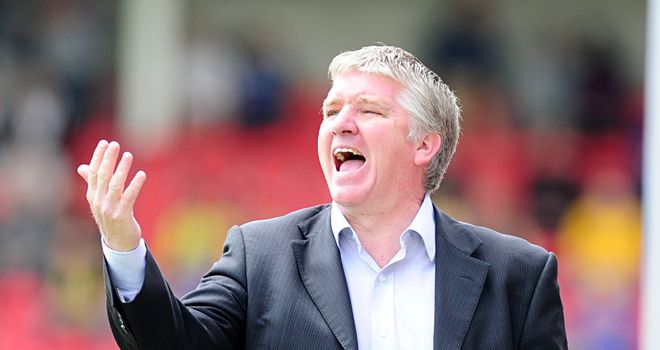 Ling was dismissed by Torquay United in controversial circumstances - for 'footballing reasons' - at the end of the 2012-13 season after spending the second half of the campaign away from the club being treated for what he recently revealed was depression.
He handed the reins over to assistant Shaun Taylor, who was then replaced by Alan Knill as the Gulls narrowly escaped relegation to the Conference.
The 47-year-old led Torquay to the League Two play-offs the previous season and also had successful spells in charge at Leyton Orient and Cambridge, but that has so far counted for little in terms of applications for a new managerial position.
Ling has taken on a variety of roles, as he terms 'a safety net', just in case a chairman doesn't come calling but he remains positive he has a future within football one way or another.
"I'm in a very, very good space. I've probably sent in 20 CVs for jobs and I've had two interviews," Ling said.
"The way I look at it, I've never been out of the game longer than six months. Between Orient and Cambridge I set up a scouting network for Hibs, between Cambridge and Torquay I was chief scout at Walsall for a good friend of mine Dean Smith, and that's what I am doing now.
"I've got four little projects. A little safety net under football not wanting me again; I work for Dean, I work on the radio, I work for MB Partners, a management company, and I've got my soccer school - Ling's Elite in Harlow.
"I've built that safety net because I believe if football doesn't want me, I've got enough knowledge to help other people.
"It's a year since I went down with the illness and eight months since I was relieved of my duties at Torquay. I've been well since March - what I mean by that is coping with the depression because it's always there.
"I am convinced my CV is good enough to get another league job or another job within football. The one stain on it is depression and there will be chairmen out there who have had people close to them with depression and they know it's a disease that is manageable.
"But it's not a physical disease. If you are sitting in a room with six people, the other five haven't got depression but have got the same quality of CV, maybe mine goes to the bottom of the pile.
"I've put in for jobs I thought were lesser than my CV and I've not even made an interview. So people will look at my CV and the first thing they will see is that he left Torquay under the remit it was a stress-related illness. Everyone knows now it was depression but I was only ill for two months, people have got to remember that.
"I feel I have the coping strategies to deal with depression so that means I can work. People say the stress of the job is part of the problem but you can have stress being a road-sweeper.
"But I do feel my CV is a little bit stained because of depression and I think it's harder for me to get back into football management because of it. It's an honest belief of mine.
"I've never taken a club down, I've won promotions, I took Torquay to the play-offs and I've always done better than was expected. So why wouldn't someone take my CV? I've brought youth players through, made profits for club.
"I'm proud of my 18 years as a player and 13 years in management. There's a lot of out of work managers but I feel the depression has put a little coffee stain on my CV that people have got to get through."
Ling's son Sam, 17, is building a promising career with one of his former clubs Leyton Orient, having made their first-team bench this season, and he feels that has also been a help in his battle.
"Since Torquay, he's been part of my therapy," he continued. "I'll go and watch him in the morning and then go to do a Radio London game or do a game for Walsall.
"Going to see how successful he's become in six months has helped. He's got a lot more attributes than I had as a player because he has the technical ability I had and he can head and tackle, which must come from his mum's side because Martin Ling didn't do that.
"He's got the attributes to be a top-class player but he's got to get over those hurdles and have a bit of luck along the way. If you've been on the bench five times for a team near the top of League One it proves that.
"It's hard to watch him play some times because of the butterflies you get for your boy, but to see him on the bench for his first ever game against Walsall was probably my proudest moment, believe it or not, after all I've done."
Martin also feels he is in good position to advise Sam should something similar happen to him, as he added: "The advice I would give is don't suffer in silence.
"That's the one message I want to put out and I've done a bit of work for a charity called Time To Change. The people that suffer depression and then hide away from their problem are the people that take it on for 10-15 years. I talked about it and after him seeing me, I would hope he could come and talk to me about it."