Meadow pain
Notts County defender Alan Sheehan discusses scrapping for survival and playing for your future.
Last Updated: 25/02/14 5:03pm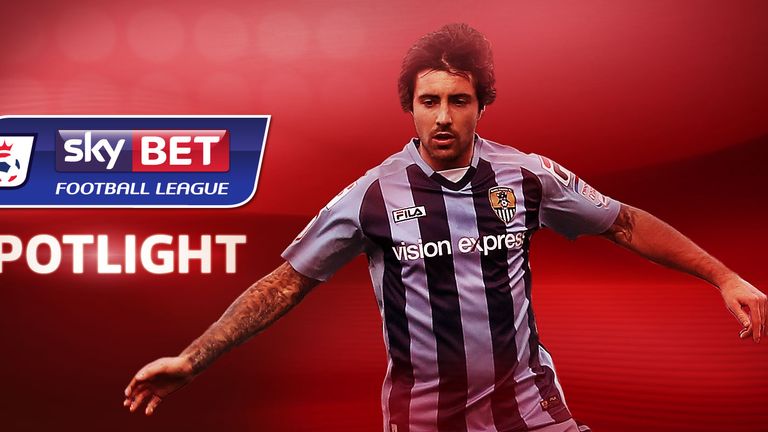 The 2013/14 campaign is now entering the final straight, with divisions beginning to take shape.
Here at Sky Sports, we will look to take you to the very heart of the Sky Bet Football League over the coming months, with our Spotlight features intended to give you a greater insight into the clubs and players that keep us on the edge of our seats.
We hope to bring you the views and thoughts of a representative from each of the 72 teams over the course of the season, with those involved asked to give their take on the division they compete in, the club that pays their wages and those we should all be keeping an eye on.
Notts County's Alan Sheehan is next into the hot-seat, with the Magpies defender taking time out to discuss survival scraps and playing for your future with Chris Burton.
You find yourselves in a testing situation, but I take it you are all trying to be as positive as possible and approach the challenge facing you in the right way?
Definitely. We've had a few poor results. We threw away three points on Saturday, after being 2-0 up, so we're disappointed but there are 13 games left and there is still all to play for.
It's time to stand up and be counted isn't it, every player has got to be able to look at themselves and be able to say that they have given absolutely everything?
Exactly. The players we have here, people will probably say that we shouldn't be where we are. But the table doesn't lie, we're near the bottom, we're in a relegation battle and the players have got to look at themselves. The players that are on the pitch, we're the ones that aren't winning the games. We're the ones that have got to put it right.
It's looking like every game from now on is going to have something riding on it, but that's no bad thing is it?
I suppose you could say that we would rather be up the other end of the table. We have got 13 cup finals coming up, 39 points to play for, and we're going to need to win a good few of them.
Can you put your finger on what has gone wrong this season, because it's never really got going has it?
No. It's been stop-start. We were 2-0 up the other day, had a man sent off and we lost 3-2. Even with 10 men, we should be capable of winning the game. The same thing happened against Peterborough - we were 2-0 up after 15 minutes, battering them, and we lost 4-3. We're throwing away a lot of points and we've got to look at ourselves. We're in a relegation battle now.
You need to find a way of grinding out results don't you - 21 defeats is too many and you would only have needed a few more draws to be out of the bottom four?
I know. We've got so many important games coming up it's crazy. We just have to be as positive as we can and be positive that we're going to get out of this mess.
You've got seven games coming up in March, the next month could really shape your season couldn't it?
Definitely. We have got seven games and the next three are Rotherham away, Orient and MK Dons - three tough games. We have got to stand up and be counted and start putting points on the board.
It's so tight though isn't it that, theoretically, a few wins over the coming weeks could have you mid-table by April?
The league is crazy. On any given day, any team can beat any team. We haven't been consistent enough and the table doesn't lie. We are where we are for a reason.
You only have to look at Bradford don't you - who are in the top half - to show what you could have achieved, as you have won as many games as them?
Even the games that we don't win now, we've got to be picking up a point here and there because they will all count.
You've had the change of manager as well, which obviously doesn't help, but Shaun Derry is a man who cares about the club isn't he and that's what you need in this situation - that passion?
The manager is a very passionate man, he was like that as a player. He loves Notts County and he's made sacrifices to be here. I think the players take full responsibility for where we are. The manager came in, shook up things a bit and the manager is definitely not to blame.
Sticking with the taking responsibility theme, is it fair to say that a few of you, including yourself, are playing for your futures - with contracts running down?
I think it is. We have got 13 games and the club don't want to speak to anybody until the end of the season, so I think that is fair to say. We don't know where we're going to be and I think you're going to have to be playing well to get a contract.
In an ideal world, will you still be at Notts County next season as a League One player?
In an ideal world... yeah, possibly. Who knows what's around the corner? We just have to take every game as it comes now and try to get out of this mess.
You've been skippering the side of late, have you been enjoying that added responsibility?
I'm very proud to be captain of the club. I would like to have won a few more games, but that's the way it is. I've gone in to centre-back and been quite happy with my form this season, scoring a few goals. I would trade a few of those goals in for wins now!
And you're confident heading forward - it's not about how you start the season is it, it's about how you finish it?
I hope we're saying that at the end, yes!
Alan Sheehan was talking to Sky Sports on behalf of Sky Bet, the Title Sponsor of The Football League.
For a wide range of match odds and specials on all Football League matches and a £5 free bet every week, go to skybet.com.