Road to Wembley
Peterborough are on the brink of what could be one of their finest hours as they prepare to face Chesterfield in the Johnstone's Paint Trophy final. Robert Olejnik talks Sky Sports through their cup run...
By Peter Fraser - Follow me on Twitter @SkySportsPeteF
Last Updated: 28/03/14 1:59pm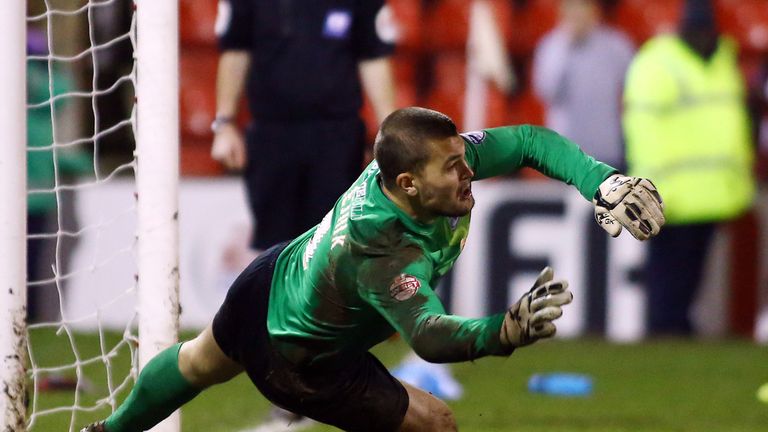 After victories over Brentford, Dagenham & Redbridge, Newport County and a dramatic penalty shoot-out win against Swindon Town, League One Peterborough United are 90 minutes away from silverware in the Johnstone's Paint Trophy final.
Ahead of facing League Two title challengers Chesterfield Town at Wembley on Sunday, goalkeeper Robert Olejnik, who is part of the Precision Goalkeeping stable, remembers Posh's successful and defensively-efficient path through the competition's earlier rounds in the Southern Area.
Peterborough 2 Brentford 1 - 8th Oct, 2013 (Second Round)
"It was a difficult game, even though it was at home, because we knew Brentford had started picking up points in the league. It was 2-1 and I made a couple of late saves and in the end we were quite comfortable. We kept five clean sheets in the league in October and the only goal we let in that month was the one against Brentford. But it started us off on a high."
Peterborough 1 Dagenham 0 - 12th Nov, 2013 (Quarter-Final)
"It was not a classic but it is the win that counts and it was another clean sheet so that is obviously pleasing for the team. Clean sheets win you games. It is difficult to enjoy games when you are not involved too much as a goalkeeper, because you have to stay switched on, but I enjoyed the result afterwards. If you are getting peppered with shots, you are always switched on. Whereas, a 1-0 win is almost worse for a goalkeeper during the game."
Newport County 0 Peterborough 3 - 10th Dec, 2013 (Semi-Final)
"Long may the clean sheets continue! We had played Tranmere Rovers in the FA Cup the previous weekend and won 5-0 so it was a cup Saturday and then a cup Tuesday. I think Newport were flying at that time so we knew it was going to be tricky but it was another very good win. It was one of our best performances in the competition and we were very solid as a unit. Clean sheets, for me, are the most important thing, as it gives you a basis."
Peterborough 2 Swindon 2 - 5th Feb, 2014 (Final First Leg)
"We were 2-0 up and Swindon came back to draw but I think we always knew we were going to go through. It is difficult to explain but, even at 2-2, we knew they would have to come after us when we were away in the second leg and that suits our style of play. Sadly a fan was taken ill in this game and it overshadowed the match. I think he is okay now but we still want to go and win the final for that man."
Swindon 1 Peterborough 1 (3-4 on pens) - 17th Feb, 2014 (Final Second Leg)
"As a goalkeeper in a penalty shoot-out, I do not think you can lose. The pressure is always on the penalty-taker. As goalkeepers, we get told as much information as possible about who the penalty-takers are and where the ball might go. It is up to the players to do their best and for the goalkeeper to save as many as he can. Luckily I did not have to save any, as the Swindon players who missed put their penalties over and against the crossbar. The celebrations afterwards were crazy and it is only over the last couple of weeks that it has sunk in that we reached the final."