Safety secured
Crewe defender Mark Ellis discusses beating the drop and waiting on fresh terms with Sky Sports.
Last Updated: 07/05/14 3:11pm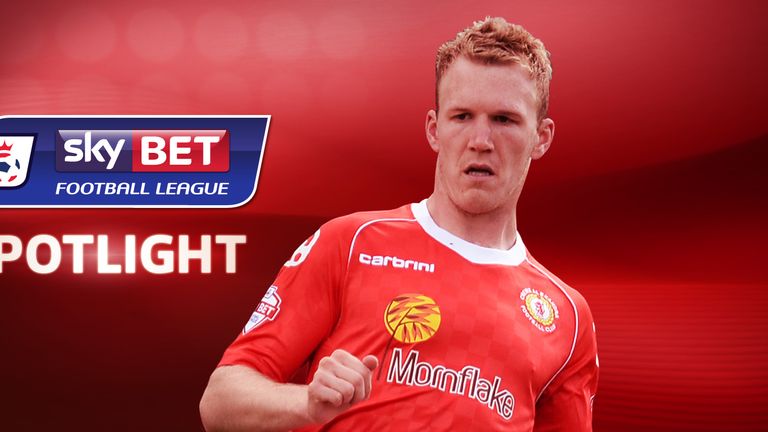 The 2013/14 campaign is now almost over, with only promotion issues to be decided.
Here at Sky Sports, we have endeavoured to take you to the very heart of the Sky Bet Football League over recent months, with our Spotlight features intended to give you a greater insight into the clubs and players that keep us on the edge of our seats.
We have looked to bring you the views and thoughts of a representative from each of the 72 teams over the course of the season, with those involved asked to give their take on the division they compete in, the club that pays their wages and those we should all be keeping an eye on.
Crewe's Mark Ellis is next into the hot-seat, with the Alex defender taking time out to discuss beating the drop and waiting on fresh terms with Chris Burton.
What was it like to be involved in the Preston game at the weekend, with potentially so much riding on it?
Obviously we knew what could happen if we didn't get the result. Other teams did, but we wanted to get the job done ourselves so that we knew we were guaranteed to stay up. It was a massive game. I've been involved in that situation before myself at Torquay, when we first got back into the Football League, so hopefully my experience helped.
Were there a few nerves knocking about?
I think so. It was quite quiet in the changing room beforehand. But we managed to get the early goal that we needed and then finally settled down.
Were you aware of what was happening elsewhere, because in the end you didn't need a result did you?
Not really. At half-time, we heard a couple of whispers that Tranmere were winning and had a player sent off. We just got on with the game. In the end we knew that if we won the game we would be fine. At the end, we found out that Tranmere had lost anyway.
Does a finish like that help to make the season feel like a success - not ideal, but job done?
Yes, it does. Being down there pretty much all season towards the bottom, it was tough. But you can say it was a job well done. Everyone put a shift in and everything went for us.
It lifts the place doesn't it, and it's always important to end the season on a high regardless of how disappointing it has been?
It does. But in the last four or five games we went unbeaten, and that's what you need to do in a relegation battle. We did what we had to do and pulled away.
The challenge now is to kick on isn't it, this can't be allowed to happen again?
We have got to look at the last four or five performances and try to kick on from there into next season. We need to work hard in pre-season and go from there. We have to learn from our mistakes and build on it.
It's such a competitive league isn't, but I take it you have seen enough of League One to know that Crewe are better than 19th?
Oh yeah. In my first season, we finished halfway and won a trophy - the Johnstone's Paint Trophy. We knew that we were good enough in the first season, obviously things have gone on this season and I think it's affected everybody, but we have got to move on.
It's going to be another important summer isn't it, and another busy summer with the comings and goings already starting?
It is. Myself, I'm out of contract as well. We'll wait and see what's happening.
I take it you hope there will be a new contract?
Hopefully. I haven't been given an answer yet, I haven't been given a yes or no. I haven't sat down with the manager yet, but it's the same for everybody who is out of contract at the moment, they can't give us an answer yet. We've just got to wait.
It's an odd situation isn't it, because you're not tied to anyone, but at the same time you aren't looking to go somewhere else?
Like I say, you've just got to be patient and hopefully it will go for you and you will end up with a contract on the table. If not, then one door shuts and another one opens. I can't really say any more until Crewe have made a decision.
You must have enjoyed your time there so far? Wembley wins and regular football...
It's been brilliant. I have nearly notched up 100 games in two seasons. I have thoroughly enjoyed it and there is a great bunch of players with unbelievable talent. It's a shame that we only finished just outside the relegation places this year, but the ability we have got within that squad is capable of finishing a lot higher.
How are you reflecting on your season on a personal level? Has it mirrored that of the club in that it didn't start brilliantly, but has ended positively?
Yes. It was a good experience. I feel as though I have improved since I have been here as a player. In the last couple of years, I have learned a lot and got rid of a few bad habits that I perhaps had when I joined. It's been good for me. I had a tough start to the season, I didn't feature at the start - which was disappointing - but I have then had 30-35 games on the bounce and we have done well enough to stay in the division.
So for now, is it all about getting your future sorted as quickly as possible and then enjoying a well-earned break?
Yes, it is. I'm off on holiday, will get away and go enjoy myself with the family, but the most important thing is to get my future sorted out.