Rose in bloom
Colchester's Michael Rose discusses his new lease of life and all things League One with Chris Burton.
Last Updated: 27/05/13 11:34am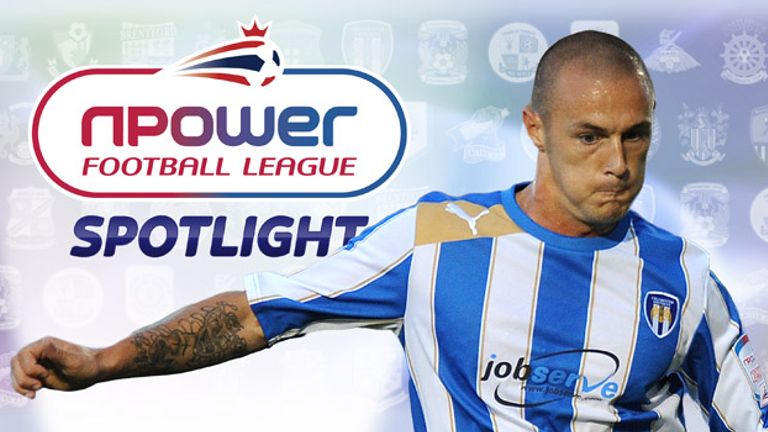 The 2012/13 campaign is now well under way, with divisions beginning to take shape.
Here at Sky Sports we will look to take you to the very heart of the Football League over the coming months, with our Spotlight features intended to give you a greater insight into the clubs and players that keep us on the edge of our seats.
We hope to bring you the views and thoughts of a representative from each of the 72 teams over the course of the season, with those involved asked to give their take on the division they compete in, the club that pays their wages and those we should all be keeping an eye on.
Colchester's Michael Rose is next in the hot-seat, with the U's defender taking time out to discuss new bosses, working hard and all things League One with Chris Burton.
How would you sum up Colchester's season so far? Would it be fair to say it's been a bit frustrating?
It's been a little frustrating. With the gaffer (Joe Dunne) taking over, we set off to a flyer and that has just dipped a bit. But I think overall the lads are putting it in and are pleased with what the manager wants us to do. I just think it's a case of keep doing what we are doing. The gaffer has got his way of how he wants us to play, so I think we just have to stick to that, to be honest.
You have shown in patches what you are capable of this season, is it now a case of finding some consistency?
I think that's a big thing for us, consistency. We have played well in games. The last game at MK Dons we didn't really perform well. The first 20 minutes we did alright and we matched them, but we sort of dwindled after that. But I think the lads know that and the gaffer knows exactly what he wants, so we'll keep working hard.
Taking defeats against Tranmere and MK Dons out of the equation, your other setbacks have been in close contests. That suggests that there isn't too much to work on doesn't it?
We've done well. I think we have been playing well, especially when the new gaffer took over. He wants us to play differently to how the old manager wanted it, he has got his own philosophy on the game and how he wants things done. For the first part it was all new to us, but we are all getting used to that and are enjoying the way we're playing.
It is, however, important isn't it to snap out of your current run? You don't want to get stuck in a rut do you?
Of course not. The gaffer came in and we were flying, we won five of six, and confidence was high. It only takes one or two defeats to knock you, but I think we have got to keep believing and knowing that we are quite capable of winning games.
Your next game is going to be a big one isn't it - Oldham are in a similar position to yourselves?
It is. It's going to be a massive game on Saturday. We are gearing towards that and have been looking at that in training. We're all focused and ready for the game.
Colchester finished 10th last season and you're only six points off that standing now despite sitting 17th. The division is so tight still that anything can happen can't it?
It is really tight. There are teams beating teams that you wouldn't expect. At this level, anyone can beat anyone in this league and that's why it's so tough at times. But it's still really close and one or two wins, especially over the Christmas period when there is a lot of games, can push you back into it. It only takes two wins and you're right back in there. I think we are well capable of that. We have got some good games coming up over Christmas and hopefully we can get back to winning ways and start pushing back up there.
On a personal note, this season is going better than last so I take it you are delighted with how things are shaping up?
I'm really pleased. Last season was sort of a write-off for me. I have said it before that I didn't really get going when I signed here and I found myself sat watching most of the season. But I have been involved right from the start this year and have managed to play in most games. I'm really enjoying it.
Has it just been a case of keeping your head down, not rocking the boat and forcing yourself into contention?
Exactly. When the gaffer took over he told me what he wanted and hopefully I have been doing that while he has been in charge. I can only hope that I can keep my place.
You've managed to help yourself to a couple of goals so far as well, which is pleasing?
Yeah, that's nice. I have got a couple of goals already this year, so hopefully I can add to that. I'm really pleased with how everything has gone so far.
You've played plenty of League One football now, what do you think it takes to be successful at that level?
I think it's just hard work, really. You can't afford to switch off in games and think this is it, we've done it, we'll beat these easily, because any team can turn up on the day and turn you over, which we've seen and other teams have seen as well. You just have to keep working hard and keep doing what you know and what you do best. Hopefully then the results will come.
Have there been any teams that you have come up against that have really impressed you, or any that have surprised you?
Not really. Teams have their own reputations and you come to expect what teams can do. The teams we have played, we have been involved in some good games this season. Every game has been a good game, from a fans' point of view it's been really good to watch. I think we have competed well - we have had a couple of narrow wins, a couple of narrow losses and a couple of heavy losses, so it's been a bit of a mixed bag.
And at Colchester, is there anyone you feel is deserving of a bit more credit than maybe they have been getting?
I think all of the lads are playing well but, for me, since Hendo has got back into the team I think he has been brilliant. I think Ian Henderson has been really good since he came back in because when the gaffer took over he wasn't really featuring and I think he maybe found himself looking elsewhere for football, but he's worked hard, stuck at it and got back in. I think he's been brilliant since he came back in. Craig Eastmond has been doing well and has been getting a lot of attention, being on loan from Arsenal. He's been brilliant since he's come in, but I think the team as a whole have been doing really well, we've gelled together and are all in it together.