Football review 2012
Sit back and recall the last 12 months as we give you the full story, including most memorable moments and best quotes, from an amazing year in football. We've also picked our heroes and villains, profiled Lionel Messi and pulled together the year's best images in two stunning galleries
Last Updated: 31/12/12 10:06am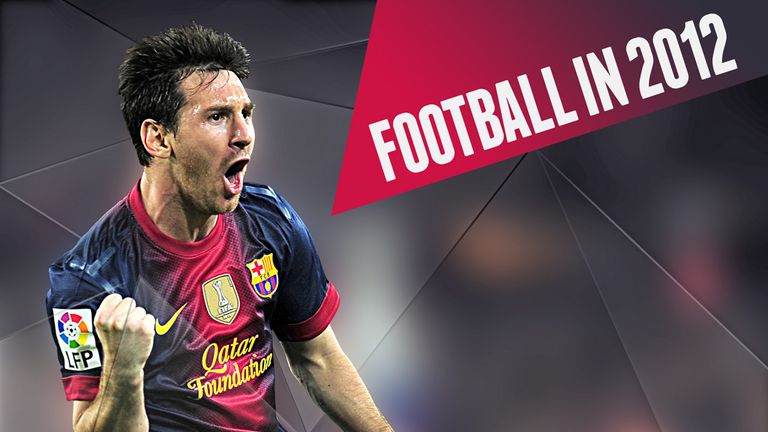 "I swear you will never see anything like this ever again". The immortal line from Sky Sports commentator Martin Tyler applied to the breath-taking conclusion of last season's Premier League title race, as Sergio Aguero won the trophy for Manchester City with almost the final kick of the campaign. But, let us be honest, it could have related to 2012's footballing year.
It has been a truly spectacular 12 months for sport as a whole and the Beautiful Game played its part. There has been title-winning team brilliance and record-breaking individual displays. At the same, there has been sadness and those instances to forget, when it has felt like off-field events became more of a focus than the matches themselves.
Away from Aguero reducing grown Manchester City fans to tears, the purity of Lionel Messi's year-long radiance cannot be ignored. The Argentine ripped up the history books to score the highest number of goals in a calendar year and underline his reputation as the best footballer of all time.
Chelsea and Spain also had a sense of phenomenal achievement. The latter were victorious at Euro 2012 to bolster their status as the greatest team in football's archive. Chelsea, meanwhile, lifted the UEFA Champions League for the first time, although it was not enough to save boss Roberto Di Matteo's job just six months after also winning the FA Cup.
Di Matteo was not the only manager to become unemployed in a typically frantic year on the merry-go-round. To name just a few, Pep Guardiola decided to leave Barcelona and Kop idol Kenny Dalglish was shown the door at Liverpool despite winning the League Cup. Fabio Capello also quit England amid the row surrounding demoted captain John Terry and accusations of racism, for which the defender was later cleared in court but was handed a Football Association ban and fine. On the other hand, Celtic boss Neil Lennon's job security has not been in question after reaching the last 16 of the Champions League with a famous win over Barcelona en route.
A Capello-less England went to Euro 2012 with Roy Hodgson as their boss after he was picked ahead of Harry Redknapp, who himself made a court appearance when being acquitted of tax evasion. But it was a familiar story of penalty pain in a quarter-final defeat by Italy. Stuart Pearce's Great Britain football team, without the overlooked David Beckham, also crashed out on spot-kicks when making an historic appearance at the London Olympics.
Reassuringly, there has been no shortage of spectacular goals. Sweden striker Zlatan Ibrahimovic's sensational, long-range, overhead-kick against England was arguably the pick of the bunch. But it is also impossible to forget Peter Crouch for Stoke City versus Manchester City, Newcastle United winger Hatem Ben Arfa's mazy dribble to stun Bolton Wanderers, Liverpool's Luis Suarez lobbing Norwich City goalkeeper John Ruddy, or Newcastle striker Papiss Demba Cisse's gravity-defying volley at Chelsea.
Off the field, transfer windows have become as much a part of football as two posts and a crossbar. In January, Cisse's £9million move to Newcastle proved value for money in the second half of last season while the deadline day switch of Nikica Jelavic from Rangers to Everton was also funds well spent. Swansea City's bargain deal for Michu looks like being the pick of the buys in a summer which also saw Robin van Persie leave Arsenal for rivals Manchester United. A typically hectic 31st August saw Manchester City and Tottenham Hotspur keep busy.
But it has not been a year of complete happiness. Bolton's Fabrice Muamba suffered an on-field heart attack which stunned the world in his club's FA Cup game at Tottenham before he went on to make a miraculous recovery. There was also sad news at the end of the year, when coach Tito Vilanova suffered a relapse in his fight against cancer having led Barcelona to a record-breaking start to the season only months after succeeding Guardiola.
The battle against racism in football has also been forced to continue, and perhaps intensify, with the Terry case sadly just one of several reported to authorities and police throughout the year. Elsewhere, there was more negative news as the unthinkable happened when Scottish giants Rangers were liquidated and had to reform as a Newco before beginning this season in the Third Division.
But the year also ended on a good note, as Liverpool supporters, and football fans around the globe, saw original inquest verdicts into the 1989 Hillsborough disaster, when 96 people lost their lives, quashed in the High Court. That followed September's report from the Hillsborough Independent Panel.
So, it has been a year in which Manchester City created the latest of late dramas, Messi chartered new levels of phenomena, Spain reached previously unseen levels of achievement and London hosted an Olympics. Conversely, there have been saddening events and mixed emotions off the pitch which will live long in the memory. In short, you will never see anything like this ever again. Well, apart from England losing on penalties.
Goal of the Year - Zlatan Ibrahimovic
There can be only one. The goal that sent the world into raptures. The goal that very few players would even attempt, let alone score. But after all, there is only one Zlatan. The brand-new Friends Arena in Stockholm is unlikely to witness a better goal and even though Sweden's 4-2 win over England in November was just a friendly, the sheer audacity and sublime execution of Ibrahimovic's effort means it may have already passed into football folklore. Quibble all you like about goalkeeper Joe Hart's positioning and the retreating Three Lions defence but the rest of us will revel in Zlatan's outrageous speed of thought, his high-kicking kung-fu athleticism, and his phenomenal precision from a shot where any sort of control is a secondary concern to the main task of actually getting your foot to the ball in the first place. Simply brilliant.
Moment of the Year - Chelsea win Champions League
It had been a long, long time coming but on 19th May, Chelsea finally ended their much-hyped search for Champions League glory. With Barcelona somehow slayed at the semi-final stage, Roberto Di Matteo's men travelled to the Allianz Arena with the daunting task of doing the same to Bayern Munich on their own turf. A cagey 83 minutes into the encounter, Bayern were on course for title number five after Thomas Muller scored a late strike. But Chelsea refused to be beaten and Didier Drogba sent the clash into extra time and eventually penalties with his last-gasp equaliser. Cue a nail-biting shoot-out, during which the Blues finally banished the pain of defeat by Manchester United on penalties in the 2008 final in Moscow by overthrowing their hosts 4-3, with Drogba fittingly smashing home the winning penalty in what was his last kick in a Chelsea shirt as history was made.
Player of the Year - Lionel Messi
Messi somehow surpassed even his own high standards. The year of 2011 had yielded a fantastic 59 goals for the man with three consecutive awards as the best player in the world, as well as a La Liga win, and a third Champions League title secured at Wembley. But this was all just a preview of what was still to come in 2012. Ninety goals for club and country later and Messi is the undoubtedly sole contender for the 'Best Player of 2012' award. Gerd Muller's 40-year-old goalscoring record fell. Even his supposed underachievement for Argentina was cast aside, with 12 goals from nine appearances. Although titles were not as easy to come by, it is impossible to believe they will not follow. This was a year like no other - unmatched by any individual player before, and with Messi looking to be the only challenger to his own throne as the world's greatest player.
Manager of the Year - Neil Lennon
There have been a number of contenders for the manager of the year but Celtic boss Neil Lennon has defied the odds in the Champions League. In his first season as a Champions League manager, Lennon has guided Celtic to the last 16 of Europe's premier competition despite having one of the smallest budgets. Before a ball was kicked, Celtic's chances of progressing were written off by many after being drawn against Barcelona, Benfica and Spartak Moscow. But Lennon has confounded the critics by leading the Scottish champions into the knockout stages in style. He showed astute tactical nous in guiding the club to one of their greatest ever victories with the 2-1 success over European titans Barcelona at Celtic Park in November. Lennon's success against the cream of Europe has seen his stock rise considerably and there are sure to be a number of Premier League clubs monitoring his progress.
Signing of the Year - Michu
There are a few candidates for this but there can only be one winner and that is Swansea City's summer capture of Michu. Costing less than £3million, many bigger clubs dithered about the Rayo Vallecano man, however, Michael Laudrup knew what he was getting. But even the Swansea boss must be amazed by how well Michu has settled in the Premier League. He is a brilliant player whose form has captured the attention of Spain coach Vicente del Bosque. There should also be honourable mentions in this category for Jason Roberts, who inspired Reading's promotion bid after a January move, and Papiss Demba Cisse, who took the Premier League by storm with Newcastle United at the end of last season with 13 goals in his first 14 games.
Flop of the Year - Queens Park Rangers
For all the lofty ambitions and deep pockets of chairman Tony Fernandes, Queens Park Rangers have endured an annus horribilis throughout 2012. The year started with the sacking of Neil Warnock and the appointment of Mark Hughes, with the former Manchester City boss the second-biggest spender in the January transfer window. A paltry six Premier League victories were secured, with survival only achieved by a solitary point on a nerve-shredding final day. Further significant funds were lavished in the summer but an additional 16 top-flight games of the new season had ticked by, with Hughes now relieved of his duties and replaced by Harry Redknapp, before QPR were to win again. The Loftus Road outfit may no longer be bottom of the pile but they are certain to spend Christmas in the relegation zone and need a significant upturn in fortunes if they are to avoid an embarrassing return to the Championship.
Game of the Year - Barcelona 2 Chelsea 2
The 12 months of 2012 has been jam-packed with memorable matches, from Manchester City's astonishing last-gasp win over Queens Park Rangers on the final day of the Premier League season to a couple of cracking clashes between Chelsea and Manchester United, as well as a pair of North London derby thrillers that both ended 5-2 to Arsenal. For sheer drama and edge-of-the-seat tension, though, the most remarkable game took place at Camp Nou in April as Chelsea booked their place in the Champions League final with a scarcely believable triumph. The Blues had already surrendered their slender 1-0 lead from the first leg when captain John Terry was sent off for a knee in the back of Alexis Sanchez, and it looked like Barcelona would cruise through once Andres Iniesta made it 2-0 on the night to the home side. What followed was simply extraordinary, as Ramires scored a vital, stunning goal on the counter-attack to give Roberto Di Matteo's 10 men something to cling to in the second half. Cling to it they did, repelling wave after wave of Barca attack and even having the good fortune to catch Lionel Messi on an off day as he missed a penalty, before Fernando Torres' late breakaway effort sealed a 3-2 aggregate success and prompted that reaction from Sky Sports pundit Gary Neville.
Controversy of the Year
A four-for-one offering which started back in February, with Fabio Capello resigning from his post as England manager on the back of the Football Association's decision to strip John Terry of the national captaincy for allegedly racially abusing Anton Ferdinand. Many tipped then Tottenham boss Harry Redknapp to fill the void but it was the ever-dependable Roy Hodgson who was surprisingly chosen to lead the Three Lions into Euro 2012 and beyond. He then went on to pick Terry for European Championship duty, while omitting Ferdinand's brother, Manchester United's Rio Ferdinand. Hodgson claimed he had made a footballing decision but continuing to overlook the older Ferdinand after seeing his defensive options severely depleted by injury left the new national coach fending off uncomfortable questions. Terry then announced his international retirement in September, claiming an FA charge of racist abuse, after he had already been cleared in a court of law, had left his position untenable.
Team of the Year- Spain
Never before has an international side claimed three major tournaments, including the World Cup, in succession or retained the European Championship. But there again, there has never been an international side like the modern Spain. In 2012, the Spanish national team again excelled beyond any levels thought possible. Starting without a striker for much of Euro 2012, the Spanish were unfairly criticised for their playing style - all up until the final, when they ran riot in a 4-0 victory over Italy, the biggest in European Championship finals history. From the likes of Andres Iniesta, Xavi and Iker Casillas in the starting XI, to the host of leading Premier League stars who can only make it as squad players, the Spanish have a collection of players that anyone would envy, and the titles to match. That dominance shows no sign of waning anytime soon. In 2012, Spain showed us all how it should be done once again.
As 2012 draws to its conclusion Daniel Storey salutes our man of the year Lionel Messi. The Argentine has enjoyed unprecedented success, with 90 goals in a calendar year simply phenomenal. For all the platitudes we bestow on him though he remains a model of humility. Quite remarkable. Click here to read the profile in full.
We gather together a collection of verbal grenades thrown by football's finest in what has been a vintage year for soundbites. 2012: The year Joey spoke French without bothering to learn it, Rafa returned and Bert had the last word...well almost. Read the article in full here.
If a picture really is worth a thousand words we've got 21,000 for you right here in what is a stunning visual celebration of 2012. As an added bonus we've also trawled the back pages to find the top news stories over the past 12 months that have had Fleet Street burning the midnight oil. Find out how the top scoops were reported here.
From Aguero to Zlatan. Sky Sports picks 10 of the top moments from the past 12 months. 2012 was a remarkable year for sport in general and the Olympians have rightly stolen the headlines, but it's worth remembering the Beautiful Game played its part as well. Adam Bate recalls some of the unforgettable moments here.
Sky Bet tells us who they are expecting to collect the major honours across the sporting world in a comprehensive and wide reaching betting guide for 2012. For top tips and handy hints read the preview in full here.