Setting targets
Leyton Orient star striker Kevin Lisbie tells Sky Sports about his desire to sign a new contract, previews a potential FA Cup upset and targets the play-offs
Last Updated: 27/05/13 11:34am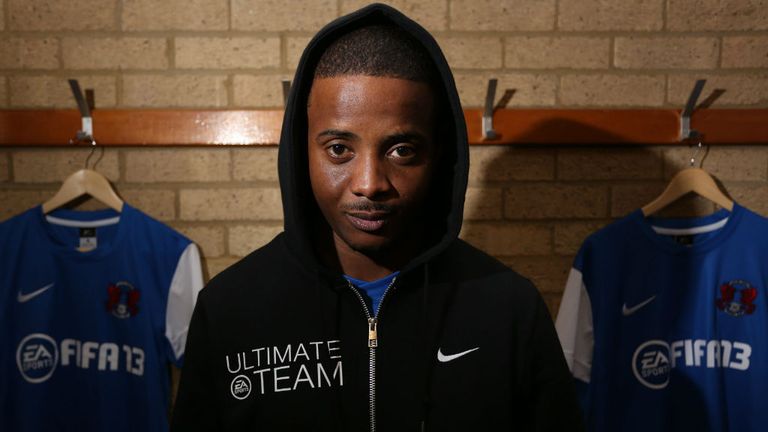 With the hectic Christmas and New Year fixture lists now done and dusted, football is returning to some form of normality. But this weekend does bring the small matter of the FA Cup third round.
Russell Slade's Leyton Orient will be one of many clubs who are looking to conjure some of the magic of the world's oldest cup competition this weekend. The League One club visit high-flying Championship side Hull City and are aiming to cause an upset.
Nine-goal veteran star striker Kevin Lisbie, who expects to be fit after a shoulder injury, will be a key man in Orient's attempt to win at the KC Stadium and he also knows he and his team-mates are facing a tough task. But the 34-year-old is confident.
Here, Lisbie, talking to Sky Sports at an EA SPORTS FIFA 13 Ultimate Team event, reveals his desire to sign a new contract, looks ahead to Saturday and sets his sights on the League One play-offs.
Belated Merry Christmas and a Happy New Year, Kevin. How was the festive period for you? Does the quantity of games make it tough?
Thanks, it is a period I enjoy. I have kids, so it is hard getting up every morning and leaving them at home. They are young and so do not understand why I am getting up every morning. But I enjoy Christmas and New Year.
Next up for Orient is Saturday's FA Cup tie at Hull. The competition has perhaps lost a bit of its prestige over recent seasons but what does it mean to you?
I do not know who is not taking this cup seriously. It is good for the club and good for the players. For young boys and people who do not get the chance to play at places like Hull - a great stadium and a great club - it gives everyone the opportunity. It will be a game against a good club and good players.
Hull are second in the Championship and are having a great season under Steve Bruce. What sort of a test will the trip to the KC Stadium represent for Orient?
It will be a tough game. To be second in the league at this time of the season, they cannot be too bad. We are going to show them the respect they deserve but also, hopefully, go up there and get a result.
Will the game at Hull also be a good chance for Orient to bounce back after the New Year's Day League One defeat at Yeovil Town?
It gives you the chance to get the league out of your system for a little while. You know it is not going to affect your league results. Cup games in between league games can sometimes be very helpful. If we get a good win at Hull, hopefully it will get our momentum going again, the lads will be confident and we can take that into the league.
Orient went on a fantastic run through November and into early December when winning eight successive games in all competitions but you have now lost two of your last three games. What is the mentality like in the squad?
The winning run could not keep on going. It had to come to an end. But, after losing to Scunthorpe, we bounced back by beating Walsall. It was disappointing to lose at Yeovil, especially considering we have them next Tuesday in the Johnstone's Paint Trophy. But we will have to learn to bounce back, because, in this division, you are not going to win every game.
How does the squad at Orient compare to those at your previous clubs? Is it a good atmosphere with a mix of personalities and talents?
To win eight games in a row, you do not have a team which is based just on good players. You have got to be tight as a group. Our winning run proves we are a good squad. We have just got to be more consistent. We have not drawn a game at home this season. We seem to either win or lose. Games like at Yeovil, we need to learn to draw rather than lose and that is something we will hopefully develop over the second half of the season.
You did not play against Yeovil. Were you injured or rested?
I had a cortisone injection in my shoulder. I have had a bit of a ligament problem. But I should be okay for Saturday against Hull and, if selected, be back in the team.
How do you assess your personal form this season? You have nine goals already and are well on course to surpass last season's total of 12?
I only had one goal before we went on our winning run and I was starting to worry where the goals were going to come from. But to then get eight goals in eight games - helping the team up the table in the process, which is even better - I am happy for myself and the team.
In the past, you have not liked to set targets. But what more can be expected of Orient this season?
We are eight points off sixth place (the play-offs) and we have got games in hand. But, at the point we are at now, why not set a target of being in the top half of the table and, hopefully, we will get in the top six. We feel like we are good enough this season but we have now got to go and prove it.
You are now 34 and your Orient contract expires at the end of the season. How long do you feel you can continue playing and have there been any discussions about a new deal?
It is more than likely we will get January out of the way, because there are a lot of games, and then, hopefully, myself and the manager will sit down and talk. Personally, I feel I have got at least two or three more good seasons in me. I did not always play in the early stages of my career and so I would like to think that means I can last a bit longer.
Would you like to stay at Orient beyond the end of the season if given the opportunity to sign a new contract?
Yeah, why not? It is a good club. The manager has been good to me and everyone has been good to me. I did not have a club at the beginning of last season and they have given me a chance. If they offered me something (a new contract), I would take it. Hopefully I will talk with the manager after January.
The transfer window is of course also open in January. Would you like to see Orient sign some new players to add competition for places and improve the strength of the squad?
If the gaffer brings people in, we will welcome them to the squad. Hopefully, they will make the squad better. But at the club right now, I think we have a decent squad. If we get a few injuries, we might need to bring people in. Competition for places also always pushes players in the squad and can make them better.
Is the transfer window a phase of the season you enjoy? Do you watch it on Sky Sports News?
Even though I am a 34-year-old, I like it when I get home and put on Sky Sports. I think the transfer window is good. It is exciting and I am a bit disappointed when it closes.
Kevin Lisbie was talking at an EA SPORTS FIFA 13 Ultimate Team event. Build your ultimate squad, auction for new players and compete with your Ultimate Team online. You can buy EA SPORTS FIFA 13 Ultimate Team points NOW via Xbox Live or Playstation Network. For more information, visit ea.com/uk/football