Looking up
Scunthorpe keeper Sam Slocombe discusses new bosses, six-pointers and League One with Chris Burton.
Last Updated: 27/05/13 11:35am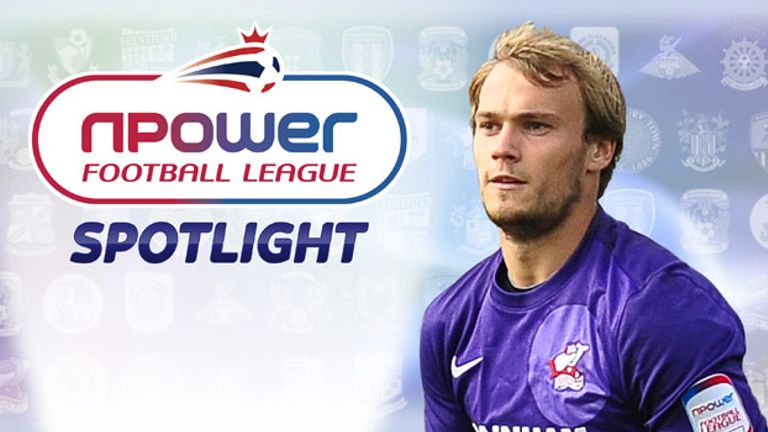 The 2012/13 campaign has passed the halfway stage, with promotion pushes and relegation battles starting to take shape.
Here at Sky Sports we continue to take you to the very heart of the Football League, with our Spotlight features intended to give you a greater insight into the clubs and players that keep us on the edge of our seats.
We are hoping to bring you the views and thoughts of a representative from each of the 72 teams over the course of the season, with those involved asked to give their take on the division they compete in, the club that pays their wages and those we should all be keeping an eye on.
Scunthorpe's Sam Slocombe is next in the hot-seat, with the Iron goalkeeper taking time out to discuss new bosses, six-point contests and all things League One with Chris Burton.
How would you sum up how things have gone so far? It has been a bit hit and miss, to say the least, hasn't it?
Definitely. The start of the season wasn't the best from the lads. Results have picked up since the change of manager. It's just been a bit of a change of tactics from him in the way we play. Since Brian has come in, we have looked a lot tighter at the back and are a lot harder to break down. Results have shown that.
You have picked up results in patches - three games here, four games there - you just haven't been able to find that consistency have you?
That's been it. We have managed to pick up a couple of good wins and then maybe let ourselves down a bit and gone on a bad run. This month, we have got some big clubs around us to play - they are massive games. We have started quite well, we should have maybe come away with wins from the first two but we've come away with draws. But there was a great performance at Colchester in terms of it not being a pretty game but we were able to get ahead, dig in and come away with the win. That's been brilliant for the boys, to come out of that and not let it slip.
You are three games unbeaten now, that has given you a useful platform to build on hasn't it?
Definitely. They are against teams that are around us, so it was important for us not to lose. They are big games and it's a good platform for us to take into the next games. We have got Portsmouth at the weekend, which is a massive game because they are down there with us as well and it puts another three points between us and them. It's a big game which we could really do with winning.
After Pompey you face Carlisle - you are on an important run of games at the moment aren't you?
I think we have got the rearranged Carlisle game just after that as well, just into February, so we have got at least three, maybe four, games against teams that are within reach of us or below us. They are big games. It's early in the season to be speaking about it, but they are almost six-point games. If you win, you put a gap between you.
You finished 18th last season, is anything above that going to be considered progress?
The manager has been looking forward. Now we are out of the relegation zone, we have just managed to get out, he's focused on looking up and pulling people into us and getting ahead of them, rather than looking over our shoulder at what's in the relegation zone and maybe slipping back down in there. We are all positive at the minute and are looking forward to getting up the table a bit further. Anything other than relegation at the minute will be a success for us from Christmas, but we want to get as high up as we can.
You have mentioned the gaffer a couple of times, has Brian Laws helped to give everyone a boost because he is held in such high regard around the place?
He is. One thing that is very noticeable is the fact that he has the club at heart as well. He wants to do well for the club, not just well for himself. He has come in and really shown that. The boys have jumped on that and everyone wants to do well for the club. It's only a small club, it's not a massive one, so everyone has to dig in and it's not just the players it's the staff as well. He has come in and shown that and it's all come together. Everyone is digging in for each other and helping each other out.
Brian Laws has bossed in this division before, and you've played a lot of football in it, so what does it take to be successful in League One - hard work and a goalscorer?
Yeah, that's it. There are maybe one or two teams that do play really good football, that's nice to watch - the MK Dons have done it for a few seasons now, they have tried to play and it's a style of play that suits them even though unfortunately they haven't managed to get up. They have shown that it can be successful. But if you look at most of the teams, if you really work hard and you have got a goalscorer, that's massive. When we did get promoted from this league, we had Gary Hooper who scored a lot of goals. We worked really hard and we had the goalscorer. You look at Tranmere up there as well, they are very similar to that - they have worked hard and they had (Jake) Cassidy on loan from Wolves and he scored the goals. A lot of the teams are very similar - it's just working hard, hoping to get the breaks, keeping tight at the other end, and that seems to be the formula for success - if not to get out of the division, then getting right up there and giving yourselves a chance.
Which sides have impressed you so far this season?
I would say the MK Dons. They really do play attractive football and when they came here, they worked so hard as well as that. Notts County played great football when they came to Glanford Park as well. I have got to give it to Tranmere, both games we have played they have weathered a one-half performance where they haven't been brilliant, dug in and got through, and then in the second half been on fire. They deserve to be where they are. When we played away at Doncaster, they did the same - first half there wasn't much in the game, but second half they came out on fire.
Who has caught the eye at Scunthorpe and has maybe not got the credit they deserve for their efforts?
I think since the new manager has come in, Niall (Canavan) and Reidy (Paul Reid), the skipper, the two centre-backs, from my point of view as the goalkeeper, have been excellent and have really put themselves on the line. It has helped them the little change in philosophy that we've had, rather than being so open. Mark Duffy has been incredible for us, he can change a game so quickly and his feet are outstanding. He's been brilliant. Now Leon Clarke has gone, but he was big for us and scored something like eight or nine when he was here, and some of them were massive goals for us. He's gone to Coventry and shown that he can do the same there.
The transfer window is open - are you hoping to see a few come in, but have every faith that those already on the club's books are capable of seeing you safe?
The manager has shown in the past that he is good at doing deals within the windows to good effect. We have got Akpo Sodje, who he brought in at Sheff Wednesday when he was there and he did wonders for them. He's come in and given us a bit of a different option. With the lads we have got around now, maybe one or two coming in, we could do with that. But it's a small club and it's tough to attract some players in. I'm sure he has got one or two on his radar that he is trying to get in.