Captain (Mike) Marvel
Ahead of Oldham's FA Cup tie with Everton, writer and fan Alex Dunn was granted an audience with Latics legend Mike Milligan to gleefully reminisce about the 'pinch me season' of 89/90. That year Second Division Oldham reached the FA Cup semi-final and went one better in the League Cup
By Alex Dunn - @skysportsaldunn
Last Updated: 15/02/13 11:57am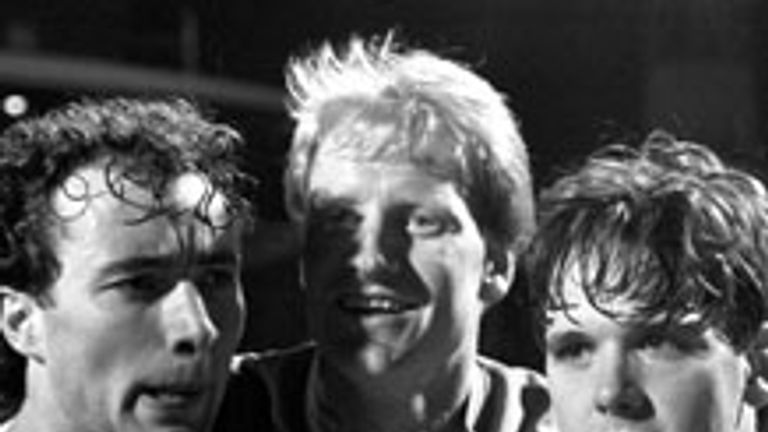 1989-1990, from the Pennine Way to Wembley Way. In an era when football clubs all too often spend like Viv Nicholson with similar consequences the story of Oldham Athletic's frugal ascent from perennial Greater Manchester footnotes to one of the decade's more iconic sides seems all the more remarkable.
The previous season Oldham had finished an unremarkable 16th in the then Second Division. Alchemist Joe Royle was convinced though that with some tinkering the squad he'd assembled from other clubs' cast-offs and a handful of home-grown talent might just spark into something special. 65 games later the proof was in the pudding. A congested fixture pile-up that included four games in seven days put paid to any promotion aspirations but a Littlewoods Cup Final appearance against Nottingham Forest and two tumultuous FA Cup semi-final bouts with Manchester United still keep the fire burning for those supporters privy to the 'pinch me seasons' of Royle folklore. If you joined the party post-'94, God help you. The subsequent 'shoot me seasons', which have included 16 consecutive campaigns in the third tier, have been the mother of all comedowns.
Which is why Saturday's early evening kick-off with Everton, a healthy financial reward for leaving Liverpool red-faced in the fourth round, comes as a blessed relief to a club currently managerless and occupying a spot in the League One relegation places. Queues down Sheepfoot Lane for Oldham tickets are rarer than four-sided grounds these days but when Mike Milligan held the armband it was a common occurrence to see lines snake around Boundary Park, which even its current dilapidated state retains an old school charm amid a sea of identikit stadia.
When I caught up with the congenial Manc Irishman earlier in the week he was both candid and comic, generous with his time and endearing in that he spoke like a genuine fan. Make that a fan after a few pints; a natural storyteller. Some of them are even publishable. In fact for much of our chat he speaks as he played, tearing into one topic from the next with the infectious enthusiasm that made him a natural fit as Royle's on-field lieutenant; the original yard dog.
It's interesting that whenever Royle's name drops into conversation the tone is warm but never reverential and it's clear the relationship the then rookie manager shared with his players was more that of an indulgent older brother than disciplinarian.
"What we did that season was just one of those freak of nature occurrences that happen from time to time but the manager deserves a lot of credit," concedes Milligan. "The thing with Joe is that he fostered a team spirit borne from the fact he treated his players as men and that made you want to play for him. He'd always take the pressure away from us and, as players, the key to performing well is having a manager who believes in you. We were serious about our football but we never stopped laughing. It still gets me excited talking about it today."
Known for his sharp wit and laid back manner, Royle always made good copy and according to Milligan he was exactly the same in the dressing room. The way he tells it makes them sound like the world's best pub team but Oldham were glorious to watch in full flow that season.
Two good goalkeepers in Jon Hallworth and Andy Rhodes swapped the No.1 shirt like Clemence and Shilton, while Andy Barlow and Denis Irwin at full-back were as good going forward as they were at the back. Earl Barrett and Paul Warhurst is as rapid a centre-half partnership as there has been, while Milligan and Nicky Henry in front of them were both as hard as nails but could play too. Either side the whippet like Neil Adams and the velvet-like left foot of Rick Holden sent love letters of crosses to Andy Ritchie and Frankie Bunn in the centre. The first professional yeti Ian Marshall and the cult mystery man (Ooh) Roger Palmer, who according to Milligan ghosted unnoticed into training as he did opposition penalty areas, were back-ups from the bench when only two subs were permitted.
"We'd never give up, never die and that's something Joe knew (in the two cup runs Oldham scored ten equalisers). We'd never cheat him, whether we played good or bad, so he knew he'd never have to raise his voice.
Where's Rhodesy?
"Only a couple of times did I see him lose it. I remember one time away from home we weren't at it in the first half. Joe slammed the dressing room door at half-time and launched into a tirade. We were all a bit 'bloody hell, what's wrong with him?'
"Proper ranting he was, going around the team one-by-one. For some reason the goalkeeper Andy Rhodes, who'd had better games, wasn't back in the dressing room by this point. Joe's saying 'Where's Rhodesy?' when right on cue from the other side of the door Andy kicks it open and cracks the gaffer in the forehead. And if you know Joe's head it's a pretty hard target to miss! It started to bleed. We were all crying laughing; even Willie Donachie couldn't help himself. Joe, quick witted as ever, just said 'as for you Rhodesy, as for you Rhodesy, that's the first f****** thing you've kicked right all afternoon!"

Royle's Midas touch in the transfer market in those days took some beating too. Earl Barrett and Paul Warhust for a combined fee of £45,000 anyone? Denis Irwin on a free? Andy Ritchie for £50,000?
"What we did and what we achieved for next to nothing was just phenomenal. If you look at the players we had, and what they went for, it's just crazy. Twenty years ago I went for a million, Denis Irwin went for £650,000 - what a snip that was - then there was Earl Barrett for £1.7m. Paul Warhust went for big money too. After that Marshy and Rick. If you put values on those players now you could be looking at ten million for some of them.
Midas touch
"You get some players where it doesn't happen at certain clubs for whatever reason but when they move on, wow, it just all clicks into place. That was the case for a lot of the Oldham lads.
"Joe's record at the time was impeccable. Look at what he did with Denis. He took a player released by Leeds to one of the best full-backs in the game in a couple of seasons. He was an absolute flying machine. Great right peg, great left peg - what a player. People say he didn't have pace but he bloody did. He was as quick as anyone.
"I've done a lot of scouting work since I packed up and know just how difficult it is to find diamonds in the rough but Joe pulling rabbits out of the hat turned out to be his party piece."
Milligan, like many of his misfit team-mates, had been rejected by both Manchester clubs before he was spotted by Jim Cassell, who ironically now works at City.
"I was at both United and City as a kid but it didn't work out. Maybe because I was small, I don't know, but just before my 18th birthday I was spotted playing for my county by Jim. Within a week I'd signed for Oldham. I was signed on a European grant for 65 quid a week because the club couldn't afford to pay me. I had to get two buses to training because I couldn't afford a car. When I started to do well they put me on mega money, £125 a week."
When later he talks of 'not caring about whether we were playing Arsenal or United or Villa, we'd play exactly the same way' and that 'nothing fazed us' I might have put it down to old pro bluster, had I not been at all those games. I was nine at the time and unnervingly carried a passport photo of Roger Palmer in my wallet so probably didn't quite appreciate that things like this weren't supposed to happen in Oldham. Looking back some of the performances were incredible. Arsenal (4th), Aston Villa (2nd), Everton (6th) and Southampton (7th) all enjoyed excellent league positions that year but left fortress Boundary cowering to the tune of 3-1, 3-0, 2-1 and 2-0 defeats respectively. Remember too that this was a time when top flight clubs had ambitions beyond finishing fourth or survival and always played full-strength sides in the cup competitions.
By the time we beat West Ham 6-0 in the first leg of the Littlewoods Cup semi I kind of expected it. That's what happens when you play only one centre-half.
Plastic dreams
These were front foot victories too, not heavyweights bloodied by a lucky punch. Just ask George Graham and Graham Taylor, who graciously both said the club's infamous plastic pitch had nothing to with it. Even Sir Alex Ferguson, who might have lost his job had United not won a trophy that year, said Oldham were his side of that season.
"It wasn't down to the plastic," says Milligan. "All the managers we beat said the same themselves. Sir Alex said we were the team of the season. We should have beaten them in the semi-final. Nick Henry's 'goal' that wasn't given was well over the line. They never highlighted that as much as they might have done. Still to this day it hurts. Even though I'm a United fan myself, it's one that still cuts me up.
"There are a lot of ifs and buts around that game, not just the repeat match in 1994. Who knows - I might never have left Oldham had we won the cup that year.
"For a Manchester lad though to play against United and Bryan Robson, who to this day I think is the most complete footballer we've ever produced, was an absolute honour.
"I've got to know him a bit down the years through Norman Whiteside, who became a mate when I went to Everton, and he's an absolute gent. As is Norm, whose only red card in his career came against Oldham. For kicking me!"
In the three FA Cup games it took to dispose of Everton that year Milligan had clearly impressed Colin Harvey in the opposition dugout. When the rest of his team-mates were left to reflect on the most glorious of failures at the season's conclusion Milligan was lured to Goodison Park in a £1million deal. His time on Merseyside was to prove ill-fated as Harvey soon lost his job to Howard Kendall. Milligan made just 17 appearances for Everton before returning to Oldham upon their promotion as champions the following term. Back where he belonged ahead of the inaugural Premier League season.
With advances in sports science only stretching to not putting too much gravy on your chips in '89 it's fair to say lengthy sessions weren't restricted to the training ground. The Manchester United side that went on to dominate the mid-nineties were a notoriously tight-knit group and Milligan is convinced that bonds forged at the bar were almost as important as those on the field. The Oldham band Inspiral Carpets were big at the time but some of the tales I'm told definitely invoke more the spirit of the Happy Mondays.
"We went out together all the time and when I say went out together I really mean it. There must have been 15 of us that never missed a session. We'd see lads from other clubs out and about but there'd be two or three of them out together. The whole of our side would be together and we'd think 'no wonder you're where you are...'
"It was a different culture back then but we'd work just as hard as we partied. The team always stuck together.
"We had the odd scuffle, as at any football club, but we were all really good mates and enjoyed each other's company. I always say about that time 'Nulli secundus', which means second to none. It was the only Latin I picked up from school to be fair."
The signing of Rick Holden from Watford in the summer of '89 is seen by many Oldham fans as being the catalyst for what followed that season and Royle often says he was the final piece of the jigsaw. A maverick that belonged in a different age, the stories about Tricky Rick (he only had one, but Lee Dixon is still trying to work it out) are legendary.
"The paraffin lamp we used to call him," says Milligan of a player who entered the game late as a university graduate and never updated his student sartorial choices.
"One night when we were flying high in the league we went to Phil Brown's pub up in Skipton. He had the log fire on, the curries had been bought for later and we were having a right old night of it. Rick happened to fall asleep at the table. At the time he had his hair down to his bloody shoulders, a proper rocker look. The scissors came out and every time he snored the whole squad had to take a snip out of the side of his hair that was exposed. After half an hour or so he woke up and was coming round at the bar when he caught sight of himself in the optics. One side was down to his shoulders, the other nice and short. He went ape-s***!"
Holden's revenge, a dish best served warm on this occasion that involved a hotel lift in Malmo and a bucket, is probably one for another time...
It might have been the ignorance of youth but I certainly never felt deflated when we finished the season as bridesmaids on three fronts. It seems a trite sentiment but when the players leave everything out on the pitch the only emotion you can attach to those who wear your shirt is pride. Milligan was one of seven Oldham players to play in over 60 games that season.
"By the end of the season we just had nothing left. I literally couldn't complete the warm-ups. I played 63 or 64 games and I wasn't the only one."
It will take the indomitable spirit of '89 to get a result on Saturday but the previous round's demolition job on Liverpool demonstrated that on its day Ice Station Zebra still houses a decent side. Milligan, who I imagine at this point is rearranging his captain's armband, is happy to issue a trademark rally call.
"When you go back to Oldham and see the ground and some of the problems that the club have had over the years it's a real shame but you've got to look forwards. Games like Saturday's can be used as a springboard and while you'd obviously say Everton are the strong favourites, the beauty of the cup is that you really never know.
"Look at Bradford and what they've done this season, it's incredible. People mock the cups these days and it does my head in. Players and managers who aren't interested I just don't get. At the end of the day it's the oldest club competition in the world and teams should give it the respect it's due.
"I look back on the cup runs we had with such pride. The memories we created and leave behind mean so much to so many people. Nobody can take them away from us."
Amen to that, Amen to that.