Highs and lows
Ashley Eastham discusses Bury's administration struggles, loan spell benefits and future plans.
Last Updated: 27/05/13 11:41am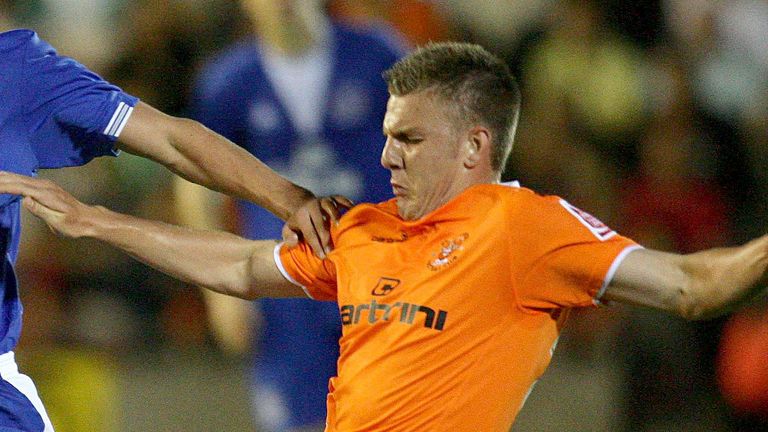 The 2012/13 campaign has entered the final straight, with promotion pushes and relegation battles about to reach a conclusion - or already reached a conclusion.
Here at Sky Sports, we continue to take you to the very heart of the Football League, with our Spotlight features intended to give you a greater insight into the clubs and players that keep us on the edge of our seats.
We are hoping to bring you the views and thoughts of a representative from each of the 72 teams over the course of the season, with those involved asked to give their take on the division they compete in, the club that pays their wages and those we should all be keeping an eye on.
Next in our hot seat is Bury's Ashley Eastham, with the on-loan defender taking time out to discuss administration struggles, getting games and future hopes with Chris Burton.
It was a difficult situation to be involved in at Bury, did the club try to keep the players away from all the distractions?
Yes and no, to be honest. We were informed all along what the situation was with the financial problems that they were in. That understandably had a bit of a negative impact on the squad, being told that they weren't sure whether the players were going to get paid or not. It didn't help, but they were upbeat about it all and fortunately the players have been paid. It's been a bit up and down.
It's best that you are kept informed isn't it as you don't want the players hearing gossip and speculation, you want them to hear things from the right people?
Definitely. The last thing you want to hear is from someone outside the club saying to the contracted players that you aren't going to be getting paid at the end of the month. You want to be told by the people upstairs. Fortunately we were kept in the loop as much as we could. For the contracted lads, they were able to get enough to pay the players.
It's looking a bit more positive now isn't it, with a few people expressing an interest in providing much-needed funding?
Absolutely. The last thing we want to see is clubs going into administration and problems for the future. Fortunately, it looks like there are two or three people interested in being part of the board and putting money into the club so, fingers crossed, I hope there is a future for the club.
There have been a few clubs in the same boat this season - Coventry and Portsmouth - it's not great for football, but people keep stepping in to help, which is good news isn't it?
Absolutely. It's never good to see these clubs - these are clubs that have been in the Premier League, never mind in League One and League Two. It is stuff that needs to be sorted out in the long run - spending in the right way and making sure clubs stay afloat. Fingers crossed Bury can sort this investment out and stand themselves in good stead.
You've taken in two spells at the club, are you confident they will bounce back stronger next season?
Yeah, I am. I feel like they have got the right people upstairs and they have been fantastic with me - given me two great chances to play. Fingers crossed, I hope it does all work out for the club. I think things will become clearer over the summer, but I imagine with the club going down that they will have a complete restructure and assess things from there.
A summer overhaul could be a good thing couldn't it, offering a clean slate to everyone and a chance to get a few fresh faces in?
Absolutely. It's hurt everyone that they have struggled to pay the wages week in, week out this season and things needed assessing. I imagine the manager, Kevin Blackwell, and his staff and the people on the board will be looking at who they want to keep and who they want to bring in and who they will unfortunately let go. There will be a restructuring process there, like at most clubs. I'm sure things will go the right way and it will probably happen over the next few weeks.
On a personal level, are you happy enough with how the season went?
From a personal point of view I'm more than happy. Kevin Blackwell brought me in 20 or so games ago and fortunately I played every single minute under him, which, from a personal point of view, is great. You go on loan to get games and the experience and keep learning, and that's definitely what I've done. Unfortunately, the way things have gone over the last few weeks, it's been really tough, we have been training every week with only 13/14 outfield players and going into games with only two or three subs. For the manager and the staff, that's hard to deal with. It has been tough and a massive learning curve, but one that 100 per cent is only going to make me stronger, that's for sure.
Do you feel the loan experiences you have had over the last few years have made you a better player?
Definitely. I have been in two or three different scenarios - I have been in a relegation scrap at Cheltenham where we got through it and stayed up, and unfortunately I have been in this situation at Bury where I have seen the horrible side of things when you go down, and my last season at Bury we did really well and finished 11th or 12th in the league. I have experienced two or three really different scenarios since I have been on loan, but absolutely it's set me up well for the future. If you want to be a footballer you've got to take the highs with the lows, and that has summed up this season at Bury - it's been a lot of highs and lows and unfortunately we just couldn't stay up in the situation we were in.
But are you now looking to put down roots somewhere and commit yourself fully to one club?
Yeah. You see a lot of young lads contracted to clubs in the Premier League or the Championship and they're going out on loan, and I have done that for the last three or four seasons. I'm 100 per cent ready now to play wherever I am contracted at. I've not been told 100 per cent what the situation is back at Blackpool yet, I'll probably find out this week. If my time is up there, I'm more than ready to go somewhere else and play at a parent club as opposed to being loaned around.
Are you looking forward to the future? Do you feel there is plenty for you to look forward to?
Definitely. I'm an optimistic person. I'm positive and believe in my ability and believe that I'm more than good enough to do it. Fingers crossed, if my time is up at Blackpool, I'm not down hearted, it's been a great four years for me and I've got myself out and had many appearances and experiences along the way to stand me in good stead for the future.
It could be an exciting summer for you couldn't it?
Absolutely. It could be one of those summers where I'm one of those players where you never know what is going to happen. The last few summers I've been under contract and watching things unfold and you see a lot of footballers out of contract and wonder where they are going to go - I might be a part of that. It can be tough sometimes, but I'm sure I'll find the right place for me.