Murphy's law
Coventry keeper Joe Murphy discusses manager changes, point deductions and third tier challenges.
Last Updated: 27/05/13 11:42am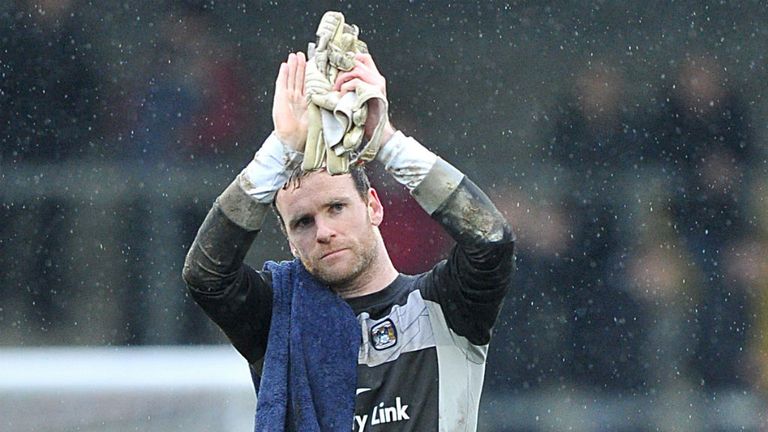 The 2012/13 campaign has entered the final straight, with promotion pushes and relegation battles about to reach a conclusion - or having already reached a conclusion.
Here at Sky Sports, we continue to take you to the very heart of the Football League, with our Spotlight features intended to give you a greater insight into the clubs and players that keep us on the edge of our seats.
We are hoping to bring you the views and thoughts of a representative from each of the 72 teams over the course of the season, with those involved asked to give their take on the division they compete in, the club that pays their wages and those we should all be keeping an eye on.
Next in our hot seat is Coventry's Joe Murphy, with the Sky Blues keeper taking time out to discuss manager changes, point deductions and third tier challenges with Chris Burton.
It's been a testing season for all concerned at Coventry, what's it been like to be at the centre of it all?
I suppose - four changes of managers and the points reduction, things like that - it's been a bit crazy, to be honest. You wouldn't expect to go through four managers - well, the way football is nowadays - but in the space of a season, it's not great. Then we got close to the play-offs under Mark Robins, then we got the 10-point reduction. It's been a bit of a crazy season and, to be honest, I'm quite happy to see the back of it after the 10-point deduction came in. It was definitely a bit disappointing, I think.
Have the club tried to keep the players away from as much of the off-field stuff as possible?
Yeah, I think so. They do well to do that because we don't really hear much regarding the Ricoh and what's happening, where we will be playing next year and stuff like that. They do keep that away from us, we don't really hear much. Obviously it's in the local paper and things like that, but I'm sure the general public know as much as what we do. Maybe they know more because they have probably been fans here for decades. They do well in that case, but you would rather not have that sort of thing looming over the club. But that's what's happened and we have to get on with it. We will probably know in the next couple of weeks where we will be playing next year, whether it will be at the Ricoh or whether we are going to have to find a different place to play our home games.
There are positives to be taken from the season, though, aren't there - 18 wins is a decent return?
Yeah, we did okay. We started poorly, to be fair. We have Championship players at the club, so a lot of them haven't played at this level. It takes a bit of getting used to and I think they were a bit shocked at the way this league goes about it. It's completely different to the Championship - it's a battle in this division and the Championship is maybe a bit prettier, teams want to play a bit more football. It took us a while to get used to that and our manager went after three games, which is a bit surprising. Then, obviously, the caretaker manager comes in, and he goes. We had a good run and then Mark Robins moved on, that was a bit of a surprise. But the new gaffer has come in and done really well. He hasn't probably had the time that he needed, but I'm sure over the summer he will try and strengthen and we can give it a good push next year.
The new manager looks to be another shrewd appointment by the club doesn't he, another young manager with a point to prove at this level?
Yeah, I like him. He's come in and stamped his authority. Not in that he's really strict or anything like that, he just knows what he wants and he knows which way he wants us to play. He wants us to play football, especially from the back - which a lot of the lads like because we all want to play football, keep the ball on the ground. Hopefully we can give it a good go next year because I think this club is definitely at least a Championship club. I know maybe a lot of clubs can say that, but with the facilities we have got - the stadium, the history - we want to get back there as soon as we can. Hopefully we can have a good start to next season and that might push us on.
It's shaping up to be an interesting summer isn't, it's looking like it might be a busy one?
That's right. Hopefully we can get all this sorted - the rent for the stadium and the thing about the owners. Hopefully that can be done pretty quickly and we can do our stuff on the pitch. It's going to be a big summer, I'm sure there are going to be some big decisions. We just have to wait and see what happens.
Like you say, everything is set up to compete at a higher level isn't it, it's just about delivering on the field now?
We've got a good squad of players here, we have got a bit of experience in there. We have tasted League One this year, we probably got to grips with it later than we had wanted to, but hopefully we can start well next year - get a good pre-season under our belt, the gaffer can get his points across about how he wants to play. I'm looking forward to it, to be honest.
Coventry aren't the first 'big' side to find the going tough in League One are they, it's such a competitive division that no-one has a God-given right to do well?
Exactly. I have been promoted twice from this division myself with Scunthorpe. I know how hard it is and I think that was a bit of a shock to the lads. The first 10 games were definitely a big shock, I think. We didn't get a win for seven or eight games, so it was very tough. But it's like the Championship - if you look at the Championship this year, even at the bottom, it's so close. If you look at the big teams that are down there, it's just football in general. You have got no right to be in a certain division or to win a certain league. We have got good footballers and in this division you have got to try and win the battle first and then the football comes through at the end.
On a personal level, are you happy enough with how things have gone this this season?
Yeah, I feel I have probably been at my most consistent this year than I have been throughout my career. I have been happy enough with my form since I came to Coventry. Obviously getting relegated last year wasn't great, but I felt my own personal form was okay. This year I think, consistency-wise for a goalkeeper is the main thing, I think I have been pretty consistent. I am happy enough, just disappointed to miss the last game. I had played every league game since I've been here, but I had a little problem with my hip, so it was disappointing to miss the last game.
Is it just a case now of enjoying a bit of a break after a gruelling season and then look to bounce back stronger next term?
It's been a hard season, mentally and physically. With all the changes at the club and playing a lot of games, I'm looking forward to a nice break. But I'm definitely looking forward to coming back in. I think we are back in the end of June. It will be all hands on deck and hopefully we can get a good pre-season under our belt and hit the ground running next year.