Run fast, work hard
Matt Briggs discusses past, present and future with Bradford's head of sports performance Nick Allamby.
Last Updated: 14/06/13 3:40pm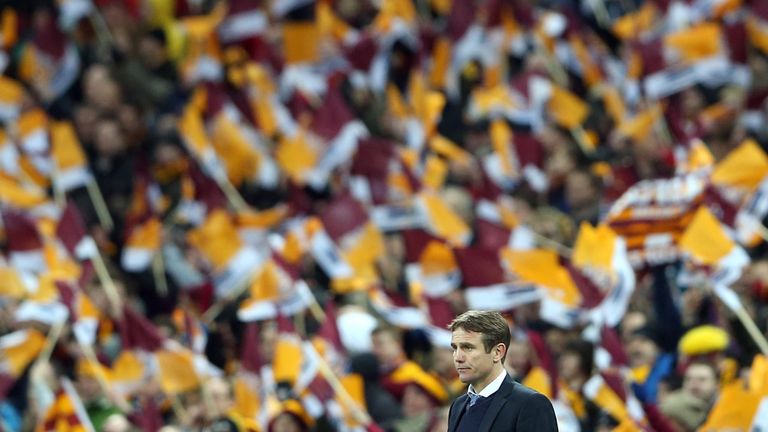 Nick Allamby was a vital cog in Bradford City's historic run to the Capital One Cup final in 2012/13 and helped them gain promotion to League One by keeping the Bantams in peak condition throughout a memorable campaign.
In his second full term at Valley Parade, Allamby developed into a key member of Phil Parkinson's backroom team and, with an intricate fitness regime over a mammoth 64-game season, helped mastermind the club's first promotion since 1999.
TEAMtalk's Matt Briggs had a detailed chat with Nick Allamby to discuss his role at Bradford City and reflect on what was a truly a momentous season for the League Two outfit.
Matt Briggs: Congratulations on your success at Bradford City last season and you must be pleased with your new contract?
Nick Allamby: Yes, very much so. I'm going into my third season now and I've really enjoyed it and it's a great place to work. It's a massive club with a lot of potential to return to the higher leagues. It's a place with a great working environment for me, especially since Phil Parkinson has come in and getting on as well as I do with Phil and Steve Parkin (assistant manager). I always thought that if we got some momentum we would have a really good chance of getting promoted.
Matt Briggs: You've obviously built up a good working relationship with Phil Parkinson, what is he like to work with?
Nick Allamby: He's been superb. I originally came in part-time in a consultancy capacity with Colin Cooper when Peter Jackson was in charge and helped with pre-season. When Phil came in I realised quite quickly that we were on the same wavelength with how to prepare a team. He just wanted me to commit a little more time during the 2011/12 season and I came on board full-time at the start of the 2012/13 season. He said to me that if we could change some things to fit with our ideas that he thought we had a real good chance of going up.
Matt Briggs: There must have been a real contrast from the 2011/12 season to last season with the cup run and promotion.
Nick Allamby: There was, and it was a whole change of ethos, because from my point of view I felt that the support structure to help the players perform needed improving. The club had not had sports science support before and it showed the foresight that the chairman and Dave Baldwin (director of operations) had in financing an appointment like me at that level.
We started the process of improving things during 2011/12 and we had a meeting at the end of that season to decide how we were going to improve again going into last season. During last season we were able to implement a lot of what we had discussed and it came off. We did it all within a budget, there are lots of other things we'd like to do as the club's financial situation improves.
Matt Briggs: The team enjoyed unparalleled success last season and you were a key part of Phil Parkinson's backroom team, what was the secret, or is it just hard work?
Nick Allamby: It's a balance of working at the right intensities at the right time. What Phil knew was that he would have to increase the players' fitness levels to the standards that we expected. When I first arrived in 2011/12 I had to put a pre-season in place without me knowing any of the players. I came straight in with Colin Cooper and I could do very little testing because there were no facilities to do so. It was a case of borrowing equipment from universities.
The players were not as fit as I expected them to be. This creates a problem because if you go full throttle then you risk making them less fit rather than more fit and you risk starting the season in a fatigued state, so we had to start the season as best we could.
The difference between that season and the start of the 2012/13 season was that we were able to give them a full rest period, then we gave them a programme to complete so that they would return to pre-season at a better level of fitness. We also had two off season testing days to ensure that they had completed the program.
In my opinion the days of the long off season doing nothing and then trying to get fit in pre-season are gone. You cannot get a team fit in six weeks. After two weeks the players' bodies start to decondition. So we give them two weeks holiday and then we give them a programme to build their fitness back up. This is a graduated program to get them ready for the first week of pre-season training. This is done so that they will have a base level of fitness in place and then we can work at the correct intensities during pre-season. They all did that last season and we hit the ground running.
We work them sensibly though and they get high intensity sessions that aren't long in duration and that's basically what we are all about. We don't do massive amounts of volume.
Matt Briggs: Is that common practice?
Nick Allamby: I think that more clubs and managers are beginning to understand the value of sports science. I am extremely lucky that Phil and Steve have a great understanding of it and we're on the same wavelength. Phil ultimately decides on all aspects of the program but he values the input of Steve and myself. Part of my job is to advise on the overall physical load that the players have to cope with.
He'll often say to me: "What's your perfect week?" I'll tell him what I think then it is his decision to make. We'll plan the schedule up to six weeks in advance, including the work and rest periods. It's called periodization. Each session has a specific aim, a specific intensity and we have methods of measuring the sessions to ensure we are achieving our aims.
The top clubs have a lot of equipment - things like GPS systems, which helps them monitor their training more objectively. Although I'd like this level of technology I have to prioritise as equipment such as this is very expensive.
This season we're looking at revamping our gymnasium at considerable expense for example. The two chairmen have been really good and if I go and ask them for some equipment they will help out. They bought me a real-time heart-rate monitoring system last year that helps me monitor the players while they're doing the sessions so that improved our objective monitoring. The club's hierarchy could see that these investments lead to results so they are definitely committed to developing the club in what we believe is the correct way.

Matt Briggs: Sounds like there might be some more money around to help you develop the sports science aspect next season?
Nick Allamby: Yes definitely. In my opinion to be a professional footballer you also have to be a professional athlete. You have to make sure that you have got the foundations for athleticism which are, in my opinion, good movement mechanics. Then once they have that you need to make sure they are strong and resilient and then make sure they are aerobically and anaerobically fit. So that is what I'm trying to improve all the time.
Matt Briggs: After an unprecedented 64-game season last term, what were the biggest challenges during the campaign. Was it just the sheer volume of games the club had to play?
Nick Allamby: We really have got a 19 or 20-man squad so he (Parkinson) couldn't really rotate players too much. Phil invested in quality rather than quantity so each player that came in could do a job and that is what he and Steve are really good at - picking the best team for each occasion.
The biggest challenge for me was after the final was how would we get the promotion challenge back on track, because historically if you look at the League Cup winner or runner-up from February, it's very difficult for teams to go again. If you look at Swansea, who beat us in the final, they won two games after the final because every game after that is a come down.
It's not just the physical aspect, it's also the emotional aspect that has a massive effect on their physical performances.
After the Arsenal game for example we travelled down to Southend and we looked tired, but there's little you can do because the recovery time was simply not long enough.
Phil used all different kind of motivational tools as incentive to the players during the run in to the play offs. He would say: "If we win tonight then you can have two days off."
It was my job to ensure that they were as fresh as possible going into each game. We couldn't get them any fitter than they were.
Matt Briggs: Phil Parkinson did endure some criticism after the cup final defeat for changing his team around, with Nakhi Wells left out, but in the end he was proved correct, wasn't he?
Nick Allamby: Yes he did get some criticism, but in that period Nakhi Wells, as much as he wasn't scoring goals, was also in the team to do a job for the team which he wasn't perhaps doing as well as earlier in the season. He had a little dip post Capital One Cup final so that's why Phil rested him, and other people deserved a chance. People also forget that it was his first full season of being a first-choice player. He came back into the team during the run-in though and was exceptional.
He is a superb athlete and he's one of those lads that if we did a 10 metre race he'd win it and if we did a 1000 metre race he'd win - he is just an incredible athlete. He's very quick but he has also got a very good engine. He's quite a laid back lad and he dislikes some aspects of training, especially during pre-season, but he's good at it and he always comes back in great shape. He's a very professional lad.
Matt Briggs: How do your post-match and pre-match programmes differ from player to player?
Nick Allamby: It differs greatly. If you're looking at explosive players like Kyel Reid and Nakhi Wells, the number of sprints they will do in a game will be higher than the other lads. So they may require a different program after games, with more recovery. If we play Tuesday and have Wednesday off, on Thursday most of the lads who played 90 minutes will do less work and might just have a walk and have a massage or some might just do some conditioning work. Someone like Gary Jones, who played 54 games at 35-years-old, I might just ask him to do some work at home and not to dbother travelling in and come in on Friday. But he's such a driven character he wants to do everything he can and he's a consummate professional.
Matt Briggs: Skipper Gary Jones had a huge impact at Valley Parade, what is he like to work with and what effect has he had on the squad?
Nick Allamby: He's had a massive effect and a lot of it is through example. He has an unbelievable desire to win and it pulls the other players in the right direction. He followed the plan I set him to the letter and if he needed extra rest we gave extra rest and he might get the extra day off. But when he came in he would often do to extra work after the sessions such as quick sprints in training to keep himself sharp for games and to ensure he could cover the ground.
Matt Briggs: The players that Phil Parkinson has brought in have done tremendously well, but have been consistent too, how important have those new boys been?
Nick Allamby: The likes of Rory McArdle and Stephen Darby have been very consistent and that's what you need. Phil signed quality and when you do that you need the core of your team to be seven or eight out of 10 every week and they were.
People like Will Atkinson deserve a mention and he played a lot of games early on especially when Kyel Reid got his groin injury. The amount of work he put in for the team was incredible and that went through the whole team. They just had a desire to work as hard as they could and that happened all season.
That's what Phil is all about. His philosophy is to try to run harder and work harder than the opposition. He knew that we had the quality at that level to more than compete. Phil is all about instilling effort and determination and knows that if those basics are not in place then you won't win games.
Matt Briggs: The run to the Capital One Cup final must have been beyond your wildest dreams, what are your memories of that?
Nick Allamby: It was brilliant until about 4pm!
You play the early rounds and when you're a club from the fourth tier what you are hoping for is a big game at Valley Parade so it brings in some decent revenue. Then when we kept winning and all we were doing is just playing one at a time, I know it's a cliché, but that's what we did.
Once we were drawn against Aston Villa over two legs all we hoped for was to get to the second leg with something to play for. And at Villa Park it was just a case of continue what we've been doing.
He had a specific game plan and everybody had a job to do, and he does that for every game. He wanted to make sure we didn't get overawed by the occasion and we did a little bit for the first 20 minutes, but at half-time he said: "I don't know what you're so worried about; they've score a goal but we're still in it and just go out and play."
And the second half we were superb and that was our cup final and that was our biggest achievement what ever happened in the final. We knew it was going to be difficult in the final - it was either going to be a fairytale or reality.
"Do you go there and sit off or do you press?" I don't think there was a right answer.
Swansea moved the ball very quickly and what you don't realise is how quickly they press the ball when they lose it. We did the best we could, but we actually stood in the dressing room after and said: "Right we'll come back here in the play-off final and put it right and we went on and did it."
And that was a bigger achievement for me because of the number of points we were behind, but we knew if we just kept going we could do it.
Matt Briggs: Was there a switch of style during the season?
Nick Allamby: Towards the back end of the season when all the pitches were bad it was a great leveller so it was very difficult to pass it so we went back to being all about endeavour and playing to the strength of the front two and running at teams.
Phil plays the conditions very well and that is what has got Phil a lot of recognition from other clubs. Not only with his tactics, but with his team selections as well.
You have to temper your tactics and do what is effective on the day.
Matt Briggs: With City in League One next term, what will you be doing differently to prepare the squad and have you got anything up your sleeve for next season?
Nick Allamby: I said that if we can prepare the same physically as we did last season then I'll be happy. We'll put the basics into place first, but I should have some more equipment and might be able to afford a few more luxuries. Nutritionally we will improve because the budget has been increased and it's just a case of adding to what we did well last season. And we might get some more staff to help out.
We won't be restructuring the philosophies of what we do though. And we'll make sure the intensity of training is correct so that they can cope with the intensity of games.
Matt Briggs: Phil Parkinson will be looking to add to his squad, can you see three or four new faces coming in?
Nick Allamby: I would think so, and he'll make sure they are the right type of people, not just the right type of players.
Matt Briggs: Didn't Mark Lawn say recently that the club were looking at a striker in January, but then decided he wasn't the right type of player to bring in?
Nick Allamby: I think at the start of the season Phil decided he wouldn't fit the ethos of the club.
Matt Briggs: Can you tell us who it was?
Nick Allamby: I'm not going to say who it was, because it's not my place.
But Phil is all about discipline and he has specific ideas how players should behave on and off the field and believes one can affect the other. So he makes sure the characters of the players he brings in are right and fit with the ethos of the group. Once you get the core of your squad pulling in the right direction then others will follow. The squad are together and all get on very well.
Matt Briggs: Heading into League One, Phil Parkinson will be looking to add to his squad, what will your role be with regards to the new boys coming in?
Nick Allamby: When he signs a new player he will get in touch with me and get me to find out what sort of off-season preparation they have done and find out whether they've got any long-standing medical issues. Then myself and Matt Barrass (physio) will work out a plan and how to train them. Then when we start on July 1 if they are not at that level we're at then we'll give them an individual programme to get them up to speed.
Last season Nathan Doyle arrived late and he had a long period off and wasn't quite up to speed, but we used some different methods to get him ready. Usually it's not a big problem unless they are ridiculously out of shape.
Matt Briggs: Will Phil ask your opinion on players' fitness levels?
Nick Allamby: Yes, he'll often ask me how long he thinks players will last in games and long they will be able to play in the games coming up. And I'll say: "You might get 60 minutes out of him, but he won't be much good to you next week."
But the integrated approach where the sports science, medical and coaching staff all work together is certainly the philosophy that works the best.
Matt Briggs: Is there a target for next season, can it be back-to-back promotions?
Nick Allamby: That would be lovely. It's a tough league like League Two because there are a lot of games and we'll prepare for that Saturday-Tuesday slog. I think if he brings in the players he wants to bring in then we'll have a squad that is more than capable of being competitive and we'll assess it then as we go along.
You can follow Matt Briggs & Nick Allamby on Twitter @mattpbriggs and @nickallamby.