Fixture lists
Sky Sports will be the best destination for the breaking news and all the reaction and debate as it happens when the 2013/14 fixture lists are announced
Last Updated: 19/06/13 3:12pm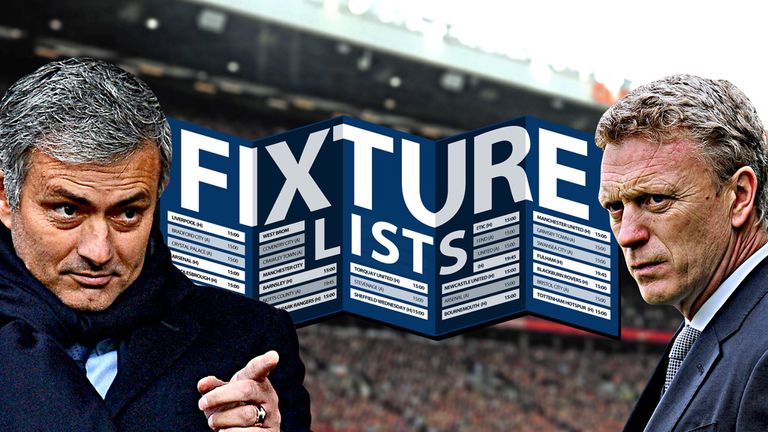 Who will your team be playing on the first day of the season? When will you face that big derby? Will the new boys get dream schedules? Sky Sports is the only place to be to find out all the key dates when the Premier League and Football League fixture lists are revealed for the 2013/14 campaign.
We will have every base covered for the announcement on Wednesday, 19th June at 9am BST and we will give you the opportunity to interact and have your say on what promises to be a gripping season.
With the top three clubs all changing their managers, the Premier League looks set to be widely competitive and the fixtures will play a key role in the drama as it develops over the nine months of the campaign.
Will David Moyes get the fixtures he wants at the start of the season as he bids to fill the boots of Sir Alex Ferguson at champions Manchester United? Could the list be kind to Jose Mourinho upon his return to Chelsea? How will Manchester City get on with Manuel Pellegrini? And what about newly-promoted Cardiff City, Hull City and Crystal Palace?
You can find out with Sky Sports and we will give you all the coverage of the fixtures you need. We will also bring you all the games and dates from the Championship, League One and League Two.
Sky Sports News HD will announce the fixtures live from 9am on Wednesday while skysports.com will have all the dates for your diary and, at the same time, provide you with the chance to join the debate with our Sky Sports Today live blog.
If you are out and about, Sky Sports Mobile will also have all the coverage along with Sky Sports News Radio. Sky Sports will be the best destination for the breaking news and all the reaction as it happens.