Setting targets
Rising star Miles Storey tells Sky Sports about Swindon's transition and promotion ambitions
By Peter Fraser - Follow me on Twitter @SkySportsPeteF
Last Updated: 22/08/13 5:44pm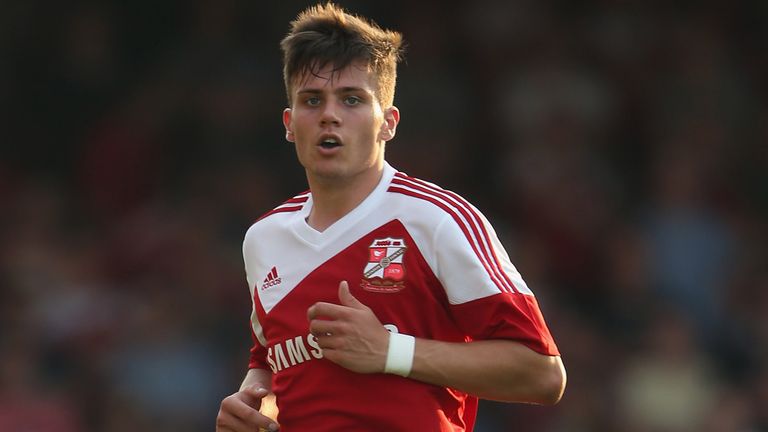 It has been a whirlwind year for Swindon Town. Despite the drama of Paolo Di Canio's departure in early 2013, the club still managed to reach last season's League One play-offs, only to suffer defeat on penalties in the semi-finals by Brentford.
Kevin MacDonald was manager at that time but he then left at the beginning of this pre-season to be succeeded by Mark Cooper, who signed a permanent contract at the start of this week having previously been working on a caretaker basis.
Next up for Swindon is Saturday's game against Gillingham, when they will want to build some form for another push at promotion to the Championship after losing two of their opening three league games.
The ambition is therefore high, and rising star Miles Storey knows this only too well after being the man who saw his decisive penalty saved in the shoot-out failure against Brentford last season.
But having also gone from being an inexperienced youngster to a first-team starter and England Under-19 international amid Swindon's transition, Storey also has his personal targets.
Here, the forward, who is in the running to appear on the club's unique version of EA SPORTS FIFA 14, speaks to Sky Sports about targets, a period of change and Di Canio.
How important is it for Swindon to get back on track with three points against Gillingham on Saturday?
It is really important. Our home form needs to be top notch, really. We want to get promoted either automatically or via the play-offs, so our home form is going to be important. Games against the likes of Gillingham are ones we need to look at for wins.
Are the play-offs again the main aim for Swindon?
I think a lot of the clubs will be targeting at least the play-offs but who knows what we can do once we get going? We have got to remain hopeful we can do it again, especially after last year.
How do you judge Swindon's start to the season?
Maybe, results-wise, it has not been the start we wanted. But, performance-wise, we have had some good ones and have something to build on. We have completely changed our game compared to last year. It used to be much more of a League One style but, now - with all the Tottenham Hotspur lads on loan and our good, young players - it is a lot more fluid and passing. Once we perfect it, it will work really well.
Do you enjoy the new style of play?
Yes, because I am not what you would call a target man, so to play short passing and trying to get in behind the defence is basically my game. I can utilise the space behind the defence, so, to play that way, I am sure it will work to our advantage.
How much of boost has the permanent appointment of manager Mark Cooper been for the club?
It is brilliant, especially for the players. We really enjoyed our time under Coops as caretaker-manager. Looking at the way we play football and the way Coops likes to manage, I think it will be a perfect fit. He is very approachable. You can ask him anything with regards to football. But, at the same time, we know he is the gaffer and his word stands.
Your own personal career has taken off recently. You must be very pleased?
I have enjoyed starting in the last couple of games. I never really had a run of starts last season due to either injuries or maybe a bit of inexperience. But I am really enjoying a more important role in the squad. I hope that will continue throughout the season.
Do you set yourself personal targets in the season?
As a striker, I would like to score and create more goals. Once I start getting more experience, that will come with time.
Is your saved penalty in last season's play-offs an additional motivation?
It is. For me, personally, that was one of the low points in my short career so far. If we get there again, we will hopefully do much better and, personally, get a chance to do better. If it comes to penalties again, I will step up and take one again but make sure I take the goalkeeper in with it as well!
Is your penalty something you still dwell on or have you got over it?
I would not say I dwelled on it. For the first couple of days afterwards, it was hard to sleep. It did take a massive toll on me. But it happens to the best of us. Hopefully it will make me a stronger player in the long run.
Former Swindon manager Paolo Di Canio is now in charge at Sunderland. What can the players expect?
I think they will find it tough but very beneficial. I thought Di Canio was excellent when he was here. He is a firm manager. But, at the same time, he is also very fair. I have nothing but good things to say about Di Canio.
He was open when speaking in public about your lack of experience last year. Is that something you took on board?
Definitely. Maybe he was right in that sense. My rise through the ranks happened very quickly. I went from not being involved in the squad to starting for England [U19s]. Hopefully, this year, with a bit more experience, I will be able to sustain my performances.
Miles Storey was speaking on behalf of Swindon Town FC and EA SPORTS FIFA 14, available to pre-order now from Game.co.uk. Vote for Wes to appear on the club's very own version of EA SPORTS FIFA 14 at STFC's Facebook page.