Perfect platform
Preston's Scott Laird discusses unbeaten starts, experienced forwards and bouncing back from injury.
Last Updated: 19/12/13 4:50pm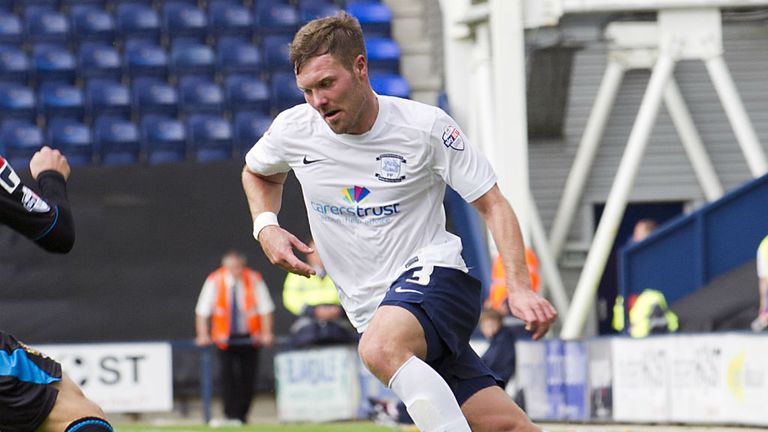 The new season is upon us, with the 2013/14 campaign starting to take shape.
Here at Sky Sports we will look to take you to the very heart of the Football League over the coming months, with our Spotlight features intended to give you a greater insight into the clubs and players that keep us on the edge of our seats.
We hope to bring you the views and thoughts of a representative from each of the 72 teams over the course of the season, with those involved asked to give their take on the division they compete in, the club that pays their wages and those we should all be keeping an eye on.
Preston's Scott Laird is next into the hot-seat, with the Lilywhites defender taking time out to discuss an unbeaten start and bouncing back from injury with Chris Burton.
Nine games in, still unbeaten, it's all going to plan isn't it?
Definitely. It's nice to have a platform. We have drawn four, won five. Leyton Orient have gone and set the benchmark at the moment, they have won eight and drawn one, but it's nice to be unbeaten and have that platform. I think we are one of only three teams (in the Football League) that are unbeaten and we need to build on that now and not just stay unbeaten, because you can think about that too much and keep drawing. We need to keep winning games like we have been doing and stay on this run.
Everyone wants to start well, but you have eased yourselves away haven't you rather than bursting out of the blocks?
I think it has been good because in some ways we have gone under the radar a bit, which has been good. We haven't been in the spotlight and we have got ourselves going slowly whilst staying unbeaten. Now we are starting to hit a winning streak and we need to keep that going.
You opened with four draws, but getting that first win is vital isn't it and has allowed you to really kick on?
Out of the four games we drew, we got away with one at Coventry - we were ahead three times but we weren't at our best and came out with a draw - and the other three games we could easily have won. But it was good to finally get that win we were looking for and then we kicked on from there.
The goals have been flowing and you have been spreading them around, which is a nice habit to get into isn't it?
It's been brilliant. It's good that you can spread the goals around and you aren't reliant on one person - because if that person had a couple of games without scoring, then you don't get the goals. It has been nice that they have been spread around and I think that's something we started last season and have carried on this season.
You've got a new system, with three up top, and that is working well isn't it?
Yeah, people can see we have changed it a little bit. It gives us the opportunity to defend in numbers and then attack in numbers. With the quality that we have got going forward, we are a match for anyone in this league.
You've got vast experience up front as well haven't you, which is always useful?
Absolutely. People like (Stuart) Beavon - he's brilliant on the ball, great first touch and creates things. Iain Hume, who has been around the block, Lee Holmes and then Kevin Davies up front as well - who is just different gravy. People don't see what he does off the ball, he gets stuck in and puts himself about and instead of flicking things, he's intelligent with his touches and if you make a run he'll find you.
There aren't too many England internationals playing in League One are there?
No there isn't and we are very fortunate to have one of them. Hopefully we can keep him going every week, because he is certainly bringing a different dimension to our game.
And Simon Grayson as well, he knows what the division is all about and what it takes to get out of it, which is a great asset to have isn't it?
He's been brilliant since he came in at the end of last season. You don't win promotion out of this league three times for nothing. He certainly knows what he is doing and he has got us set up and playing very well. He has got a great squad that is performing for him and for each other. Long may that continue.
There are some big clubs in League One, and some that are struggling, so is it all about being slow and steady from this point?
I have said already this season that there is no easy game anymore in this league. You have got Sheffield United who are propping up the table, no-one would have thought that. But they are a great team, we played them last week, and they have got a very, very good squad and I'm sure they will get out of the position they are in. But there are some big teams in there, including ourselves, and over the last few years League One has transformed into a very good league.
Like you say, Preston are a big club but you have to prove that you are deserving of a higher standing don't you - players and management?
Of course you do, I totally agree. People can say Preston are a big club, but we are in the position we are in because of what's happened, for whatever reason. It's happened at Wolves, they've come down from the Premier League in a couple of seasons, Sheffield United have done the same. We're here because, in the end, we deserve it. We have to prove that we are good enough to get out of this division and then get into the Championship and prove again that we're good enough to be there.
And for you, I take it you are delighted with how things have started given how they went for you and the club last season?
Brilliant. We had not a bad little start to the season last year, then I got injured in November and missed the whole of the season. We didn't have the best of runs through Christmas and then towards the end of last season we started again and looked like the team we were at the start of the season and have carried it on this year. Personally it's been brilliant to be back playing. I got myself on the score sheet last week and hopefully now I can carry that on.
Things were going so well for you before the injury, do you feel you are back on track now?
Definitely. I felt really good before the injury, I was performing very well, and then - football, as you know - these things happen. But I worked hard and got myself back. It's taken me a few games to get back - it takes a few games to get yourself going again, just your touch and reading the game to get up to speed. It's been brilliant for myself to have the opportunity to play week in, week out for the last three or four weeks and get that sharpness back and my brain working again. I feel now that I'm starting to replicate my best form.
You've been nominated for the League One Player of the Month award for September, and Simon Grayson is up for Manager of the Month, that's nice recognition on a personal level but is also a reflection on the club as a whole isn't it?
You get that through your team-mates, they've helped myself to get this recognition, which I'm very pleased to receive. Personally, after the long 10 months I've had, it's been nice to be recognised and get that nomination. And the gaffer as well, he's worked very hard and the team have worked very hard for him. It's nice to be recognised and long may that continue, not only for myself but for the other lads as well.
You have all set the standard now and it's about pushing on from here, starting with Peterborough on Saturday - which will be no easy task will it?
Definitely. Again, there are no easy games in this league. It's going to be a great test for ourselves, but that's what we want. Peterborough at Peterborough is going to be a very entertaining game. They score goals and they concede goals, so we have to make sure that we are making them concede goals on Saturday and come away with the right result.