Stepping up
Shrewsbury defender Ryan Woods discusses making the grade at senior level and staying positive.
Last Updated: 19/12/13 4:49pm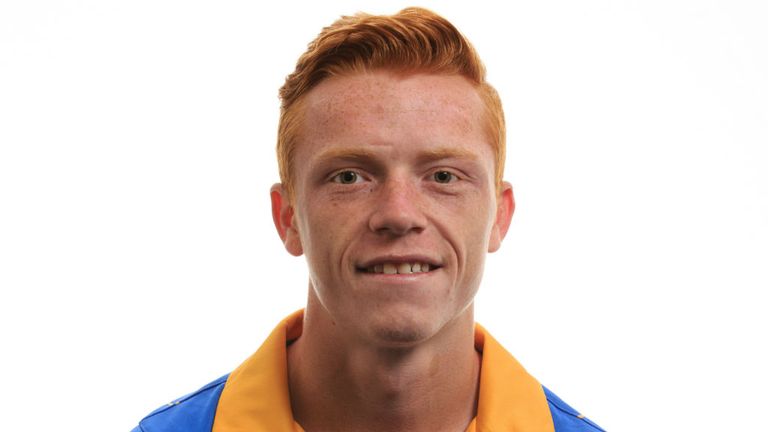 The new season is upon us, with the 2013/14 campaign starting to take shape.
Here at Sky Sports we will look to take you to the very heart of the Football League over the coming months, with our Spotlight features intended to give you a greater insight into the clubs and players that keep us on the edge of our seats.
We hope to bring you the views and thoughts of a representative from each of the 72 teams over the course of the season, with those involved asked to give their take on the division they compete in, the club that pays their wages and those we should all be keeping an eye on.
Shrewsbury's Ryan Woods is next into the hot-seat, with the promising defender taking time out to discuss making the grade at senior level and staying positive with Chris Burton.
For you, has everything gone better than you had hoped over the summer?
Definitely. Personally, for me, I've come into this season just expecting to maybe get a chance here and there throughout the season. But, obviously, the gaffer has given me a chance early on and, by the looks of it, I've taken it.
It's all happened so quickly, were you ready for that or did it all come as a nice surprise?
I was surprised, to be honest. But you have to be ready because you never know. We haven't got the biggest of squads this season, but you have got to be ready. Fortunately for me I was ready and hopefully there is plenty more to come now.
Since you've come into the side you haven't looked back, I suppose the manager deserves a lot of credit for sticking with you and giving you a chance to prove your worth?
Definitely. I think a few of my performances have been good. Obviously I have had a few average ones and a couple of bad ones, but credit to the gaffer, he has stuck by me and given me a chance. Hopefully I am now paying him back for giving me that chance.
You signed a new contract over the summer as well, was that a weight off your mind and has it allowed you to play with a bit more freedom?
Yes, it took a while to sort out but we did get there in the end. I'm just really focused on this season now. The start of the season, we have done very well. We have been unfortunate with some of the results that we've had, but I think we look a very good team and every game is winnable for us, as far as I can see.
Is it a club that places a lot of emphasis on youth, because there isn't a lot of money around and not the biggest of squads?
Definitely. As you can see, we have had a few big names come through throughout the years at Shrewsbury Town. Hopefully I can be one added to that list, but there are a few more coming through. Not being a massive club, we have to emphasise the youth team. But they are putting the faith in us and, by the looks of it, we are repaying them because we are playing well.
Do you think there may be a few more to come through before the end of the season?
I would say so, definitely. Well, hopefully for them. They train with us every day and they don't look out of place, so hopefully there is plenty more to come.
How would you sum up the start to the season for the club as a whole? Is frustrating the right word?
Yes, I would say frustrating. We just wonder how we haven't got more points. We definitely deserve to be in the top-half of the table. We have played some very good football throughout the games, it's just the last 10 minutes of games where we seem to be throwing points away. But it's a long season and hopefully we can start tomorrow with three points.
You have been losing games by the odd goal and in the last three games you have conceded in the last five minutes - is it a concentration issue, is it something which can be addressed, or is it just bad luck?
Personally, being part of the back four throughout the season so far, it's definitely not down to concentration because we have played really well as a unit, whoever plays there. It's definitely down to bad luck. Maybe a few errors here and there, but mistakes happen in football and you just have to move on from it.
It's just about getting a win now isn't it, for you and the club?
Definitely. We deserve a win. Hopefully it will come against Carlisle, but as a back four and as a whole team we have been very strong recently and as long as we can keep them out in the last five to 10 minutes of matches, we will definitely get a win sooner rather than later.
The club managed to consolidate themselves in League One last season, but it's such a competitive division isn't it that you have got to raise your game again?
It's a very tough league. You can see that with the teams in the league. No game is easy, whether you are at home or away. But, I think we have shown enough this season to prove that we can be a very good League One team. We should be up there. You never know, a win tomorrow and a win the following week and that will push us right up there and it will look totally different for us.
The game on Saturday is the first of a busy month, with three at home, so is there a real chance to start pushing yourselves up there?
Yes. We have got two games on the bounce at home now. We have got Carlisle and Gillingham. Every game is winnable for us, I think, with the football we play. I just hope we can start picking up the points, starting tomorrow.
Is everyone in the squad still upbeat despite what has been happening?
Yes. You have got to be confident anyway, confident in your ability and the other lads. We know ourselves that we deserve more than we have got so far. It's just those final 10 minutes that we need to hang on. Once that does happen for us, I think we will be a very strong team.