Sergio Torres: From the Brick Factory to the Theatre of Dreams
Sergio Torres' new book tells his fascinating story and Johnny Phillips thinks it can't be missed
Last Updated: 08/10/13 4:05pm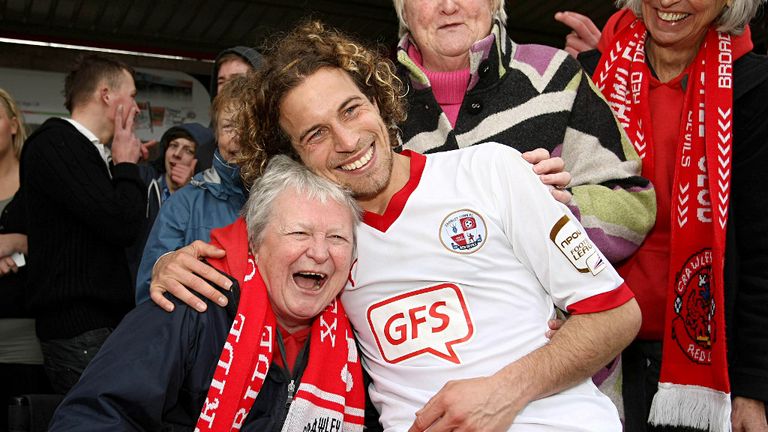 One day he told his work mates that he had decided to become a professional footballer instead. So he left them, he left his job and he even left the country. On arriving in England he had just 300 dollars to his name and the flakiest promise of a trial. But that didn't work out. So that was that. Dream over.
Well it should have been over, but Sergio Torres isn't your average person. He did make it. And just a few years after leaving the brick factory behind he was rubbing shoulders with Wayne Rooney at Old Trafford. Without giving too much away about what happened in between leaving home and meeting Rooney, Torres followed a dream.
But, unlike most talent show wannabes who think they should be granted their dreams just because they "really really want it", Torres was prepared to work year after year at applying himself, getting better at his job and treating every setback as an experience that would make him a better player and a better person.
Now he has told his tale. Footballers' autobiographies are ten a penny, but The Sergio Torres Story stands out from the rest. It begins with him defying advice and travelling half way across the world at an age that many of his peers deemed too old to be trying to make it. Unsurprisingly the 300 dollars runs out pretty quickly.
The adventures of his living arrangements alone are enough to fill a book; from being forced to share a room with a set of complete strangers, to dossing on the boardroom floor of one football club and being rescued by a football fan and his French wife.
It's not just the unusual digs he's ended up in. He has seen parts of the country that he wishes he'd never set eyes on; such as a garage in south London where a fight broke out that endangered his life and the school football pitch he was forced to train alone on day after day.
But then there have been the sights he'll never forget for the right reasons, like the floodlights at Stamford Bridge shining on his skills as he ran past Michael Ballack and Frank Lampard.
Incredible journey
I first met Sergio back in 2005 when he had earned his first ever professional contract. We did a feature on him for Soccer Saturday when he was becoming a cult favourite at Wycombe Wanderers.
Since then we've followed his story closely on the programme, meeting up with him as he moved on to other clubs and experienced more ups and downs; from being last pick at training with Peterborough and suffering from depression over the apparent end of his football dream, to being one of the first on the team sheet at his next club and walking out against Manchester United in an FA Cup tie screened live to his countrymen back in Argentina.
Deportivo Madryn and Lincoln City are two football teams that have probably never appeared in the same sentence before. But they are both part of the Torres story. As are many other clubs. Some rejected him, others embraced him.
He now plays for Crawley Town and lives on the south coast with his wife and daughter, who was born here. The last time I caught up with him at the back end of last season he reflected on the incredible journey he had been on since leaving the brick factory.
"I remember when I came to England my Mum was worried that I spoke no English," he recalled.
"I said, 'Don't worry Mum, I'm only away for two weeks!' I had 300 dollars when I came here all those years ago. I've fallen in love with England and the people."
Torres changed his life for ever on the day that he walked out of that brick factory. There are parallels with the film 'Goal!' but I would argue that this is a much better story.
For starters, it really happened, and it is about much more than pursuing a dream. No matter who you support, this is a book worth reading.