FL72 Review: Don Goodman analyses the Football League weekend
Don Goodman talks sackings, Coventry's 'home' form and Orient's run in his Football League summary.
Last Updated: 16/10/13 1:08pm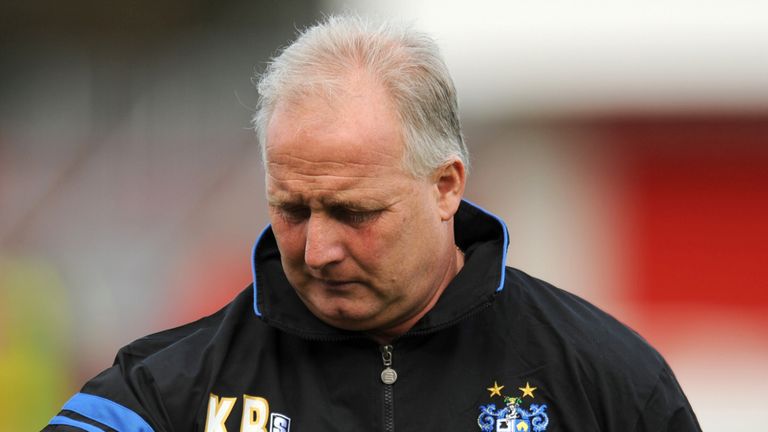 It's a remarkable amount of players Kevin Blackwell brought in before he was sacked. They obviously got relegated last season so they're in a different league and maybe had to cut their cloth accordingly. I'm sure they must have had one of the lowest budgets in League One but their ambition must be to go straight back up. We are 11 games in now and he's not the first and won't be the last. Morecambe are a useful team. They're absolutely flying on a fantastic run. Bury are fourth bottom and had to take their chance but they missed and paid the price because Ryan Williams smacked in an absolute beauty. Morecambe are playing with a lot of confidence. They've had a bit of exposure from Sky Sports this season. I did their Capital One Cup first-round victory over Wolves and Williams smacked in a very similar free-kick and I couldn't praise him highly enough. If you give him too much coverage, he might not be at Morecambe too much longer!
Shrewsbury 2-0 Gillingham
There's just no sentiment in football. Gillingham won the League Two title, are newly promoted into a higher division and again, things don't go for them in the same way that they didn't go for Bury. Shrewsbury's second goal was scored by a youngster from Wolves - Liam McAlinden. Wolves will be hoping a loan spell, first team football and a few goals will help him because he's very highly regarded there.
Coventry 3-2 Sheff Utd
We have seen some pretty dour games in the Championship in the early kick-offs but this more than made up for it. It was all action, there probably should have been red cards and there were five goals. With Coventry at Sixfields, it's just a place to go if you want to see goals this season. Leon Clarke has matured. It took him a while but that finish was the finish of a striker high on confidence. He's working in tandem with Callum Wilson. Sheffield United had to change something and they more than got their pride back - they actually could have got something out of the game. As for Coventry, they broke their record for away wins last season so they were already set up to do well in unfamiliar surroundings. It certainly hasn't done them any harm.
Bradford 0-1 Tranmere
Tranmere were replaced at the bottom by Sheffield United. With regards to the alleged elbow on the touchline, Goodison gave the referee a decision to make. He leaned in and the rest is open to interpretation. There are some referees who would say it's a red card and there was no need to do it because the ball was already going out but he got away with it. Ryan Lowe is a real poacher with the finish but Phil Parkinson will be really disappointed with the defending there.
Preston 0-2 Crewe
It's Simon Grayson's first defeat at Deepdale as Preston boss. He'll be disappointed. You've got to give credit to Crewe. There was some lovely build-up and some clinical finishing from a club that have been really struggling. They're down there at the bottom and you'd have never believed it. They've shipped a crazy amount of goals and kept a clean sheet, continued to play their football and scored another excellent goal. It must be a joy to play for a manager who wants you to express yourself. It will give Crewe a huge lift going forward.
Stevenage 2-1 Brentford
Brentford haven't quite recovered from the disappointment of the play-offs last season. John Douglas must have had a nosebleed getting himself that far forward and Clayton Donaldson has nicked the goal off him there! If you look at the match-winner Francois Zoko, he always puts himself in a position to score goals - in the middle of the goal when it's out wide and feeding on the scraps of crosses. That's three goals in the first two games of his Stevenage career and a very good start.
Fleetwood 1-1 Chesterfield
Fleetwood nearly got off to a flyer but it was ruled out for offside and Chesterfield made them pay. For the penalty, it was just a long hopeful ball which the striker didn't give up on and the defender delayed his clearance before bundling into the back of his man. Despite them missing the spot-kick, they got their equaliser through Jon Parkin. He's been doing that for years and has a good first touch - he brought it down well to give himself the opportunity to strike and wheeled away a happy man. Teams like Oxford and Rochdale will be delighted with this result between the top two.
Rochdale 3-0 Newport
I'm pleased for Keith Hill - he's a manager that I admire. It was a great goal. One of those where you strike the ball and it's a true strike. They didn't stop there though. They pressed and pressed and got themselves the cushion. I think the Newport penalty was arguable because the defender may have got some of the ball. The goalkeeper does very well though to preserve the two-goal cushion.
Leyton Orient 2-1 MK Dons
They've had such a remarkable start. To have 29 points after 11 games is just unbelievable. Here, they had to show real character and when you see the two goals they scored, they showed real quality, too. They turned possession over and it was great football and awareness from there on. There were so many good goals this weekend and both of Orient's were up there with the best of them. Great inter-play between Kevin Lisbie and Dave Mooney. It's great to see. They had to ride their luck to see the game out. MK Dons are a team I like. They play good football and are just looking for that bit of consistency.
Port Vale 0-1 Peterborough
Tyrone Barnett possesses pace and power plus a decent eye for a goal. Peterborough have gone about their business quietly because Orient have started so well. All the focus has been on Orient but Posh are just one point behind them, which is a phenomenal effort. Peterborough maybe got away with one when Lee Hughes got in space because you expect him to hit the target, but good teams win without playing well. Darren Ferguson admitted he was frustrated on the sideline because they didn't play well but they found a way to win.
Rotherham 0-4 Swindon
You wouldn't have gambled on a 4-0 win for Swindon at Rotherham. It was all Rotherham to start with and the panel on Soccer Saturday couldn't see anything other than a Rotherham victory. However, they missed their chances. Mark Cooper is getting his team to express themselves. They play a very attractive passing game and once they got their noses in front, they exposed Swindon a bit. They grew in confidence and there were some fantastic footballing goals. Every week, Swindon are seeing some fantastic football and pushing at the right end of the table. I don't see anybody breaking into the automatic spots but I see no reason why Swindon won't be there in the play-offs.