Before and after
Carlisle United skipper Paul Thirlwell discusses managerial changes and playing through the pain.
Last Updated: 19/12/13 4:49pm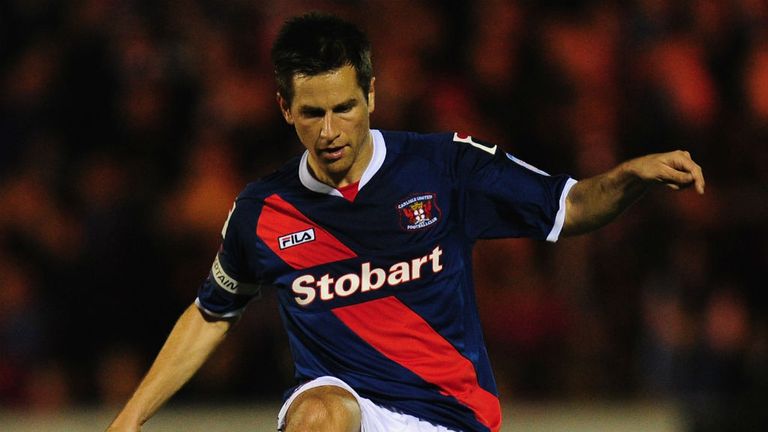 The 2013/14 campaign is now well under way, with divisions beginning to take shape.
Here at Sky Sports we will look to take you to the very heart of the Football League over the coming months, with our Spotlight features intended to give you a greater insight into the clubs and players that keep us on the edge of our seats.
We hope to bring you the views and thoughts of a representative from each of the 72 teams over the course of the season, with those involved asked to give their take on the division they compete in, the club that pays their wages and those we should all be keeping an eye on.
Carlisle's Paul Thirlwell is next into the hot-seat, with the Cumbrians skipper taking time out to discuss managerial changes and playing through the pain barrier with Chris Burton.
It's been a season of "before and after" with the manager change, hasn't it, was that a real turning point?
It was. It's always a difficult time when your performances are putting the manager under pressure and results don't go your way and he loses his job. Unfortunately for Greg (Abbott), that's what happened. We had actually started to turn things around before that point but we just couldn't get the results. We all know what happens when you get in that situation. But Kav (Graham Kavanagh) has come in with Davie Irons and Tony Caig on board, so there has been a chance in the sense that we are doing a few different things, playing in a slightly different fashion, and so far it seems to be working for them.
As players you have to shoulder some of the responsibility for Greg's departure, but the change was necessary and you always seem to get this boost when a new boss comes in?
We said that. We have to take responsibility as players because the management can only do so much - prepare you for a game, but once you cross that white line it's down to the players to produce performance-wise. But I think we were all of the opinion, and Greg would be the first to say, that he was always going to be the casualty of that. We all have to look forward now and wish him all the best. Things are improving, we haven't been playing as well as we would have liked but we have been able to pick up a few results. While the lads deserve some stick for the sacking of Greg, I think we have managed to get ourselves through that and bounce back by putting a few performances in.
The start you had, was that down to bad luck as much as anything else because you had some really tough fixtures?
We did. I suppose you can look at that, but I think it sort of runs back to last season. We didn't have a particularly good season, didn't have much luck with injuries and suspensions, but I think it all comes to a point where you don't want to hear excuses anymore, you want to produce on the pitch. That's the most important thing. It was drilled into us that we wanted to get off to a good start, but in those first six league games that obviously wasn't the case. I think the fans were understandably getting unhappy, and we all know what happens. It was disappointing.
Graham's come in, and it is his first managerial post, but he is someone that knows the club well so it isn't like there has been a complete fresh start?
No, he has been around about four years - since he first came in on loan as a player initially. Then Greg gave him the opportunity to get on the coaching staff and then he became assistant manager. He knows the club as well as anyone in terms of what he can and can't do with what's available. He has obviously got his own ideas about how he wants to manage. He is taking his badges, he is about to do his Pro Licence now - over the course of the next year, I think. He's got his new staff and it has been a bit of fresh start. We're up and running now and doing really well, we just want to continue the momentum we have built so far.
You have got some useful experience in the squad, including yourself, and it's important that you make the most of that isn't it?
Definitely. We have got some experienced lads and we've got some good young lads who have come into the squad and done really well. I think you need that now, you need that youthful exuberance in the team and you need a couple of old heads as well. At the minute it seems to be going well and we just have to keep going. In our league, if you drop a fraction of a per cent you can come unstuck. We have got another tough game on Saturday at Oldham and then MK Dons on Tuesday night, so we have got a tough week coming up.
Like you say, you have got the young lads as well - you have brought in David Amoo and he has done exactly what you hoped he was going to do hasn't he?
Yes, he has. We knew what David was all about when we bought him - he's got pace, power and he can get a goal. When results weren't going our way at the start, he was still our main threat on the right-hand side, along with Matty Robson on the left. He has managed to chip in with six or seven goals now already, so he is contributing on all fronts.
So after the tough start are you now happy with how things are going, but always looking to improve?
Yes, definitely. Looking at the kind of player Kav was, he was a 100 per-center and he wants that from us. He wants intensity. We all know how quickly things can change if we don't keep our standards high for the next game.
On a personal level, you have been nursing a bit of knock, is the Achilles all OK now?
That's fine now. I'm hanging in there. I'm enjoying it, enjoying the games. We've been picking up results as well so hopefully everything will keep going.
Are you trying to lead by example in a way, play through the pain and show the dedication to the cause that everyone has to?
You have to. At my age, once you get past 30 - between 30 and 35 - I don't think anyone is going into games 100 per cent, you pick up small injuries. It's just getting older. But you need the experienced lads to help out in difficult situations.
You only signed a one-year contract in the summer, but I take you feel you have got a few more years left in you yet?
You just have to take it year by year now. I'm 34, so you would be lucky to get a two-year deal. You have to take it year by year but, fingers crossed, I'm doing alright at the minute and I just have to keep that going until the end of the season.