Loan benefits
Colchester's on-loan 'keeper Sam Walker talks winning sparks and game time away from Chelsea.
Last Updated: 19/12/13 4:48pm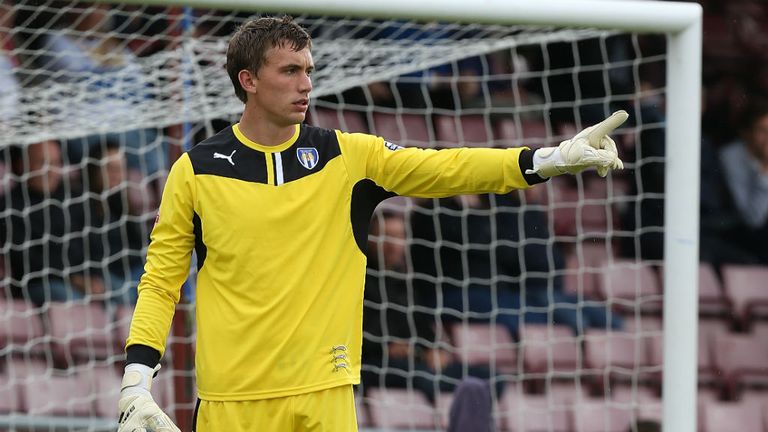 The 2013/14 campaign is now well under way, with divisions beginning to take shape.
Here at Sky Sports we will look to take you to the very heart of the Football League over the coming months, with our Spotlight features intended to give you a greater insight into the clubs and players that keep us on the edge of our seats.
We hope to bring you the views and thoughts of a representative from each of the 72 teams over the course of the season, with those involved asked to give their take on the division they compete in, the club that pays their wages and those we should all be keeping an eye on.
Colchester's Sam Walker is next into the hot-seat, with the on-loan goalkeeper taking time out to discuss winning sparks and regular game time with Chris Burton.
You had a bit of a wobble recently, but back to winning ways at the weekend and feeling a lot better about yourselves I imagine?
Yeah, we had a tough run. But we picked up some good points actually, some really good draws. We've had a really tough start to the season with injuries - I don't think any of us have seen anything like it. We've picked up some good draws, though, and it was nice to get back to winning ways over the weekend.
Especially against Peterborough - the amount of goals they have been scoring, a clean sheet was a nice bonus wasn't it?
It was. We knew it was going to be a tough game. They are a good side and they've had a great start to the season. But we were strong and resilient, which we have been for most of the season, and the young lad managed to come on and score his first goal on his birthday to grab us the win, which was brilliant for us.
It was some story with Macauley (Bonne) wasn't it (scoring his first senior goal on his 18th birthday)?
It was. It was incredible. He's a really good lad, he's stepped up to train with us in previous weeks and he got his chance on Saturday to come on and show what he can do, and he did just that.
It could be a result like that that really sparks your season couldn't it? Sometimes it only takes one result.
It does. I think, among ourselves, we have always felt, for most of the season, that we are a win away from going on a bit of a run. The way we did it on Saturday against a team of Peterborough's stature, we're hoping that it can certainly push us on a run before Christmas.
People need to realise as well don't they that you've got a very young side, it's always going to take time for things to settle?
Yes, we have. We are a young squad and with the injuries that we've had, we've had to chop and change. The gaffer has done some great work in the loan market and filled the gaps when they've needed to be filled. We haven't really played the same XI for too many games at all this season, so we're doing alright.
Like you say, you've had a few loanees in and that's always taking a bit of a gamble isn't it, you're never really sure how they are going to work out?
Exactly. But to be fair to the gaffer, he is really good on that front - with recruitment. He knows his players and who he can bring in if he needs to and we haven't had a bad one yet. All of the loanees that have come in have done really well.
Looking at the division as a whole, it's so tight - one result, good or bad, can move you up or down and it's virtually impossible to know what's going to happen every week isn't it?
It is. I have been saying this for the past few seasons, all the leagues in the country are becoming much, much tighter. You're seeing it at the top of the Premier League with some teams and the competition up there, all the way down to League One, League Two. It is a lot more competitive and anyone can go anywhere and pick up a result. It's not until the latter stages of the season that you start to see the places spread out.
I take it that as a squad you are looking upwards - 20th last season was cutting it a bit tight?
Tight to say the least - last day of the season at Carlisle! We fought for our lives last season and in the end got what we deserve, I feel, by staying up. We're definitely looking upwards. We're a positive group, we know what we can do when we have got a full squad, so we are definitely looking upwards.
Did you jump at the chance to come back over the summer? Were there other options?
It was definitely a case of feeling at home straight away last season when I first came in. The run that we went on and the squad, the staff and the club in general, I think we were all as one going in the same direction. Surviving, I felt a real part of that and felt very comfortable with the club and the players and the fans. So it was definitely something I wanted to do over the summer and I'm pleased it worked out.
Regular games are vital to you at this stage aren't they, are you hoping the deal will be extended in January?
Exactly. Regular games is all I want, really. I've been out on loan for two or three years now and got about 100 games, which is great for a player of my age. Regular games is exactly what it is, and come January we'll review it.
Is Chelsea still very much your future, or will there be a point when you have to decide that it's time to look elsewhere?
It's a bit up in the air, really. My contract's up at the end of the season and we'll sit down with Chelsea and see what their plans are for me. For me, all I want to do is play games. If I'm not getting that at Chelsea, then I'll look to go out on loan and find that elsewhere.
It's so tough isn't it - you look at the experience that Petr Cech brings and then they have got Thibaut Courtois waiting in the wings to take over further down the line, it's difficult?
It is. Chelsea are one of the biggest clubs in the world and they have got one of the best goalkeepers in the world, in my opinion, in Petr Cech and Courtois is one of the best young goalkeepers around. It is going to be very difficult for me to get in there. If it's not there and I do have to go elsewhere, that's something I can look at down the line.
Are Chelsea in regular contact with you? Do they keep a close eye on how you're doing?
Yes, they do. The goalkeeping coach I have worked with there since I was 16 comes to watch me regularly and we speak over the phone. They have the clips and the DVDs of the games so they can watch them when they're not there. They know what's going on.
But for you at the moment, is it all about enjoying your football, getting that experience and if that puts you in the shop window, all the better?
Exactly. All I can do is keep playing games, keep playing well for Colchester and get my name out there.