Rockin' Robins
Swindon Town goalkeeper Wes Foderingham discusses play-off chasing and strength in depth.
Last Updated: 22/11/13 12:31pm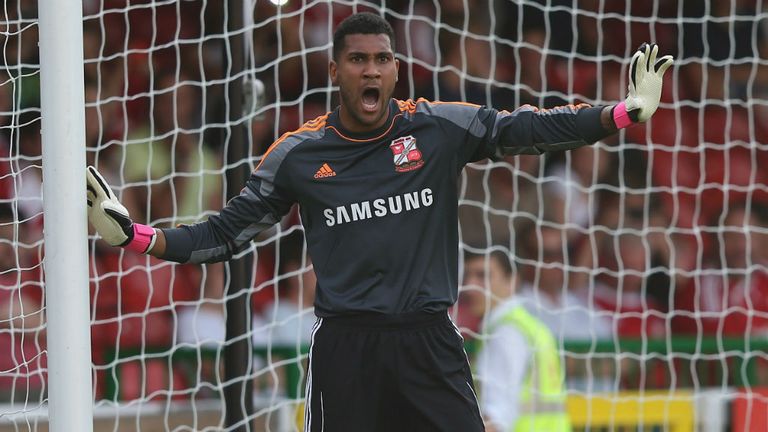 The 2013/14 campaign is now well under way, with divisions beginning to take shape.
Here at Sky Sports we will look to take you to the very heart of the Sky Bet Football League over the coming months, with our Spotlight features intended to give you a greater insight into the clubs and players that keep us on the edge of our seats.
We hope to bring you the views and thoughts of a representative from each of the 72 teams over the course of the season, with those involved asked to give their take on the division they compete in, the club that pays their wages and those we should all be keeping an eye on.
Swindon's Wes Foderingham is next into the hot-seat, with the Robins goalkeeper taking time out to discuss play-off chasing and strength in depth with Chris Burton.
We're a third of the way through the season now, how would you sum up how things have gone so far?
I think they have gone alright, to be honest - nothing spectacular, nothing too bad. We have had a good spell and a bad spell as well. I think we're yet to hit our full form, so it's positive that we are still in the play-offs.
You're right where you want to be aren't you - in the top six and looking to kick on?
Definitely. Top six is the aim. We're sixth at the moment. We had a good result last week (against Colchester) so we can try to kick on from there.
You look at the top two and they are threatening to pull away, that leaves the rest of you fighting for four spots doesn't it?
You'd like to think that you have maybe got a chance of getting into the top two as well. But if you look at it realistically, you expect Wolves to be up there until the end of the season and possibly Peterborough as well. Leyton Orient have had a fantastic run but whether they can keep that up, I'm not too sure. Last season there was Tranmere up at the top all the way up until Christmas, so we'll have to wait and see what happens. If we can stay in the top six until the end of the season, that will do us.
Looking at the likes of Wolves and Peterborough and what they have got at their disposal, just being in the mix is a great achievement isn't it?
Definitely. The budget at Wolves is massive compared to ours, but that doesn't necessarily mean that we haven't got the right quality to challenge. If you look at Tranmere last season, they stayed at the top of the league for most of the season and they have got a lower budget than us. Yeovil as well, who got promoted to the Championship on a lower budget. It can be done. Budget isn't the be-all and end-all. If we can keep the spirit right in the camp and keep our best players injury-free and keep picking up good results, there is no reason why we can't get promotion.
You had the play-off disappointment last year, if you have to go down that route again there will be a few wrongs to right won't there?
Obviously everybody was disappointed. I think a lot of the boys have moved on now, but I can still remember it and it was disappointing. If we can stay in the top six until play-off time and it comes around again, I'll be desperate to change things and get into the Championship.
In some ways is another year in League One no bad thing, as you can move through the divisions too quickly at times?
You can. The aim is that once you get up there, you try to stay there for as long as possible. The dynamic of the club has changed a lot from last season - we have got a new way of playing, a new budget, a new board, a new manager. Things are going well at the moment and if we can make steady progress up the league, that would be a good start.
You had the manager change over the summer and it was far from ideal timing-wise, so close to the start of the season, but you seem to have reacted well to that?
Exactly, it wasn't ideal. Kevin MacDonald came in and did a good job under the circumstances. We did fantastically well to stay in the play-offs and did our best to try and get up. It wasn't meant to be, but I'm sure that if we stay focused and pick up a few more good results then we will get another chance this season.
Mark Cooper has come in with a bit of a point to prove from his time at Peterborough - you need that don't you, people with drive and determination to succeed?
If I'm honest, I don't know too much about what happened in his past managerial experiences, but with us he's been fantastic. He has brought a bit of calmness to the changing room and confidence as well. He likes us to go out and play, and play with freedom and not worry about making mistakes. When we do well he gives us a pat on the shoulder and if we do something bad he tells us what we have done wrong and gives us advice on how to go out the next week and put it right.
You've managed to get yourself some useful experience in the squad, you've recruited well haven't you?
Yeah, we've got a few acquisitions from Tottenham, a few young players that we have signed from Premier League clubs. We have got a lot of young heads in the team, but we are a mature bunch for our age. We have got a few players as well that have been up and down the football pyramid - like Darren Ward, who is our skipper at the moment and has been fantastic. He talks to the boys throughout the week and has helped out the back four as well, because it is a young back four. The experience is needed.
And maybe a couple more to come in January to help carry the load?
If I give an honest opinion, we might need one or two. But I don't think it's essential at the moment. We've got players who aren't playing at the moment who are on the bench that are good players and can come in and do a job when needed. It might be down to people maybe leaving or injuries, and there is a budget as well.
On a personal level, are you pleased with how things have been going?
Absolutely. Since I have joined I have managed to rack up over 100 games, which is good for someone of my age. I'm fairly pleased with how it's going at the moment.
You had the unfortunate injury to your back a few weeks ago, have the boys let you live that down yet?
It was a strange one. I have got a stiff back as it is, so they tease me about that. I just bent down to get the milk out of the fridge and it's just gone, to be honest. But I'm feeling good now and I'm back in the side so I'm looking forward to playing well and helping the team in the league.
You came back in on Saturday, but Tyrell Belford did well in your absence didn't he and proved that you have strength in depth?
It's difficult for a young keeper to come in when they haven't played - I don't think he had played any games in professional football before the game at Macclesfield, and he didn't know he was playing until the day. We lost the game 4-0, but if Petr Cech had been in goal that day then the result would still have been 4-0. He couldn't have done anything about the goals and he made a couple of fantastic saves as well. He did well in the JPT as well, so credit to him and he's done himself no harm.