On the up
Wolves manager Kenny Jackett discusses the rebuilding project he has undertaken at Molineux.
Last Updated: 02/12/13 3:05pm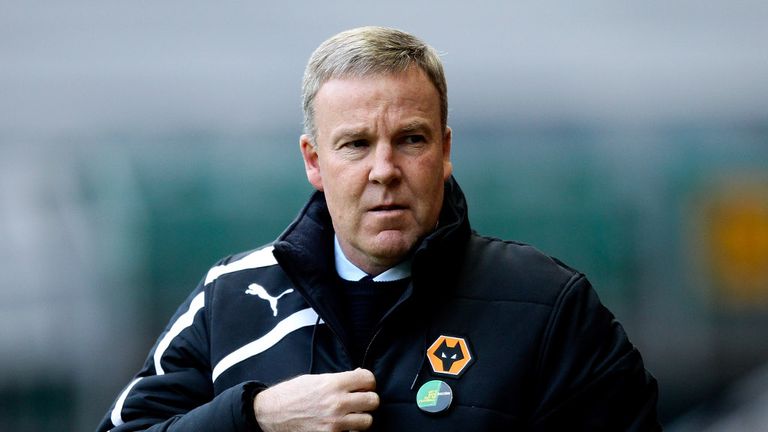 The 2013/14 campaign is now well under way, with divisions beginning to take shape.
Here at Sky Sports we will look to take you to the very heart of the Sky Bet Football League over the coming months, with our Spotlight features intended to give you a greater insight into the clubs and players that keep us on the edge of our seats.
We hope to bring you the views and thoughts of a representative from each of the 72 teams over the course of the season, with those involved asked to give their take on the division they compete in, the club that pays their wages and those we should all be keeping an eye on.
Wolves' Kenny Jackett is next into the hot-seat, with the former Watford, Swansea and Millwall boss taking time out to discuss the rebuilding project he has undertaken with Chris Burton.
You had a frustrating weekend but, 19 games in, there is a lot for you to be positive about isn't there?
There is. On Saturday we had a very good shout for a penalty in the first five minutes which would have changed things. Although we didn't do enough in the final third to really take Peterborough to task, we didn't deserve to get beaten either. It was a frustrating weekend for us, but congratulations to Peterborough - they defended very well when they had to and got the set-piece which clinched the game. Overall, as a club and as a team, we learn from that because at times we have been very dominant of late and haven't scored enough goals. We're capable of doing that so it's really important that we look forward and make sure we get these things right going on. It's a vital run of games, particularly over the Christmas period, where we can capitalise on what is an excellent position for us.
You will have entered the season full of optimism, but has a return of 13 wins and 43 points seen you exceed expectations?
I don't know whether that's the case, it's not easy to see those things from the inside. I'm just focused on us now capitalising on the position that we're in. We're coming to almost halfway through the season and now we've got a great position - we're not giving anybody a lead or playing catch-up, which you can be in a football season, particularly when there has been quite a turbulent summer and you've had to make changes. Now we've put ourselves in a good position and I just want the team to reflect that in the second half.
When you came in the place must have been pretty flat, how did you set about finding that spark?
I made a lot of changes. I feel the group has had fresh enthusiasm from the four new players that have come in, they have given the group new enthusiasm, along with a lot of the youth players that have maybe been in and out of the team, but the spirit and enthusiasm has been rekindled through their promotion from the U21s.
Man-management has been very important hasn't it - you've had to get the players believing in themselves again?
And making sure that after two successive relegations that the changes were made and the supporters had some fresh players to focus on. I think that was very important. There are quite a number of players who have been here a lot of years, and that can be frustrating if the supporters don't see the right amount of changes. They want to focus on new players.
Getting the supporters back on side was vital wasn't it, you had to start well for them because they have been through a lot?
They have. From being in the lower reaches of the Premier League for a couple of years and then finally getting caught one year, nobody expected then to be anything other than a very competitive Championship side. They have had a mad last couple of seasons here and it's been frustrating for them. They want to see the signs and the shoots of recovery.
And for you, it was an opportunity that was too good to turn down - the chance to rebuild a club of Wolves' size?
It was. It was a great chance and a great opportunity. I haven't been disappointed with the club internally, it's everything that you would expect it to be and hoped it would be from the outside. It's a very good club.
But you spent the best part of six years at Millwall, had some happy times there and plenty of trips to Wembley, so I imagine it was difficult to walk away from that wasn't it?
It was, but I did feel at the end of that particular season that the timing was right for me to move on for a new challenge.
You've seen plenty of League One down the years, what does it take to get out of that division?
You need good players. You need good players, a balanced squad, and you need team spirit.
And the experience you have got in the Doyles, Stearmans and Ricketts, you have got a got a good mix haven't you? That helps.
It does. You do need a blend of the youth and experience, but the main thing is that you do need good players - whatever age they are. Good players, a balanced squad and team spirit.
But always aware of the need to carry on improving, with the possibility of a couple more to come in January if the opportunity arises?
I do think that as a club we have got to capitalise on the position that we're in, and we are looking to do that.
Do you allow yourself to start thinking about promotion, or is that something you want to avoid until later in the season?
From day one our ambition is to get promoted. But working out how you're actually going to do it is a little bit harder. We do talk about getting promoted and consistently try to evaluate and, as a staff, work out how we are going to do it. You can't plan for next May, you can only plan for MK Dons, who are our next game. That's all you can do. But in terms of the overall strategy - obviously from day one of pre-season, like most clubs - our ambition is to get promoted.
Throughout December, Sky Bet, the title sponsor of the Football League, are giving away 5 pairs of tickets each day, through the Sky Bet Football League Advent Calendar game. You can play along by clicking here.