What do Craig Mackail-Smith, Kevin Davies and Guy Branston want for Christmas?
Kevin Davies, Guy Branston and Craig Mackail-Smith on being a footballer at Christmas.
Last Updated: 18/12/13 3:12pm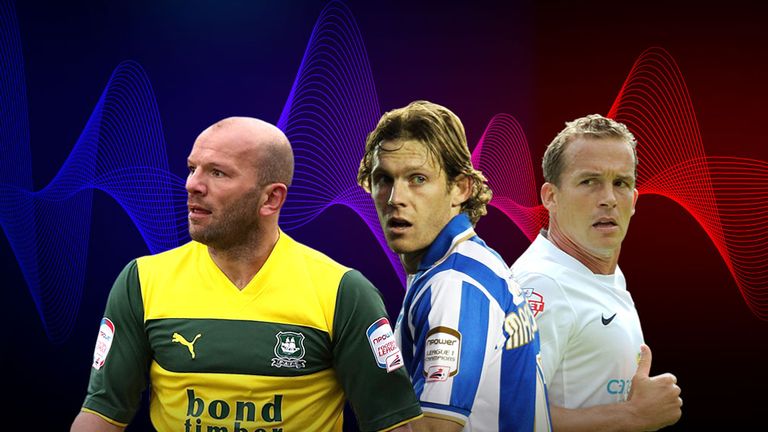 As well as a weekly blog from Crystal Palace striker Kevin Phillips, we will also be speaking to some seasoned campaigners in the Football League.
Brighton striker Craig Mackail-Smith, Preston frontman Kevin Davies and Plymouth Argyle defender Guy Branston - who all appear on Sky Sports News Radio's Football League Hour - will be chatting to us about all manner of footballing issues.
It's Christmas next week and whilst we're all stuffing our faces with turkey, sipping mulled wine with our mates and lounging in front of a film on the sofa; our footballing friends will be training hard and squeezing in four games between December 21st and January 1st.
With this in mind we've asked our three wise men of the Football League about their Christmas schedules, whether they'll be scoffing the mince pies and what they've asked to be left under the tree...
CRAIG MACKAIL-SMITH
I don't think I'll be travelling with the team over Christmas. They're away to Charlton on Boxing Day and I think they're meeting on Christmas Day at about 5pm to train and then travel up to the hotel.
When I was at Peterborough I don't think I was ever in on a Christmas Day, Brighton's the first club I've been at where it's happened, it's only been the past two years that I've had to go.
We've got a game on Saturday then we've got three games in quick succession until the January 1st and it's one of the most intense periods of the season. I think it's quite exciting, I'm sure most footballers would like a bit of time off to spend with their family but you get perks with the job so you have to deal with these more difficult things. For me, I'd love to be playing but because of my injury I will spend Christmas with my family and enjoy it.
We've already had our club Christmas party. We went to Dublin for the weekend after the win against Leicester which put everyone in a good mood and kept everyone there for the weekend because sometimes a result can make or break the Christmas party and luckily enough we got a great result and had a brilliant weekend. There were a lot of worse for wear players coming back on the flight on the Monday.
Over the festive period there are so many different foods to snack on like chocolate and you have to keep an eye on what you're eating and putting away because you can't over-indulge yourself and for me especially because I'm not in full training or playing, if I did stuff myself I'd probably put a few pounds on and get told off for it.
I'm really looking forward to spending time with my little girl. I'm not sure how much she'll know about it because she's so young but it will be nice to have a tree up and have the family over and celebrate it together.
If I could ask for one thing from Santa it would be fitness but I can't really be given that.
KEVIN DAVIES
When the fixtures come out, as a player especially when you've got children, you look towards Christmas and New Year to see where you're going to be. I think they try and arrange the fixtures so you play locally but we've got Carlisle away on Boxing Day and kick-off is at 1pm so I think we're going to be training on Christmas night in Preston and then travel up to Carlisle and get prepared for the game. I believe we've only got two days off from now until the end of the first week in January, so it's a busy period but at least I get to spend the morning with my family on Christmas Day.
Whether you're training on the 25th can vary with your manager. I've had ones in the past who have got all the players together, but I think if you're doing relatively well in the league some managers will trust you to rest and eat the right things and not drink alcohol so they might give you it off.
We've had our Christmas party at Preston. We went to Newcastle a couple weeks ago and had a nice weekend; there were a few others teams up there as well. We played Crawley last Saturday and their manager cancelled their Christmas party, I think Sam Allardyce cancelled one a few years ago at Bolton because we weren't getting the results he wanted. A lot of managers like the players to go away and let their hair down for a little bit and get it out the way early with the amount of fixtures that come up because between Boxing Day and New Year we really have to be very professional.
I don't really want anything for Christmas so I'll wait and see what I get. I think the kids have bought a few little bit and bobs and I'm sure it will be getting the usual socks and aftershave. My wife and I don't usually buy ourselves too much for Christmas, it's all about the children.
GUY BRANSTON
Over Christmas it's really busy and we don't really get a day off to be honest. Even on Christmas Day we'll be travelling up to Oxford and staying in a hotel with the lads, so I'll be kissing the Mrs and the kids and getting on the motorway ready to for the away game.
I've done this a few times as a footballer and it's just part and parcel of the job and I wouldn't have it any other way. The Christmas period is fantastic, its cut-throat and it can make or break your season. It's something to look forward to rather than worry too much about.
The food is fantastic over Christmas and for me it's the best time. Even with your healthy treats like nuts and berries you can over do them and it still add calories to your diet that you don't need and an extra pound whilst you're running around is quite intense on you, so you have to be very careful about what you eat and drink. My manager weighs us a lot and the fitness coach wants urine tests; it's important because if you're overweight or dehydrated the concentration levels go down.
I haven't asked for anything for Christmas, I'm very content with my family and how we are. I drive a Renault Megane, I don't wear a Rolex, and I'm not someone who's materialistic. I've got a good TV, I've got a nice house and I'm very happy. What I'd really like is to continue being healthy and happy with my family and be happy as a group in to the future.
Don't forget to tune in to the Football League Hour every Thursday night at 7pm on Sky Sports News Radio or download the podcast here