Living the dream
Crawley Town cult hero Sergio Torres discusses chasing promotion, new deals and his dreams.
Last Updated: 15/01/14 3:52pm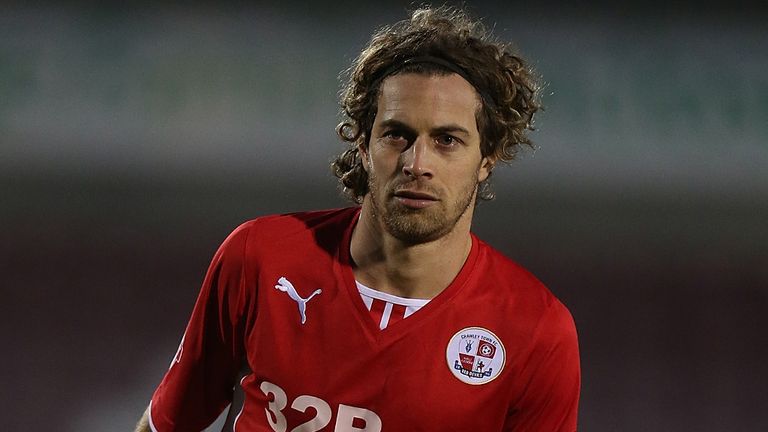 The 2013/14 campaign is now past the halfway stage, with divisions beginning to take shape.
Here at Sky Sports we will look to take you to the very heart of the Sky Bet Football League over the coming months, with our Spotlight features intended to give you a greater insight into the clubs and players that keep us on the edge of our seats.
We hope to bring you the views and thoughts of a representative from each of the 72 teams over the course of the season, with those involved asked to give their take on the division they compete in, the club that pays their wages and those we should all be keeping an eye on.
Crawley's Sergio Torres is next into the hot-seat, with the Argentine midfielder taking time out to discuss chasing promotion, new deals and his dreams with Chris Burton.
How would you sum up how the season has gone so far? It's been a bit up and down, and maybe not as consistent as you would have liked...
Of course, we had the change of manager. Personally, it's been hard with the old manager because I wasn't playing much and I was a bit frustrated and disappointed, but I kept working hard and the new manager came in and gave me a bit more of a chance. I have played the last few games and we had a good result against Coventry. In the last few minutes, we scored to equalise, and I'm looking forward to the challenges ahead.
What's the ambition for the club this season? Would a top-half finish be viewed as success?
Yeah, I think we would be happy with top half. But it would be brilliant if we can get in the play-offs. We are 11 points off with a game in hand, so we aren't miles away. If we can get from now until the end of the season with two points a game, I think we will have a chance, and that would be brilliant for the club.
Can Crawley go higher? Can you be a Championship club?
I know people will doubt that because we don't have the fans, but I'm sure the fans would come if we were in the Championship. We get about 3,000 for every game and the town would be even more into football if we got to play in the second tier of English football. It's a brilliant family club and is really well run. I think that's what you need. Hopefully the fans will really start turning up.
People have to realise don't they how quickly the club has risen - and you've been there throughout that?
When I started, this is my fourth season, we were in the Conference and it was unbelievable to get two promotions in a row and the FA Cup run. There has been a lot of publicity. When I came, I think my first game was in front of 800 people, now we have got about 3,000, so it is growing. We are in League One and last season we finished 10th, which is very good because everyone is good and you have got the likes of Sheffield United, Preston, Wolves, Coventry - massive clubs. We haven't looked out of place.
I suppose you only have to look at a side like Yeovil don't you to see what can be achieved - if they can do, you can do it?
Exactly, it's happened before. Yeovil are finding it hard and are struggling a little bit, but they are in the Championship and they will be happy with that. We just need to try and sneak into those play-off spots and then who knows, it's a lottery.
You mentioned the change of manager earlier, are you enjoying it under John Gregory now?
Yeah, I am starting to enjoy it a bit more now. It's hard when you don't play and you get frustrated. You keep training and you come in on a Saturday and you never play, or you are on the bench, it's hard to keep going and be motivated. But I was hoping a chance was going to come and somehow you have to be ready. I played quite well in the first two games that I played, so I'm enjoying it. I love playing football and hopefully I will play a few more games before the season finishes.
You had been considering a loan move hadn't you, but is the plan now to stick around until the end of the season?
I thought about that. I was very close to going the day before the manager signed and the old manager got sacked. I decided to stay because I love this football club. I have been through a lot and I love playing. I just thought, 'I'm going to stay because when a new manager comes, you never know he might like you'. That was the case and I am playing now. Hopefully I can play a few more games.
And having taken that decision, I take it you are hoping to earn a new contract?
That would be brilliant because I'm up in the summer and I would love to stay here. It's not easy, though, because there are a lot of us out of contract in the summer. The manager will have to make a decision. I'm 32, I'm not getting any younger, but I love playing football and I feel really fit. I have got a family to look after so I will have to look around for something if it happens.
If there isn't a new deal, would you be looking to stay in England? Is England home for you now?
I have been in England for 10 years now and my family is really settled here. I have got a wife and a baby and we love living in England. I would like to stay here and hopefully there will be clubs that want me.
Looking back on the 10 years that you have been in England, could you have dreamt that it would go so well?
No. To be fair, after the first few weeks, I didn't know what was going to happen. It was very hard at the beginning but I never ever thought I would do this. I have so many highlights - first professional contract at Wycombe Wanderers, that was my dream come true. I was 24 so it took me a while, but I was doing what I dreamt of doing for a living since I was a kid. Back home I didn't have a chance so I decided to come here. Playing at Stamford Bridge against Chelsea in the semi-finals of the Carling Cup, that was an unbelievable day that I will never forget. And, of course, Manchester United in the FA Cup, that was unbelievable. You have a dream and it is that, to play at the Theatre of Dreams. It's been brilliant and I've had a great time here.
Would you say that you've achieved everything you wanted to when you took the decision to leave Argentina in 2004?
To begin with it was only for two weeks and then I would go back home. I said that to my mother, 'I will be back soon' and it's been 10 years now and she is still waiting for me! I think I have achieved pretty much what I wanted. The Premier League would have been unbelievable, but I managed to play 10 games in the Championship, which was amazing for myself. I would have loved to play at Wembley. I have been there many times and it's a great stadium with so much history - hopefully we will be there in the play-off final and I will get the chance to play there one day.
It's been a real rollercoaster ride for you - you've written a book and everything - do you hope to have been an inspiration for others?
I decided to write my adventure in England and hopefully kids or football fans - not only football fans - will read it because it's a life story. Yes, my dream was to play football but people dream about a lot of other things. The book is mainly about not giving up. The first few clubs, they told me I wasn't good enough but I kept working hard. I didn't know the language, I was sleeping at strangers' houses, everything was really bad, but if you carry on, it's quite an inspirational story and hopefully it will help other kids with their dreams.