Blunted Blades
Sheffield United defender Matt Hill discusses third tier frustrations and FA Cup benefits.
Last Updated: 18/01/14 1:04pm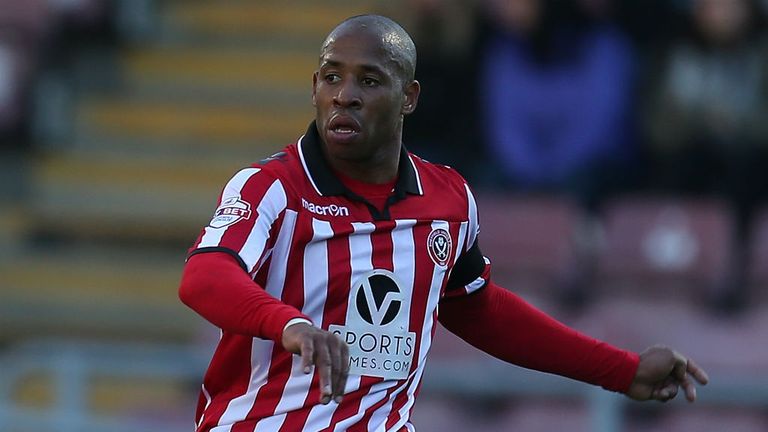 The 2013/14 campaign is now past the halfway stage, with divisions beginning to take shape.
Here at Sky Sports we will look to take you to the very heart of the Sky Bet Football League over the coming months, with our Spotlight features intended to give you a greater insight into the clubs and players that keep us on the edge of our seats.
We hope to bring you the views and thoughts of a representative from each of the 72 teams over the course of the season, with those involved asked to give their take on the division they compete in, the club that pays their wages and those we should all be keeping an eye on.
Sheffield United's Matt Hill is next into the hot-seat, with the Blades defender taking time out to discuss third tier frustrations and FA Cup benefits with Chris Burton.
If we're summing up your season, are the overriding emotions ones of frustration and disappointment?
Yeah, I think so. There was big hype again for us this season to push on and look for promotion - a club of Sheffield United's size should be. Just missing out on the play-offs in the last two years, we were really looking to do something special this year and be pushing the top. Unfortunately that hasn't been the case.
Is it possible to put your finger on what's gone wrong or is a combination of different factors?
Obviously the table doesn't lie, in terms of our performances we haven't done enough to win games. It's unfortunate in as much as we had David Weir at the start of the season, he came in with a passing football philosophy and I think, to a certain extent, it was working because we were playing some attractive football. But, at the end of the day, we weren't putting the ball in the back of the net and we were conceding goals. The chairman took the decision and he went, we've got Nigel Clough in now and he's put a bit more steel into the lads and we're looking onwards and upwards.
I take it that as a group of players you aren't looking to hide, you have to shoulder your share of the responsibility don't you and realise that, ultimately, you are the ones who can put things right?
Definitely. Going back to David Weir, we were playing some really good football but we just weren't killing teams off when we were on top. With that expansive football, when you aren't scoring and taking advantage, we were getting sucker-punched when teams were getting opportunities. As a defender myself, from a personal point of view, it hurts when you concede goals and disappointing when you let teams off. I think the manager who has come in now, Nigel has got a bit more steeliness about the team and a bit more togetherness. The football at the moment might not be as expansive as it was with David Weir, but as a team and as a unit we are a lot stronger. Hopefully with his ideas and coaching methods we will improve on the passing aspect and the creativity will come along with it. At the moment it's all about getting points on the board and trying to get up the table.
What is the ambition now? Has the season been written off or are you just taking it game by game and seeing where that takes you?
Definitely game by game. You've seen before with teams who can get on runs. We're not going to get automatic, but there are opportunities to win football matches. Doncaster Rovers last year, on the last day of the season they reached their highest position and got promotion. We don't want to be looking over our shoulders, we want to start climbing the league.
It's important isn't it that you get away from that bottom four as quickly as possible and don't get caught up in a relegation battle?
That's it, first things first. We're being positive and looking up, that's the way we have got to be. We can't look too far ahead, we have to look at the next game. We've got Bradford this week, it's a massive game and a local derby. It's something that we need to get three points from.
And possibly a couple more to come in during January to help out? You've already got Billy Paynter in, but maybe a few more would help the cause...
Obviously the manager will have his own ideas on players that he wants. That's something for him to sort out. For us as players, we will just keep our heads down and try to do our job to make sure we're in the starting XI on a Saturday. It's important that as a squad we are together and we are working hard. If we can continue that then I'm sure we will start climbing the table.
It's just consistency isn't it - you beat Aston Villa one week and then go and lose to Notts County? The season has been a bit like that hasn't it, one step forward and then two back?
Yeah, exactly. There have been quite a lot of disappointments, but as a club and with the fans we have been positive and we are still getting fantastic support. It is difficult, teams come to Sheffield United and it's a big club with a fantastic fan base and it's almost like a cup final each week. We read in the programme that this is 'our biggest game of the season' and things like that and it shows how people see Sheffield United as a massive club - which they are.
The cup win was a nice bonus though wasn't it, and you've got another Premier League scalp to aim at against Fulham?
It's a nice little cup run that we've been on. It's a great day out for us and for the fans to test ourselves against the best. We thoroughly enjoyed ourselves at Villa Park and it was fantastic to play there, never mind win. The game against Fulham, we have no fear, nothing to lose - everyone expects us to lose and for them to win. We will just go there and have fun, so to speak.
Is it a nice distraction in the cup because it allows you to play with a bit more freedom and not worry about points and league standings?
Exactly. You are playing against players that are in the Premier League, the crème de la crème. It's great to test yourself and see where you are at. As a club, we have got young Harry Maguire, George Long, we have got a few other youngsters who like to test themselves. As a club and as individuals you want to play Premier League opposition, so it's nice to gauge where you are and how far you need to go to achieve those goals.
So despite all that has happened over the first half of the season, you are confident that there is a bright future for the club?
Definitely. There have been problems, but the staff, players and the club are all pulling in the same direction. We just have to get it right on the pitch, and we believe that we can. We believe that we are better than where we are but, obviously, the tables don't lie and we have to correct that. In the next couple of months we have got a lot of games coming up, so we just have to push ourselves and do what's needed.
On a personal level, are you enjoying it and is it somewhere you see yourself being for a while?
Yeah. I'm really enjoying it, working with the manager, the staff and the players. I have got a contract and I'm in the manager's plans so it's up to him what happens.
Matt Hill was talking to Sky Sports on behalf of Sky Bet, the Title Sponsor of The Football League.
For a wide range of match odds and specials on all Football League matches and a £5 free bet every week, go to skybet.com.