Craig Mackail-Smith, Kevin Davies and Guy Branston on football initiations and new arrivals
Craig Mackail-Smith, Kevin Davies and Guy Branston talk joining a new club and singing on the bus.
Last Updated: 06/02/14 1:56pm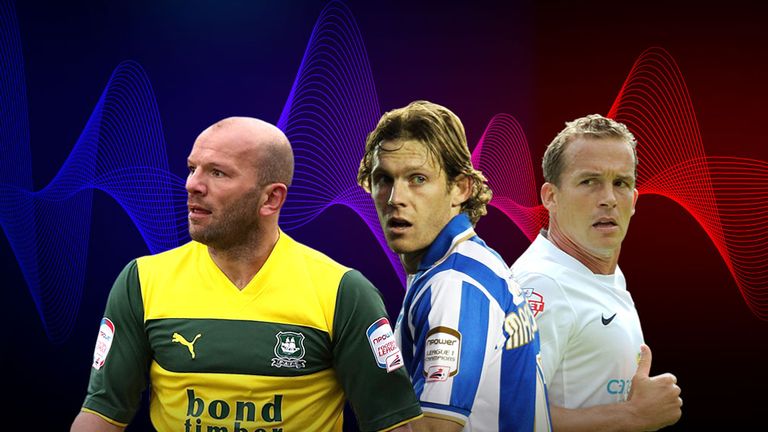 As well as a weekly blog from Leicester striker Kevin Phillips, we will also be speaking to some other seasoned campaigners in the Football League.
Brighton striker Craig Mackail-Smith, Preston frontman Kevin Davies and Plymouth Argyle defender Guy Branston - who all appear on Sky Sports News Radio's Football League Hour - will be chatting to us about all manner of footballing issues.
Last week out bloggers told us about deadline day deals and mad rushes up the motorway to move clubs, but what's it like settling in with a new side? Do the other players make you feel welcome? And what's the worst initiation they make you do?
Find out this week as our trio delve in to the subject of new arrivals...
CRAIG MACKAIL-SMITH
When I joined Brighton I had to sing for my initiation,which is quite nerve-wracking. I got up there and sang my heart out to the song in The Hangover about Mike Tyson's tiger - I thought it was a little bit different from the usual 'Wonderwall' that everyone else sings. The boys appreciated the fact that I gave it my best shot.
We had quite a few players leave in the transfer window, which is a shame because most of them had been here for the same amount of time as I have. They were all quite big characters who made a lot of noise and got the boys going, it changes the dynamic of the dressing room. But they've gone on to other teams to improve their careers so you have to wish them well even if you want to keep them.
New arrivals are normally pretty quiet while they find their feet, unless they know someone in the squad. But they're always trying to feel the boys out and see what they're like and we do the same. After three weeks or so you start seeing their true colours and they come out of their shell and get involved and that initiation song definitely helps break the ice and encourages them to relax and have a laugh and joke.
One of those players who left was Liam Bridcutt who has joined my ex-manager Gus Poyet at Sunderland. I'd compare Liam to Claude Makelele; he sits in front of the back four and breaks up play, he knows where to go and the position to get in. I don't know whether you'll see him score a goal or not - I hope so, but I don't think he scored in the whole time I've been at Brighton!
I don't expect any different than success from Gus and the turnaround at Sunderland shows that. He goes in and is very energetic, excited and plays the kind of football that boys want to play - down on the floor, passing and moving. He'd have put his philosophy in and I think the boys have taken to that.
KEVIN DAVIES
My initiation experience at Preston was horrible!
I've joked around in the past and said 'that's why I stayed at Bolton so long'. It's cringe worthy, but on your first away first away trip you have to sing. We were on a Friday night away trip and the lads had been winding me up on Twitter all day about it. After dinner a speech was signalled with some glass tapping and I had to stand up on a chair with a bottle of brown sauce as a microphone and sing 'Chippy Tea' by the Lancashire Hotpots. It was a horrible moment.
I was at Bolton for so long that moving around clubs is not something I've experienced a great deal of for a long time. Craig Davies has joined us from my former club in the January transfer window and though you always feel a bit nervous with a move, you generally know someone at the club you're joining, which means there's always something to talk about and Craig knows me!
It's a case of settling down and getting through your first training session. Football players in general are a friendly lot really and always try to make new guys feel welcome even though their arrival means there will be more competition. Of course you do find yourself looking over your shoulder at who could be replacing you, but I've never really had it where it's caused any friction in the dressing room.
Craig has settled in pretty well and scored on his debut last Saturday - which is always going to help!
Everyone wants to play in the first XI but we've got a 24-man squad of strong players and not everyone can start. Managers often bring in new arrivals to raise the standard of training and play and it does, it gives everyone a lift, especially if they've come from playing a good level - it shows the club are going in the right direction.
I've been in the game long enough to know where I stand. When I was at Bolton players like Nicolas Anelka, Daniel Sturridge arrived and I thought 'he's going to take my place', but you just had to believe in yourself and be the best in the training ground and when you got the chance to put the shirt on. I've been suspended for the last three games and that has opened the door for other players to step in and take the chance. We've got good players that can't even get on the bench at the moment, but that's football.
GUY BRANSTON
When the new guys arrive they have to sing on their first away trip, which you could say gets them talking!
New arrivals are normally quite quiet in the dressing room; they're hard things to play because you can go in there and be a vibrant character and people will mug you off straight away, or you can go in there and be quiet and people think you're being standoffish, it depends on the dressing room you're going in to.
As a new signing going in to the dressing it is always uncomfortable because you're going to be taking over someone's position; friends of friends, team-mates who have been there a long time are there and you're coming in and taking their position. You've got to make sure you don't take it personally, but also, you've got to try and make it clear that it's not your fault that you're being brought in by the manager. It's about making friends as quickly as possible because you're going to need them further along the line.
I hated it the first time I was replaced and I dealt with it badly because I didn't have the experience that I do now. It was hard to take being replaced after nearly three years of playing constantly and I handled it like a baby, it's a big regret. But it also made me realise that when it happens again -which it always does - you've got to handle it in a different way and it's part of the learning process.
Now, I've replaced players as well as being replaced myself many times and I don't take it too personally as it's part of the job. I try and help a new player out as much as possible when he comes in even if he's taking my position because that's how it should be.
I remember a lad replacing me at Rotherham; he was a better player than me and a fantastic lad. I wanted him to be an idiot but he wasn't. I wanted him to give me the excuse to have a word in training but he didn't!
We had a couple of new arrivals last month including Jason Banton and Matty Parsons who've arrived from Palace. Jason was with us on loan last season so we all know him and Matty is trying to get fit now but he's kept to himself to himself, talks when he's spoken to and he seems a really nice fella.
I personally thought the gaffer would have brought in one or two more players but lower league budgets aren't always the greatest. Another couple would have just freshened things up and given the lads the challenge to keep their place in the side.
I'm not about unrest in the squad and it looks like the gaffer is either. That's a good a thing because our team is built on squad morale and I think that's how you win things at this level.
Don't forget to tune in to the Football League Hour every Thursday night at 7pm on Sky Sports News Radio or download the podcast here