Loan Ranger
Stevenage loanee Michael Doughty discusses survival scraps and domestic and international ambitions.
Last Updated: 20/02/14 2:30pm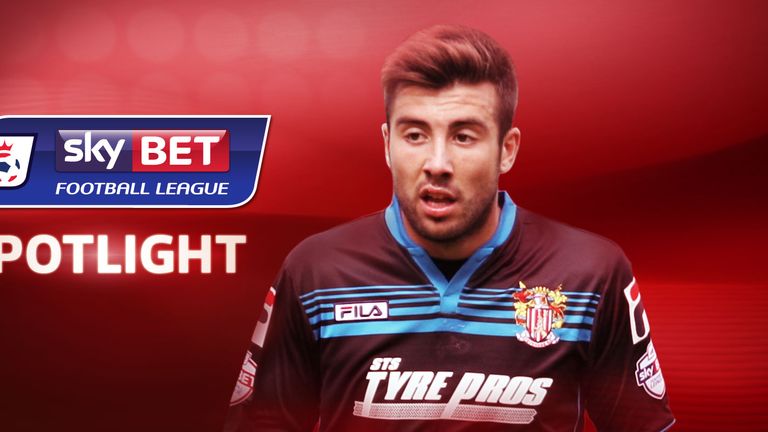 The 2013/14 campaign is now past the halfway stage, with divisions beginning to take shape.
Here at Sky Sports, we will look to take you to the very heart of the Sky Bet Football League over the coming months, with our Spotlight features intended to give you a greater insight into the clubs and players that keep us on the edge of our seats.
We hope to bring you the views and thoughts of a representative from each of the 72 teams over the course of the season, with those involved asked to give their take on the division they compete in, the club that pays their wages and those we should all be keeping an eye on.
Stevenage's Michael Doughty is next into the hot-seat, with the on-loan midfielder taking time out to discuss survival scraps and his domestic and international ambitions with Chris Burton.
The situation you find yourselves in is obviously far from ideal, but it's still one that is in your hands, isn't it?
Our performances of late have given us hope for the rest of the season. We have obviously got games in hand with the inclement weather we've had, so really it's up to us in the next two or three games to put a run together and really step up to the plate. It is in our hands, which is one bonus.
It's important not to dwell on the past, isn't it - what's done is done and you now have a 17-game season?
Exactly. With regards to how the season has gone so far, it hasn't been at all a great success. But we have to try and change that. As a group of players and a group of men, we have to come together now and really do our best for the club and get out of this situation that we're in. That's the only option that we've got.
Have you spoken as a group about what it might take to get safe? 50 points tends to be the magic number, doesn't it?
The manager has been very keen in underlining the work ethic that's required from all of us, first and foremost, and then the quality that we are going to need to produce on a more consistent basis than we have been doing in order to get ourselves out of it. I think we are all aware of the necessary things that we need to do in order to get out of it, it's just a case of bringing them all together and actually producing that on a consistent basis over the course of the next few games.
Are you thinking that your home form could be key and could be what sees you safe?
We've got two home games next in Peterborough and Crewe, which are very winnable games for us. We got three points at Peterborough so by no means are we going into that thinking that three points is impossible. We've just got to try and become more difficult to beat away from home and try to get a bit of a string of results together. We have shown in patches and spells this season that we are a team with quality, a team with good players, it's just a case of bringing all of the necessary qualities together to win on a more consistent basis.
And obviously taking points of those around you is crucial, and the Crewe game could be massive?
Definitely. We've got to really concentrate on the teams that are above us, the ones that are in touching distance, use our games in hand and take maximum points from them and beat those who are in a similar predicament. If we can do that, I'm sure we'll be fine. I don't think anyone at the club has contemplated the thought of relegation. We're just fully focused on the task ahead, and that's taking maximum points from as many games as possible in the run-in.
March is looking like a big month isn't it - eight games which could make or break your season?
Yeah, with the weather situation of late we've had a bit of a break at times and been on the training ground together and got some things nailed down. As a whole, on average this season, we've done well in games which come thick and fast, Saturday-Tuesday-Saturday-Tuesday, and our results have been better during those times. I think we go into it with confidence. We realise the task that's ahead of us, there are no easy games in this league, but we need to be on top of our game and giving everything for the cause.
It seems from the outside as though it's a sensibly run club, there is no sign of panic is there and you all believe that you have got the right people in place -particularly Graham Westley, who knows the club so well?
The manager has got a lot of experience and has been very successful at the club, and rightly so has been given the backing from the chairman. They understand the nature of the game at the moment and financially it's being run very sensibly, seemingly, from the chairman. As a group of players, we are all confident in the club, in the manager and ourselves to produce the level of performance that is better than we have shown this season. If we do that, I think the quality of the individuals, in the management team and the playing staff, is high enough to get us out of this situation that we're in.
On a personal level, whatever happens, this has all been good experience hasn't it and another useful loan spell?
I am a competitive individual and I want to do my best for the club. By no means am I just looking to notch up the games. Obviously from that point of view it has been a good experience and to play as often and as frequently as I have for the club has been great. But loan players, contracted players, whatever, we're all part of the same Stevenage at the moment and I think the focus of everyone is just to try and win as many games as we can now.
What does the future hold for you longer term, you've still got two years left on your contract at QPR haven't you? Are you still hoping to make the grade there?
Definitely. From my point of view, the way the club is at the moment at QPR, there is huge competition for places and I think this deal was another opportunity for me to go out and improve my footballing CV, so to speak, and get some experience with the knowledge that I've still got two years left on my contract at QPR and go back a different player in the manager's eyes. From my point of view, I'm concentrating on doing my best for Stevenage with an eye on the future and hoping to progress myself. If that's at QPR or that's at Stevenage, either way I'm just looking to put in good performances which help the club and progress my career as well.
You have to keep your options open don't you, because if QPR go up, that might alter the picture again and you may have to head back out on loan again?
Having said that, under Mark Hughes in the first year that we got promoted to the Premier League, that was probably my biggest year in terms of getting into the first team. I obviously signed a long-term deal with the club and was in and around it for quite a while. There is really no way that you can foresee anything in football - that's Premier League, Championship or League One. It's a game of opinions, it's a subjective game, so I have to concentrate on what I can affect, and that's my performances for Stevenage and hopefully the rest will take care of itself.
And international ambitions are part of your plans as well I imagine, with the Wales Under-21 side and the prospect of stepping up in the not too distant future?
I have got time on my hands in terms of my age, there is a lot of growth for me as a player and as a person still to happen. Ideally I would love my performances to gain international recognition, but I think it's one step at a time. I've had a good season so far in terms of exposure and the amount of games that I've played so I'm obviously looking to progress with the manager at Stevenage, who has been great with me. The rest of those things, if they fall into place then they fall into place. At the moment, my only concentration is on the current status quo at Stevenage, and that's getting out of this relegation zone and progressing up the table.
Michael Doughty was talking to Sky Sports on behalf of Sky Bet, the Title Sponsor of The Football League.
For a wide range of match odds and specials on all Football League matches and a £5 free bet every week, go to skybet.com.