FL72 Weekly: Kevin Davies says it would be a disaster if QPR don't make play-offs
Stuttering QPR, the League One promotion battle and Chesterfield's duel aims are discussed.
Last Updated: 27/02/14 2:39pm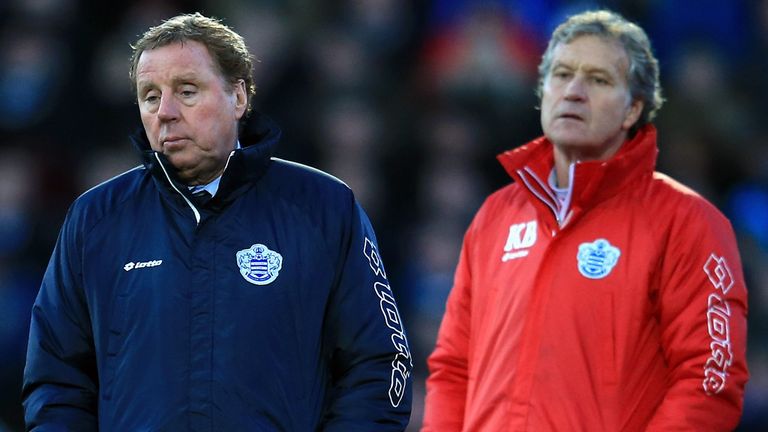 QPR have justified their tag as promotion favourites for much of the season but a run of three straight defeats has seen them slip to fourth, seven points behind second-placed Burnley and an incredible 15 off table-topping Leicester.
Davies believes Harry Redknapp's side are under-performing given the players available to them and should at the very least to finish second.
He told the new FL72 Weekly show on Sky Sports News Radio: "I was looking at their squad and they've got nearly 40 pros on the books - and some really good players, too.
"To find themselves 15 points behind Leicester, that's too big a gap and I'm sure the expectation from the people above the manager would be to get promotion. I think they should be winning the title with that squad, but certainly I think they should be looking at the top two.
"You expect each team to have one of these sticky runs, but the teams below them will be thinking if they keep slipping up they'll be catchable. And if they don't make the play-offs that will be a disaster for them."
This is QPR's first season back in the Championship after a two-year spell in the Premier League but Davies, who also experienced relegation to the second tier with Bolton, insists motivation should not be an issue for the players.
He said: "I've had the experience with Bolton and having played in the Premier League for 15 years you get used to the style and when you get relegated it's horrible to take, particularly if you're fond of a club, but you just have to accept it.
"You go away for the summer, you reflect and you come back. Sometimes you have to motivate yourself. It should make you stronger because you want to get back into that league.
"I'd imagine for the QPR players and the owner there'll be a lot of incentives financially for the players to get back into the Premier League, and of course you want to be playing in the best league in the world. So there's a lot of motivation there."
While the strength of QPR's squad could be seen as an advantage, Davies wonders whether Redknapp may be struggling to retain a happy squad in comparison to the likes of Burnley, who are working with a far smaller group of players.
"There are a lot of players to keep happy at QPR so you have to wonder what the feeling is like in the dressing room," Davies said.
"You look at some of the other squads like Burnley, they've got a tight-knit group. Sean Dyche has kept a lot of those players fit and has been able to pick the same team which has worked to his advantage this season; they're doing brilliantly.
"I just wonder what that dressing room (at Loftus Road) is like, if they've got that togetherness with that amount of players."
League One promotion race
Down in League One, Davies' Preston are currently embroiled in what looks set to be a four-team battle for the two automatic spots.
Brentford slipped out of the top two on the back of their first defeat in 20 games at the weekend, Wolves claiming a 3-0 win at Griffin Park to usurp their hosts, but Davies insists the Bees should not feel too downhearted about the result.
He said: "That was a huge game and one we had an eye on because we've got ambitions to get into the top two ourselves.
"I wouldn't say it was shock because Wolves since we played them at the start of the year have been on a really good run themselves. I said at the start of the season if we can finish behind Wolves then I'd expect us to go straight up, and that hasn't really changed for me.
"Having been so used to winning and not losing games it comes as a bit of a shock (to be beaten, as Brenford were) but they have to realise it's to one of, if not the best team in the league. Mark Warbuton I'm sure will be saying 'that one is gone now, let's go on another good run until the end of the season'.
"It's still tight up there. Looking at the wins and draws columns we (Preston) have only won 16 but we've drawn 13 and that kind of sums up our season, we've drawn too many games. But we are hard to beat, we've only lost four games all season, so we're doing OK.
"With Wolves and Brentford both having two games in hand on us and Leyton Orient it's going to be hard for us, but we'll see how Brentford respond to their defeat.
"You have to think the top two will come from that top four at the moment."
Cook interview and Beagrie views
Also on this week's FL72 Weekly, Chesterfield manager Paul Cook is interviewed, with his side currently top of League Two and preparing for the final of the Johnstone's Paint Trophy at the end of the March.
Davies gives his verdict on his former club, while there is more from both the 36-year-old and Peter Beagrie on QPR and the battles at both ends of the table in League One.
You can download the full Podcast or listen via the Soundcloud player below.