Keeping the faith
MK Dons keeper David Martin discusses a Posh play-off scrap and playing with a smile on his face.
Last Updated: 21/03/14 2:54pm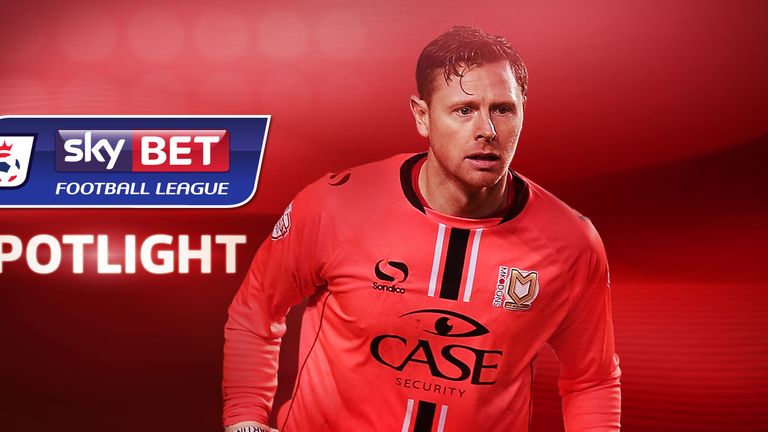 The 2013/14 campaign is now entering the final straight, with divisions beginning to take shape.
Here at Sky Sports, we will look to take you to the very heart of the Sky Bet Football League over the coming months, with our Spotlight features intended to give you a greater insight into the clubs and players that keep us on the edge of our seats.
We hope to bring you the views and thoughts of a representative from each of the 72 teams over the course of the season, with those involved asked to give their take on the division they compete in, the club that pays their wages and those we should all be keeping an eye on.
MK Dons' David Martin is next into the hot-seat, with a goalkeeper taking in his second spell at the third tier outfit discussing a Posh play-off scrap and playing with a smile on his face with Chris Burton.
Has the disappointment of last weekend been flushed out of the system yet?
In football you've got to move on very quickly. You have to try and take the positives out of every situation. We could have gone level on points with Peterborough with them having a game in hand, but about four weeks ago we were down and out and everyone had written us off and we've managed to get back within touching distance. There are still nine games to go and you never know.
You've got to keep believing haven't you, there was an opportunity there that was missed but there is still all to play for?
That's right. Peterborough haven't been playing as well as they probably can do, they are such an attacking team and tend to score quite a few goals, so we know we can be defensively solid. Pitches will get better now through to the end of the season and we can start playing well and grinding out results.
It's looking like a straight battle between you and Peterborough for sixth place isn't it, it looks like there is only that one spot left to play for?
Yeah. We knew it was going to be a massive game. As well as being a derby it was for that sixth spot. Unfortunately it didn't come off for us, but probably in the grand scheme of things they deserved it. They had the best chances in the game and managed to nick the two goals.
From this point, what are you thinking it's going to take to sneak in there?
We've got nine games left, Peterborough have got 10, so we've got to go on a run that we normally do at the end of the season and just try to make it difficult for Peterborough and put a bit more pressure on and see how they react. It's out of our hands now. If they win their game in hand, they are nine points clear. It's up to us to keep picking up results and make it difficult for them.
Having finished eighth last season, just coming up short, you don't want that to happen again do you - it's a long slog to end the campaign with nothing to show for your efforts?
It is. There are 46 games in a season, it's a hard, long season and you don't want to come out with nothing at the end of it. Personally, the first two seasons that I was here we made the play-offs twice and they are great games to play in. That's what we want to be fighting for at the end of the season. We don't want to be going into the last games at the end of the season and not having anything to look forward to. We want to be able to get into the play-offs and have a good go at getting promoted.
Whatever happens, it's shaping up to be a busy summer isn't it because you aren't working with the biggest of squads and have a few more loanees who will be heading out?
Unfortunately that's happened all season. We had Pat, who was a massive part of our team, he gave us a massive threat going the other way and sometimes that's the best form of defence. That was the case while he was doing really well. We've had a little drought of late. You can only hold out so much before the pressure starts mounting and teams nick a goal - like Sheffield United.
The Patrick Bamford situation is something you've got to accept isn't it, you want to find these hidden gems but also have to be aware that if they do well then other clubs will be watching?
That's right. If it works out great for both parties, then fair enough. Pat did great for us so we can't really grumble. It's just one of those where he did really well for us, nicked a few goals and made it harder for us to replace him. We've got a decent forward line, but the quality of Pat is noticeable when he's not playing.
The summer could be crucial in terms of the future of the manager as well couldn't it, because the club have to keep showing that they can match his ambition?
Our gaffer is very ambitious. He wants to get promoted. Automatic has been the target every season. The lads have been fighting for play-offs and we're not where we want to be. But we have got a smaller budget to work on and I think we are fighting above our weight when it comes down to budgets. That's credit to the gaffer for picking the right side and seeing what players are on form, and then playing them.
It's heading in the right direction, though, isn't it - more seats available now which will hopefully bring bigger attendances and more money?
It helps, but we were struggling to fill the stands without the extra seats. But that's for a later date. The chairman wanted to finish off the stadium and give us the platform to eventually, one day, be in the Premier League and fill it week in, week out.
On a personal level, are you happy enough with how the season has gone?
Yeah. I missed two months around October with a calf injury, but I just love playing football. I'm at an age now, 28, where I appreciate every game. When I was a bit younger I used to try and get through each game, but now I'm really enjoying playing my football and this is a terrific place to play football. The manager gives us license to really enjoy it.
You've been back there for almost four years now so is Milton Keynes somewhere you see your long-term future?
Yeah. These four years have just flown by. Time flies when you're having fun. It's been tough the last two seasons not getting into the play-offs, but you look at can we do it this year? We'll fight until it's mathematically impossible and then look to the next season and it will be all the excitement of a brand new start.
Can you match your ambitions there because you've been up among the big boys before and I imagine you want to be there again one day don't you?
Of course. My Liverpool days were exciting times at a top side. I was a bit of a little fish in a big ocean up there. It was tough to try and break into the first team when I went up there, but I managed to get near the first team. Training with Pepe (Reina) every day was a great experience. Every player wants to play as high as they can and hopefully I can do that with MK.
David Martin was talking to Sky Sports on behalf of Sky Bet, the Title Sponsor of The Football League.
For a wide range of match odds and specials on all Football League matches and a £5 free bet every week, go to skybet.com.