Peter Beagrie
Football League Expert & Columnist
Peter Beagrie blogs on Barnsley, Shrewsbury, Scunthorpe and more
Peter Beagrie fears perennial strugglers Barnsley are headed for the Championship trap door.
Last Updated: 04/11/13 9:54am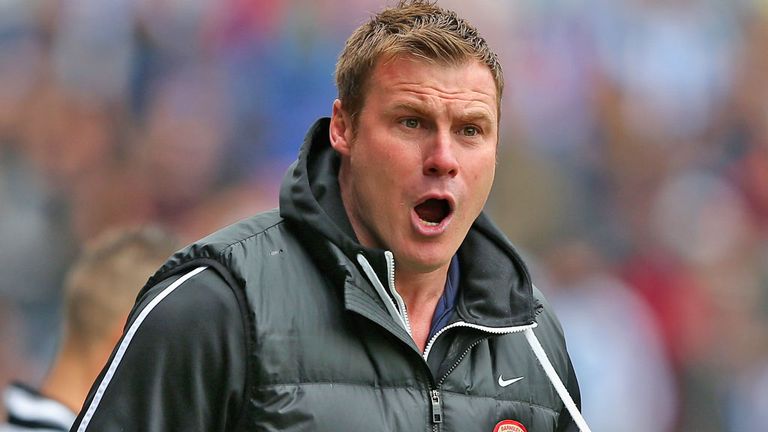 The former winger, who played over 770 games, representing clubs in all four tiers of the English footballing pyramid, including Manchester City, Everton, Bradford, Sheffield United, Scunthorpe, and Grimsby, forms part of the Sky Sports punditry team for all the big matches in the Championship, League One and League Two.
So if you have a poser for Peter, whether it's about your team, a player, match or incident that has caught your eye, or a wider point on the Football League, send it in.
Read below for this week's column where Beags gives his take on Barnsley, Shrewsbury, Scunthorpe and the Championship's finest youngsters...
END OF THE LINE?
Do you think this is the season when Barnsley get relegated from the Championship? What do they need to stop that happening? Daryl Shaw
BEAGS SAYS: Unfortunately, Daryl, as a Yorkshireman and champion of the underdog, it pains me to think that it could be a season too far in the Championship for brave Barnsley. Every manager in recent years has overachieved by keeping them in the division with limited funds only to then find themselves sacked after a poor run of form thereafter. Something must break the cycle, which means either Barnsley get relegated and change their structure, scouting and recruitment, or they find a rich sugar daddy to enable a level of investment to improve the squad in terms of numbers and quality. Being serial strugglers and not finishing above 17th for a while is seen by some people as failure but I think it is testament to the players and managers' attitude and application which, against the odds, has allowed the club to retain their second-tier status. Fingers crossed they discover the formula for survival again but I fear the worst, particularly with a sieve-like defence and the current run of form of five defeats in six matches.
YOUTHFUL VIGOUR
Who is the best young player you have seen in the Championship this season? Scott Carruthers
BEAGS SAYS: If by young you mean 22 and under, I will start with Ipswich left-back Aaron Cresswell, whose distribution and willingness to get forward and produce great crosses on the run has impressed me, along with his improved defensive displays. Todd Kane (pictured), Blackburn's Chelsea loanee, has made the right-back spot his own; like all young full-backs these days, he exudes confidence in possession and always makes himself available to receive the ball wherever he is on the pitch. Sean Murray has managed to force his way into Gianfranco Zola's free-flowing Watford side, producing really mature midfield performances and getting on the scoresheet three times. Plus, the terrific teenagers at Derby, Mason Bennett and Will Hughes, blossomed under the recently-sacked Nigel Clough.
Bennett is a strong, quick striker with the physicality to play at Championship level, which is no mean feat for a 16-year-old, while Hughes is the jewel in the crown; he is blessed with great vision and awareness and can operate in a deep-lying midfield position or play in between the lines in support of a single striker. The kid is living up to all the hype but is level-headed enough to not get carried away with it. Danny Ings celebrated an England Under-21 call-up recently as a reward for his scintillating scoring record for Burnley and richly deserves the pick for all the hard work he put in during his rehabilitation from serious injury; there is a freshness and a spring in his step as he makes up for lost time. My favourite, though, is Tom Ince at Blackpool, who has amazing dribbling ability and genuine pace, plus a fierce left foot, which singles him out as a player who could move into the Premier League and be an instant success.
ASSESSING THE SHREWS
What are you expecting from Shrewsbury this season? Which of our players do you like? Joe Gambit
BEAGS SAYS: I have a soft spot for Shrewsbury Town Football Club as it played a major part in my career. I scored got sent off but, importantly, stayed up on the final day of the season there aged 18 for Middlesbrough. I was also relegated there with the Boro but some 20 years later I was promoted there with Scunthorpe aged nearly 40. The new stadium, Greenhous Meadow, is great and I was glad to see your club promoted, but I have to say that before a ball was kicked this season in a competitive League One, I thought the best the Shrews could achieve was a top-10 finish. Graham Turner has made a few signings since then, mainly loanees, but the concession of late goals continues to be their Achilles heel. Cristian Lopez and Liam McAlinden will cause problems for defenders at this level, but unless your defenders improve, even a top-10 place looks unattainable. I have always been a big fan of Adam Reach, who is on loan from Middlesbrough, and expect him to benefit from a spell under Turner, while Tom Bradshaw (pictured) is someone I saw a lot of in his teenage years and was always impressed by his endeavour as well as his technique. However, only this season have I seen him regain his confidence and get the goals to complement his work-rate, scoring five of your team's goals. Good luck for the rest of the season.
CAN CLOUGH COME AGAIN?
How easy do you think Nigel Clough will find it to get another Championship job, and did you understand why Derby sacked him? Greg Wilson
BEAGS SAYS: I think, Greg, that Nigel's name will be linked with every Championship job that becomes available which means that he did, and was doing, a good job under the circumstances at Derby. Steve McClaren has waxed lyrically regarding the stability that Nigel had brought to the team and club, so did I understand why Clough was sacked? Not at the time but now we have had all the spiel coming out about "the next level" which in the hierarchy's eyes McClaren and not Clough can take them to. McClaren is a very good coach who at various clubs has been given money and, in turn, latitude in the transfer market to improve his squads. That, rightly or wrongly, tells me that Derby weren't happy with Nigel's coaching ability and/or didn't trust him to spend any available money wisely. Can McClaren make Derby harder to beat and improve their home form? He has already done that with a rousing speech, which inspired a brilliant comeback against Ipswich, and then a resounding 3-1 win over Leeds. As far as youngsters' development and success of future signings, that's one for future analysis, and I will finish by saying that looking at the situation Nigel inherited at Derby and the transition they were in, he can be proud of where he has left them. Well done Mr Clough.
SUPER SCUNNY
Are things looking up for your old club Scunthorpe? Alex Jarrett
BEAGS SAYS:They certainly are, Alex, and I am so glad because I tipped them to be in the shake-up for the promotion places this season. Brian Laws (pictured) has gone with many experienced players, many of whom he has worked with before, like Cliff Byrne, Matt Sparrow and Andy Dawson - all former team-mates of mine in promotion winning sides - as well as Deon Burton and Chris Iwelumo, who still have the hunger, desire and ability to help youngsters win games. The current six-game unbeaten run has shown that the Iron have lots of quality as well as a greater strength of resolve to not wilt and falter under the pressure. Home form with Scunny is vital and, on a tight pitch, they must win the vast majority of games at Glanford Park, but there will be real tests throughout the season, none more so than the next few games against high-flying Fleetwood (a), resurgent Hartlepool (h) and York (a). Brian will know a lot more about the capabilities of his players at the end of this run.
Send your question to Beags using the feedback form at the bottom of this page or at the bottom of any of Peter's articles...