Rams close in on trio
Nigel Clough has revealed Derby are in the process of tying up deals for a number of players.
Last Updated: 06/05/11 3:03pm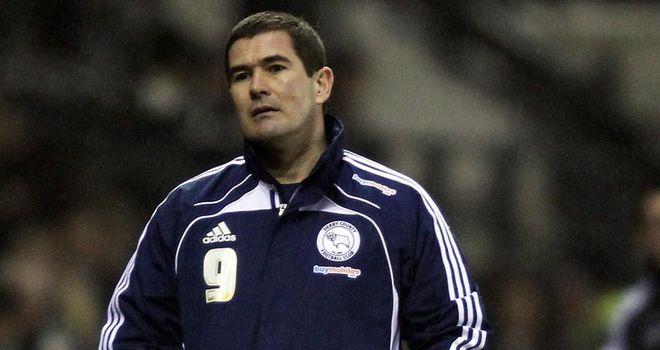 Derby boss Nigel Clough has revealed the club are in the process of tying up deals for a number of players ahead of next season.
The Rams are looking to bolster their ranks by lining up moves for Frank Fielding, Jamie Ward and Theo Robinson as Clough looks to freshen things up at Pride Park.
Current Blackburn Rovers reserve goalkeeper Fielding looks set to be joined by permanent deals for two current Derby loan men, Ward from Sheffield United and Millwall's Robinson.
Clough hopes the deals will be just the start of a busy summer transfer window as new players arrive at the club after a lacklustre season in the Championship.
"We are not going to wait, we are going to get the players in," Clough told the Derby Evening Telegraph.
"We are trying to tie up Frank Fielding and Jamie Ward, maybe Theo Robinson as well. The others will kick in after that. We are going full steam ahead to get the players in.
"We would like to try and leave a little bit of room as well because one or two we are chasing are not going to be straight forward, they are not going to be in the next week or two.
"It might take the course of the summer to land them, similar to Shaun Barker when he signed.
"But we can still get half a dozen players in, we hope, in the next few weeks. There will be a steady stream."
Progress
The pursuit of Championship-level players marks progress in the transfer market for Derby, with Clough normally forced to seek out prospects in the lower leagues rather than spending big.
Quick to laugh off speculation linking the club with Manchester United's Michael Owen, the Derby boss admitted that business in the transfer window is likely to be done with teams in and around them in the second tier of English football.
"Are our targets going to be 'names'? They will be Championship 'names', that is where they will come from," he added.
"We have done our work in the lower leagues in the last couple of seasons and bought what we thought was some potential but as we have stated now for the last few months, it is going to be established Championship players coming in now.
"There is a certain budget there and it will depend on how much we raise as well for the players that are outgoing."