Bristol City unveil plans to redevelop Ashton Gate
Bristol City are bringing forward alternative plans to redevelop Ashton Gate.
Last Updated: 05/02/13 10:40am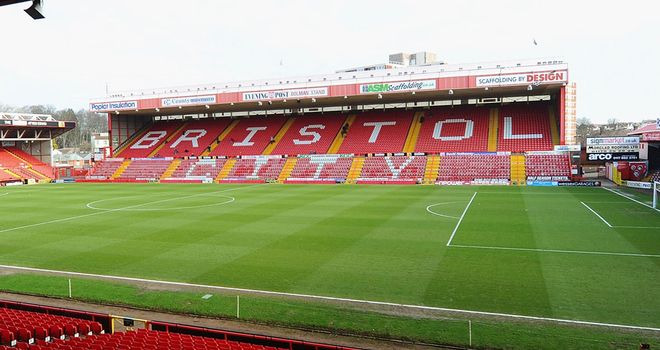 The newly-redeveloped multi-purpose stadium would be used by Bristol City FC and Bristol Rugby, both of whom are overseen by the same umbrella company, Bristol Sport.
The club's spiritual home in South Bristol would be redeveloped in stages over time to incorporate new stands where the existing Wedlock and Williams stands are currently sited.
Along with renovation works to the Dolman Stand it would increase the capacity of the ground to over 26,000 seats.
The proposed redevelopment is estimated to cost £40m, with any shortfall being underwritten by Bristol Sport owner Steve Lansdown.
Plans will be submitted early in the summer months and, once under way, a full stadium redevelopment would be deliverable within three years.
In the meantime, City will continue to explore the possibility of building a new 30,000 all-seat stadium at nearby Ashton Vale, but the redevelopment of Ashton Gate represents a viable alternative should the landowners be unable to build a new stadium at Ashton Vale.
Jon Lansdown, speaking on behalf of the Bristol City FC board, said: "Ashton Gate has been the club's spiritual home for more than 100 years and these plans would improve and enhance the facilities ready for the next 100 years.
"The stadium would be designed with supporters in mind; there would be full engagement and consultation to ensure we represent the history and heritage of the club as fans would like.
"Modern stadium facilities are a key pillar for the club, closely aligned with our community engagement and the importance of financial prudence. This redevelopment plan is testament to all of that.
"These plans give us a viable alternative to Ashton Vale."