Winds of change
Bristol City loanee Karleigh Osborne discusses overcoming recent struggles and catching the eye.
Last Updated: 06/12/13 5:00pm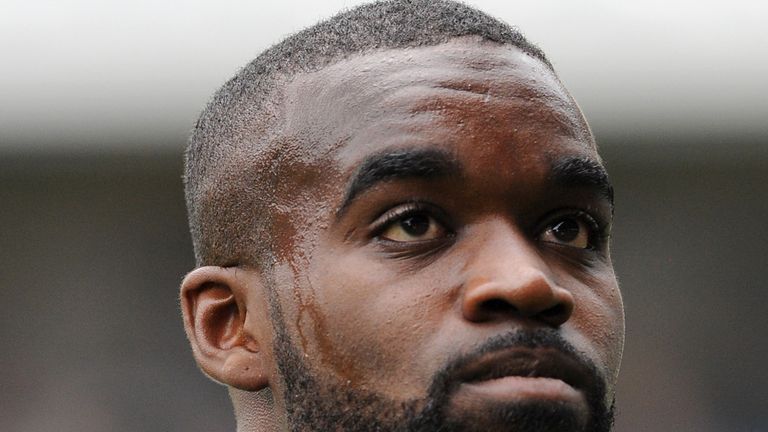 The 2013/14 campaign is now well under way, with divisions beginning to take shape.
Here at Sky Sports we will look to take you to the very heart of the Sky Bet Football League over the coming months, with our Spotlight features intended to give you a greater insight into the clubs and players that keep us on the edge of our seats.
We hope to bring you the views and thoughts of a representative from each of the 72 teams over the course of the season, with those involved asked to give their take on the division they compete in, the club that pays their wages and those we should all be keeping an eye on.
Bristol City's Karleigh Osborne is next into the hot-seat, with the on-loan Robins defender taking time out to discuss overcoming recent struggles and catching the eye with Chris Burton.
It's been all change for the club, but I take it you are all pulling in the same direction now?
Yes, the new manager has come in. It was disappointing that Sean O'Driscoll had to go, but we're all pulling in the same direction and we all want to push up the table.
From what you've seen of Steve Cotterill, is he the best man to take the club forward?
I think he can be, definitely. He seems really enthusiastic, knows how he wants us to play, and I think he will come in and do well.
He's someone with plenty of Football League experience - that's what you need isn't it?
Exactly. He's got experience, he's dealt with clubs like Bristol City. I'm sure he has got a lot of knowledge to take us where we need to go.
In the squad that he has inherited, I take it no-one is offering any excuses and you all accept that the club has underachieved massively this season?
We do. Things haven't gone to plan like they should, but the main thing is that we all want to change that and we are all ready to do that.
You're only two points from safety and you would rather be in trouble now wouldn't you, with time still on your side, rather than in April, with time running out?
Definitely. I would definitely agree with that. The points are all still very close, so we've got enough time to get out of the situation that we are in. I think that is something we can definitely do, there are no worries on that side. Once we do start getting a few wins on the bounce and under our belt, I think we will push on up the table.
It's a very competitive division isn't it, with there are few sides up the top who have surprised and a few down the bottom who have been punching below their weight?
Exactly. It's a really competitive league. Everyone wants to get promoted, everyone wants to win the league, so the league is tough. I think we have been on and off, but things are starting to come together - they've improved over recent weeks - so I think we are definitely starting to head in the right direction. We just need to get some wins under our belts.
You haven't been scoring enough goals have you, and then when you do score you concede and end up drawing - that must be hugely frustrating?
It can be frustrating but that's football, football is like that. When things are going good in football they are really good, and when they aren't going well they are not the best. But we're all sticking together and everyone is pulling in the right direction and we are all willing to work hard to get out of the situation that we're in.
Is there any change in approach required or is just a case of finding one result that could spark your season into life?
I think it's just a case of one result could be the spark, to be honest. As I said, football is one of those games when there will be times when you think things aren't going well and you can't put your finger on it, and there will be times when things are going well and you still can't put your finger on it. It's just one of those things. Results are what matters and that's what we have to start producing now.
You're due to be at Bristol City until early January - what's the plan then?
Obviously I'm contracted to Millwall for the rest of the season. I don't know what will happen after January. If Bristol City would like me to stay for longer, then that's definitely something I would have a look at. For me right now, it's just about playing games and performing and trying to further my career.
You've got a new manager to impress haven't you, you have to prove to Steve Cotterill that you deserve to stick around?
Exactly. I have to make sure that I'm worthy of my place. I have to make sure he wants me there, because if he doesn't he could end it. That's something I am willing to do. You are always constantly trying to prove somebody that your worthy of your position and your place in the team, so that's no different.
But for you it's just about putting yourself in the shop window - be that at Bristol City or wherever, with your contract at Millwall running out at the end of the season?
It is about that. That's why I need to make sure that I do get games under my belt and put in good performances - to help the team first and foremost but to also help further my career. Millwall is a great club and they have been good to me, they gave me a chance in the Champ, so if there is still a place for me there then that's brilliant. But I have to make sure that I give myself the best chance to further my career, and that's by playing games.
You had the same situation there didn't you, the manager that brought you in - Kenny Jackett - leaves and you have to prove yourself all over again to someone else?
I did, yes. Unfortunately I didn't quite get the game time there but for whatever reason that may be, that's their reason. They let me go out on loan, go and play some football, which I appreciate. I'm just concentrating on playing games now and helping Bristol City get out of this situation they are in.
So you're enjoying your football at the moment and confident that you are at a club that will have avoided trouble come the end of the season?
I'm more than confident that I'm at a club that will be out of trouble at the end of the season, there are no worries about that. It's now just about how quickly we can fly up the table. You never know where you could end up at the end of the season. It's a tough league, it's tight, so if we can get a few wins together and improve our performances, I'll think we'll be fine.