Forever Forest
Skysports.com's resident Forest fan Chris Burton reflects on the tragic passing of Nigel Doughty.
Last Updated: 06/02/12 11:51am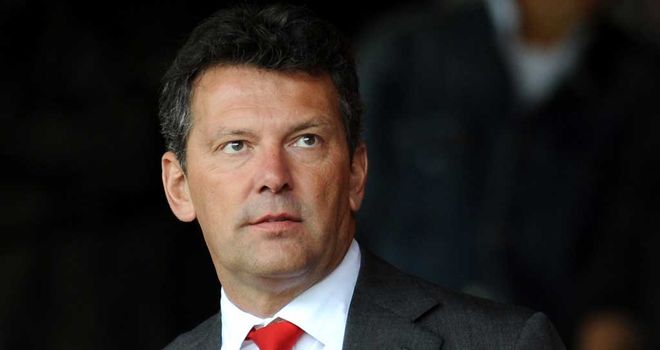 Too often recognition is bestowed upon those who deserve it most when they are no longer around to take the plaudits, with tragedy required before the blinkers are lifted.
This is particularly true in sporting circles, with supporters renowned for being a fickle bunch.
In a results-driven business, the efforts of those charged with the task of meeting expectations can sometimes be overlooked.
It does not seem to matter how much of their time, energy and money they throw at a situation, you cannot please everyone all of the time.
Nigel Doughty found this out the hard way, with a man who had Nottingham Forest coursing through his veins considered by some Reds followers to be the epitome of all that is and has been wrong with the club in recent years.
His tragic passing at the age of 54 has forced many to reconsider their stance, but their sudden change of heart only serves to highlight how tough life at the top can be for owners of certain football clubs.
Doughty should hold a special place in the hearts of Forest fans everywhere, given all that he did for the club during his time at the helm, but even now that is, rather bewilderingly, not the case.
This is a man who rescued the club in their hour of need, pumped a sizeable chunk of his personal fortune into the side and throughout his tenure had nothing but the best interests of the team at heart.
That, though, is not enough for some.
Unsurprisingly, Doughty's many critics appear to have dwindled in number since news of his death surfaced on Saturday afternoon, with the doom-mongers aware that there is a time and place for verbal sparring - and this is not it.
Perhaps, though, those who felt the need to protest so vehemently against the board back in October 2011 have realised that their actions were misguided and only served to heighten the problems at the City Ground, rather than solve them.
Blame
Admittedly, then manager Steve McClaren bore some of the brunt, with Doughty prepared to admit that he made a mistake in handing the managerial reins to the former England boss.
As owner and the man who ultimately has the final say in managerial appointments and transfer activity, he had to accept a large portion of the blame for a disappointing opening to the campaign, hold his hands up and speak of better times to come.
The actions of a minority, though, saw him take the decision to step down from his position as chairman and announce plans to walk away from his financial responsibilities completely in 2014.
Did those stood outside the City Ground on that fateful night consider such an outcome to be a success?
This is a man who saved Forest from administration when he acquired the club for £11million in 1999.
In the years that followed, Doughty ploughed some £100million into the club and asked for nothing in return.
At the time of his death, it is reported that he was owed £75million by the club.
That, though, had not stopped him from putting in place plans to ensure that the Reds remained financially secure for another two-and-a-half years - with yet more money put aside to cover everyday costs.
Quite what happens to Forest now remains to be seen.
With Doughty on board they knew that they had a couple of years in which to find a new investor and repay at least some of their outstanding debt.
Now, they could find themselves disappearing into a financial black hole sooner than anybody expected.
Legacy
This is not the legacy Doughty will want to have left.
He lived and breathed Forest, was a season ticket holder before and during his reign and wanted nothing more than to see his beloved Reds back in the Premier League - a place he and the club's loyal legion of supporters believe they deserve to be.
In an age of foreign ownership and dubious intentions, how do Forest intend to find another owner who cares so deeply about the club and the path they tread on and off the field?
Doughty was a one-off, a man who lived the dream after finding himself in the fortunate position of being able to buy the club he supported and attempt to lead them into a brighter future.
The fact that he was ultimately unsuccessful in those efforts should not be held against him, with a string of underperforming players and managers having betrayed his trust and let him down.
He did not deserve to be the target of supporter angst as soon as the going got tough.
He deserved their acclaim and should have been left to get on with a job he cared so deeply about.
Yes, he made mistakes, but who hasn't?
It should never have been allowed to escape the attention of a select few that he was a Nottingham Forest fan, just like them, and that he wanted exactly the same things that they did.
The fact that he wasn't prepared to bankrupt himself and the club chasing that dream should be heralded and not allowed to detract from all of the good work he carried out during more than a decade of service.
It may have taken his passing for some to realise just how important he was to club, but at least a few of them appear to have got there in the end.